Since we became parents, we have noticed time and again that there are some surprising parallels in behavior between cats and children have in common. We'll tell you what these are in the following article.
1. You love closet hiding spots
Closet doors exert a magical attraction on cats and small children. If a closet door is open, this seems to be an invitation to hide. While our cat likes to bury himself deep in the clothes, our daughter closes the door without further ado. In both cases, it means search.
Reading Suggestion: Heart Touching Birthday Wishes For Daughter From Mother
2. You are walking on a freshly mopped floor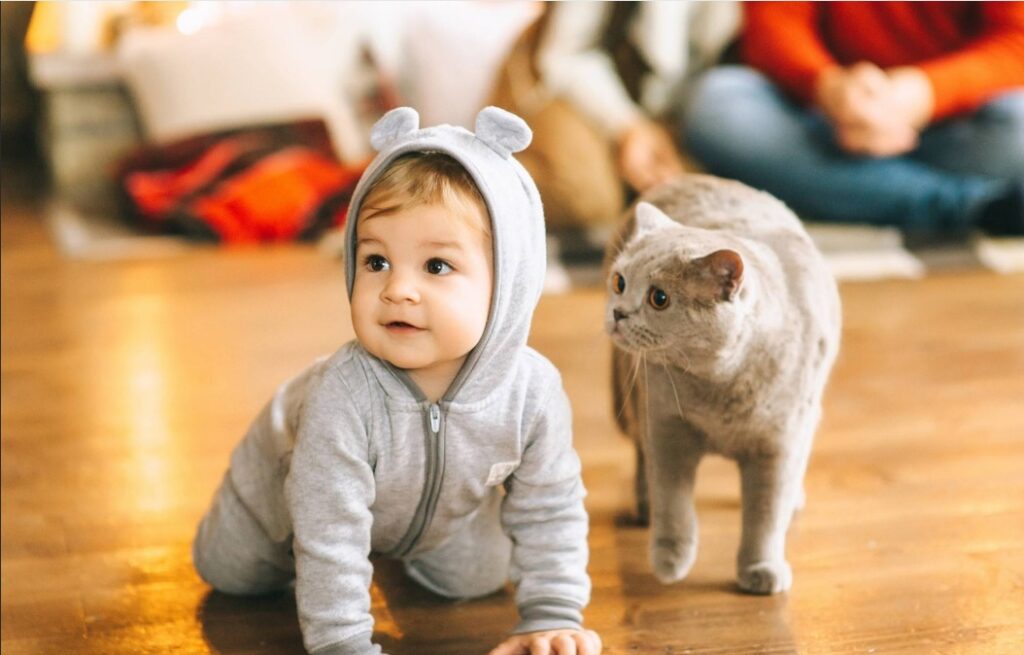 The floor is freshly mopped and still damp. It certainly doesn't take long before a trail of paw prints runs through the room. It is similar with small children – they too like to run into the room when the floor is not yet dry. Warning: danger of slipping.
3. You love cardboard boxes
Both cats and children do not care about the contents of a large box at first. The main thing is that it is quickly emptied and made available for play. I have already written here about the fact that this commonality already led to frustration in our tomcat Mowgli.
4. They love boxes that are too small even more
Even small cardboard boxes arouse interest in cats and children. It doesn't matter to either of them whether this fits their body size. You certainly manage to squeeze into it somehow.
5. They look innocent when they do something
Both cats and children have mastered the perfect innocent look. That particular look that says they can't cloud a bit of water. And they use it when they have done something or are just about to do something.
6. You disturb when you fold your laundry
When you are trying to fold the T-shirt properly, a cat comes and lies down in the middle of the item of clothing. Even small children like to disturb them when they fold their laundry. They can do this even more impressive because they tip over entire stacks of already folded laundry while they bounce around.
Read More: Cats and Children a Good Team
7. You leave behind pitfalls
Regardless of whether it's the cat ball or Lego brick – both cats and children are true world champions when it comes to tripping hazards. Either way, you shouldn't pound through the apartment in the dark and always have a watchful look towards the floor.
8. They interfere with making the beds
Making beds with cats can be a tedious task. Either they lie down where they cannot be used at the moment or they hide in the covers. Children are very similar. If you are lucky, they want to help. If you're unlucky, they'll hop through the beds. And when things go really bad, they get the doll's dishes and blankets for a bed picnic.
9. They dig in potting soil
Potted plants that stand on the ground and are planted in potting soil attract both cats and children. Digging is now the motto. After all, you have to give the children credit for not mistaking the flower pot for a toilet …
10. They want to sleep in the same bed with you
Cats and children have one more thing in common: They want to sleep with you in the same bed. It doesn't matter if there is enough space or if they are besieging the pillow. Sometimes that's annoying, but actually, we like to have them around.