Colnago, the iconic Italian brand, has been synonymous with road cycling excellence for decades. Colnago road bikes represent the pinnacle of craftsmanship, engineering, and design, delivering a ride that captures the essence of speed, elegance, and pure cycling joy. In this article, we will explore the construction, advantages, and ideal candidates for Colnago road bikes. Are you one of them?
What is The Construction of Colnago Road Bikes?
Let's start with the construction. Colnago road bikes are crafted with meticulous attention to detail. The frames, often made from high-quality carbon fiber, are engineered to achieve the perfect balance of rigidity and compliance.
Using cutting-edge technologies and decades of expertise, Colnago constructs frames that maximize power transfer, minimize weight, and provide a comfortable ride. That's why every aspect, from tube shapes to frame geometry, is optimized to deliver a sublime cycling experience.
View this post on Instagram
Advantages of The Bikes Produced by Colnago
The advantages of Colnago road bikes are manifold. First and foremost, they offer exceptional performance. These bikes excel in terms of speed, responsiveness, and handling. The combination of lightweight frames, aerodynamic design, and precisely tuned components ensures that Colnago bikes allow riders to push their limits and reach new levels of performance.
Whether racing, tackling challenging climbs, or cruising along scenic routes, Colnago machines are engineered to deliver an exhilarating ride.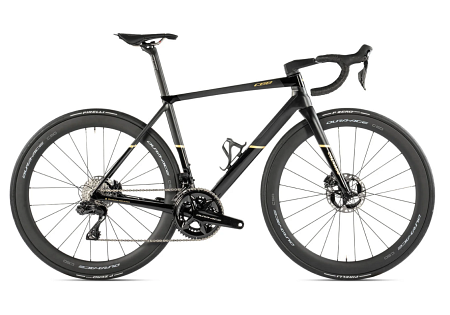 Impeccable Ride Quality: Comfort and Stability
Colnago road bikes strike a remarkable balance between performance and ride comfort. The carbon fiber frames absorb road vibrations, enhancing comfort during long rides. The geometry of these bikes is optimized to provide stability and control, allowing riders to feel confident even at high speeds or during technical descents. That's why these bikes deliver a smooth and stable ride, ensuring that cyclists can enjoy their journeys without compromising on comfort.
Reading Suggestion: The Entire Menstrual Cycle in Less Than 1,000 Words
Who Should Ride a Colnago Road Bike?
These bikes are perfect for a range of cyclists, from professional racers to passionate enthusiasts. Competitive riders seeking to maximize their performance on the road will appreciate the speed, responsiveness, and aerodynamics that Colnago road bikes offer.
These bikes are also suitable for endurance riders and enthusiasts who value comfort during long rides. Whether you're an experienced cyclist or a newcomer to the sport, these bikes can elevate your cycling experience and help you achieve your goals.
As you can see, Colnago road bikes embody the essence of Italian craftsmanship and road cycling excellence. From their meticulously crafted frames to their exceptional performance and ride quality, these bikes are a testament to Colnago's dedication to pushing the boundaries of cycling innovation. Will you invest in one of them?