Star Ibaby Sleep&Play Baby Travel Cots
If we had to identify the best baby travel cots according to users, this could be the one chosen, since it is designed for newborns or slightly older babies, as it has a raised platform to make use with newborns more comfortable. and a low base, suitable for larger children.
Its platform is made of metal, giving it support and stability, while its interior is made of nylon, being comfortable and padded. As for the colors, it comes in brown and pale pink, appropriate for both genders.
In addition, its security system in each anchorage makes it a highly recommended crib, since it will be almost impossible for the baby to close it by accident. Similarly, when transported it only weighs 7 kg, maintaining folded dimensions of 76 x 23 x 23 cm.
For its part, the mesh sides allow adequate ventilation inside the crib so that your baby stays cool.
Due to its multiple qualities, this model has become the best travel cot of the moment, according to the opinion of users. This recommendation makes it a very good purchase option.
Uses: Although it is a suitable and convenient crib for travel, it can also be used at home as a traditional crib or playpen.
Window: It has a trapdoor-type zipper so that the baby can get in and out of his crib whenever he wants.
Height: Includes a double-height system, suitable for smaller babies, favoring its use in infants from 0 to 3 years old.
Instructions: From a user's comment we can say that the instructions for this product come in English. Likewise, another client stated that his indications are a bit confusing.
Mattress: It has a fairly thin mattress, so it is necessary to acquire a more comfortable one for the baby.
Reading Suggestion: The Best Baby Clothes
Hauck Dream'N Play Plus
Being one of the cheapest quality options on the market, this Hauck travel cot has different benefits designed for customer satisfaction. Its folding system makes it very manageable, being able to store it when it is not needed or is taking up a lot of space. In addition, it includes a folding mattress and a transport bag, suitable for storing the product and its accessories.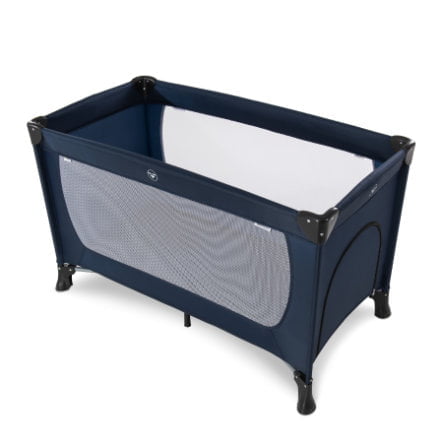 It is worth mentioning that the entire surface of the crib is washable, favoring the health of your baby through proper cleaning. Also, it includes an easy-to-read instruction manual so that mounting it is not a problem.
This crib has mesh sides that make it easy to monitor the baby and a zippered cat flap so that the infant can get in and out of the crib when they have the necessary autonomy, that is, when they start to crawl.
Chosen by users as one of the best travel cots and one of the cheapest, this model is specially designed for the peace of mind of parents and the comfort of babies.
Folded: This crib takes up very little space when folded, which is convenient when traveling.
Colors: Its design includes two color combinations that are suitable for any gender.
Comfort: It can be folded or unfolded quickly and comfortably, so it will not be a problem to assemble and disassemble it at your convenience.
Zipper: Several users have commented that the zipper that allows the crib's cat flap to open and close is very fragile, so care must be taken with it since once it is broken, it is difficult to fix.
Mobility: This crib needs to incorporate wheels that facilitate its transfer, preventing it from having to be carried or dragged from one place to another.
reading Suggestion: 3 Month Baby Toys
Hauck Sleep'n Play Center
Another outstanding model in our selection is the fact that it complies with all the aspects that could be expected from a travel cot. Its folding is very fast, practical, and intuitive, so you don't have to spend a lot of time in the opening and closing process. Also, it has a lifting system that makes it suitable for babies of any age, from 0 months and up to 15 kg.
This crib comes in a combination of neutral colors such as black and stone, being easily usable for both girls and boys. Similarly, its weight is 9.1 kg, so it can be comfortably moved by one person with the use of built-in wheels.
It is worth mentioning that the design of the crib allows greater independence for the baby thanks to its zippered cat flap.
Reading suggestions; Best 5 Baby Sleeping Bags
Hauck is cataloged by users as the best brand of travel cots since it combines many qualities such as comfort, folding, safety, and comfort. Here we describe the pros and cons of this attractive model.
Transfer: Thanks to the fact that it includes wheels, this folding crib is very manageable, especially because when it is stored in its transport bag, the wheels are outside, allowing you to carry the crib comfortably.
Elevation: It has the possibility of placing lifting support for use when the baby is very small, so as not to have to bend down too much when placing it.
Fun: As a play area, this crib is very practical, since it has a zippered cat flap, suitable for the baby to enter and exist independently.
Mattress: This model indicates that it includes a mattress. However, several user comments let it be known that it is not suitable for use as a mattress, but it is convenient to place it as a base since it is hard and firm.
Changer: From the opinion of a user we can say that the changer can be a bit uncomfortable to use.
Travel cot accessories
Alvi Plegable 120×60 Cm
If you are looking for a mattress for a travel cot, this Alvi model may be an option to analyze closely. Its polyurethane foam structure is of high quality, to ensure a comfortable and restful rest. Also, this mattress is silent and breathable, making it easier for your child to move without making noise and stay dry all the time.
To enhance its practicality, this model folds into three parts, improving its handling when traveling. In addition, it includes a carrying case so you can store it and take it wherever you need it.
Its cover can be easily removed by opening its zipper to wash it whenever you think is appropriate.
Reading Suggestion: Veibae Face Reveal
Playpen For A Travel Cot
TecTake 402208
This travel crib playpen features a spacious design so your baby can play freely. Likewise, it is also suitable for sleeping, taking a nap, or night's sleep comfortable with a 1 cm thick solid and smooth surface.
Its walls have mesh fabric so you can keep your little one visible as long as you are sure that ventilation is appropriate.
In the same way, it gives you the ease of being able to assemble and disassemble it easily, so that you can use it at home or take it on a trip, ensuring that your child has a safe and comfortable place to spend time, play and have fun.
Frequently Asked Questions
Q1: How to clean the travel cot?
Cleaning is an important part of all the elements that surround the baby and travel cots are no exception. To maintain its hygiene, the first thing to do is to disassemble the pieces of fabric and wash them separately in the washing machine using non-toxic products.
For the rest of the crib, the most appropriate thing to do is clean using safe cleaning products, following their instructions, or take advantage of natural alternatives such as a mixture of bicarbonate of soda and water. You just have to spray the surfaces with the mixture and remove it with a paper towel. Let dry completely before using.
Reading Suggestion: Devil Costume
Q2: I'm going on a trip in a few days and I can't decide what I should take, which is better, a travel cot or a playpen?
It all depends on the actual use that will be given to it. The travel cot usually has smaller dimensions, since it is conceived as an option for the baby to sleep away from home, so if it has a simple folding system, there will be no major inconveniences when moving it from one place to another. .
For its part, a playpen tends to be larger and allows the baby to play freely and even stand up and its padded edges prevent it from being hurt. Therefore, everything will depend on the real needs you have for each moment.
Q3: Are Travel Cots Safe?
Generally speaking, yes, they are safe. The issue is to verify that the structure has the appropriate resistance to stand firm. In this sense, logic plays a fundamental role, taking into account the weight and size of the baby.
As babies grow, they increase their range of motion, and this can be somewhat dangerous. There are cases in which when using travel cots with the mattress in the highest position, it has fallen due to the movement and weight of the baby. This is why it is important to invest in a quality travel cot.
Q4: If I Only Want To Make A Purchase, Can A Travel Cot Be Used As A Playpen?
Although they can be used as a playpen, it is not recommended, since most travel cots have two opaque walls strategically designed to favor the baby's sleep and rest, but it is precisely this characteristic that turns against being used as a playpen. , as it limits the visibility you have. Ideally, this space should be used exclusively for the baby's sleep.
Q5: Is The Travel Cot Suitable For Everyday Sleeping?
The short answer is no. The mattresses that come in travel cribs are made of foam and lined with plastic, so they are not the best option for the baby to sleep for long periods.
Although they are a suitable option during trips, these conditions seen on a regular basis prevent the baby from sleeping comfortably, in addition to preventing perspiration. Keep in mind that they are quite basic mattresses.