The Best Window Glass Cleaners – Opinions 2022
These are the best alternatives that will help you with those real-world situations where we find ourselves with dirt stains on windows, mirrors, and other surfaces such as tiles.
1. Karcher Window Glass Cleaner Rm 500
This concentrated detergent is among the best window glass cleaners of 2022 given its effective action on any smooth surface that is resistant to water. Many times, you have the right accessories such as microfiber cloths or glass cleaning brushes, but if you don't have a quality formula, the marks can become very difficult to remove.
This 0.5-liter solution has been specifically created to achieve streak-free cleaning on glass and mirror surfaces. Whether with the tools of your manufacturer brand or manually, its power removes adhesions of grease and dirt or resistant stains without leaving any type of trace.
For optimal cleaning, you can directly or dilute pour the necessary amount into a dispenser container to spray the surface and rub it with a microfiber cloth. The results will be immediate and also very long-lasting.
Just as this manufacturer develops powerful cleaning equipment, it also gives its detergents excellent properties. Let's see more of this 500ml Kärcher glass cleaner .
Concentrated: Its power is achieved thanks to concentrated ingredients designed for complex cleaning tasks.
Properties: When applied, it is characterized by a pleasant and fresh aroma, as well as good moisturizing properties.
Non-marking: It offers a deep cleaning against layers of grease and fingerprints and does not leave marks like others.
Indications: It is clear with the notices and warnings suggested by the CE to avoid accidents due to misuse.
Irritation: Without proper use, it is a product that could cause serious eye irritation
2. Leifheit 41414 Glass Cleaner
This is one of the leading brands in Europe specializing in household cleaning items. With this glass cleaner, Leifheit proposes one of the most effective ideas for bright windows. In addition to removing dirt, it contains special alcohol for a shine that achieves a shiny finish.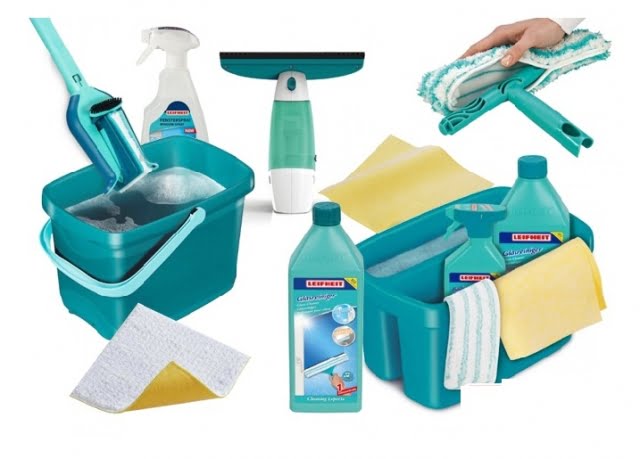 It is a liter of product that is transformed into the opportunity to be able to clean in depth a large number of times. To achieve this, you only have to dilute 3 caps of the liquid concentrate in 5 liters of water, giving you a sufficient amount of cleaner for various smooth surfaces.
In addition to the effectiveness of its power, each time it is passed through the glass, it creates a thin protective film that will prevent dirt from sticking, making successive cleanings easier. You can use this window cleaner with a mop or increase the intensity of its action with other tools.
With more than 60 years of dedication to the cleaning field, this could be considered the best brand of glass cleaners. Let's review the attributes of this Leifheit product.
Purpose: The special polishing alcohol ingredient makes it an excellent product for cleaning and polishing.
Utility: It is a product that works very well to clean mirrors, glass, and other types of smooth surfaces.
Lid: In addition to the fact that the lid is the exact dosage measure for a correct dilution, its opening system is safe for children.
Diluted: You must follow the instructions and dilute it so that you can achieve a cleaning that does not leave traces.
3.

Unger Fr500 Liquid Glass Cleaner
Inviting shine into your home is very easy with the best-concentrated glass cleaner you can get on the market. The dedication of this international manufacturer to the careful manufacture of window cleaning, general cleaning, and floor care products makes it one of the most reliable in all of Europe.
With this cleaning agent, you will get 5 liters of the product to leave glass surfaces truly radiant. Thanks to its effective detergent power, you can remove all kinds of dirt. So it will be enough for you to dilute it in water so that you can check its high performance.
In fact, this concentrated glass cleaning liquid is the one recommended by Unger for really professional and efficient results for both the internal and external parts of the windows. It is definitely an option to consider for those who are dedicated to the cleaning service as a business.
Whether you apply it with your own tools or with the innovative technology that Unger offers, this product shows quality in every one of its features.
Quantity: There are 5 liters of concentrated glass cleaner that diluted in the appropriate measures of water will last for many cleanings.
Biodegradable: It is a detergent that does not leave traces in the environment, degrading naturally and in a short time.
No allergies: In addition to being eco-friendly, it does not irritate the skin, which guarantees use without worrying about allergies.
Price: Its quality and quantity in liters make it quite expensive among other good options on the market.
4. Sonax 02605000 Window Glass Cleaning Product
Finding the best glass cleaner to restore the shine to your windows or other glass surfaces is important, but when it comes to your car it is much more so. If you are one of those who have a true passion for your car and you take great care in its care, then this product is for you.
It is a container that contains 5 liters of window cleaning liquid with a fresh lemon scent and that, in addition to providing a pleasant smell, can remove traces of oil, soot, grease stains, and even insects that stick and hinder proper visibility through of the windshield.
Reading Suggestions: The Best Robotic Window Cleaning of 2022
Sonax accumulates experience that began with the first automatic car wash installations in the 1960s. Now, thanks to its research department, the quality of its Made in Germany car care products is indisputable.
Let's know more details about this product that will allow the transparency of the glass of your windshield to be real.
Utility: Its use is ideal for keeping both the windshield and the headlights very clean, especially the Xenon ones.
Funnel: The container includes a practical funnel that is very useful when you pour the liquid directly into the windshield washer reservoir.
Brand: It is backed by a highly prestigious German brand that is present with its products in more than 100 countries.
Concentration: You should know that it is not a concentrated glass cleaner that will yield more than the 5 liters that its container brings.
Frequently Asked Questions
Q1: How To Use The Glass Cleaner?
Glass cleaner is a detergent that, if not used correctly, could leave soapy stains and marks in its wake. When too much is applied, the liquid or foam can drip and leave streaks, so only spray or pour on the cloth as necessary. After you rub it in and remove the dirt, you can buff it up with another dry cloth.
Try as much as possible that the cloth you use is a microfiber and avoid paper towels, as they could leave lint. Squeegees are also ideal for removing glass cleaner. Another tip is not to clean at times when the sun shines directly on the windows, as this could cause the glass to dry out very quickly and leave stains.
Q2: How To Make A Homemade Glass Cleaner?
One of the most popular and simple homemade recipes to leave your windows impeccable is by combining water and white vinegar in equal parts. Three drops of dishwashing liquid are added to this solution and the mixture is ready to start grease and germs.
There are those who, to reinforce the cleaning effect of vinegar, prefer to mix it with the power of lemon. Two cups of water, two tablespoons of vinegar, and ten drops of lemon essential oil create a great formula that, in addition to being effective, will have a pleasant citrus aroma.
Q3: What Happens If You Drink Glass Cleaner?
If keeping the window cleaner out of the reach of children did not work and you suspect or are sure that the child drank it, it is best to call your treating doctor for immediate instructions or take him to the nearest health center.
If it is ammonia or alcohol-based product, you should not try to induce vomiting or give the child anything to eat or drink.
Q4: How Does The Water Repellent Glass Cleaner Work?
The 2-in-1 products that are a window cleaner and rain repellent make up one of the best options when you know that you are going to drive on a rainy day, likely to hail or snow. The action of the repellent together with the breeze causes the water or hail to slip and not adhere to the glass. They are widely recommended when you do not want to take risks due to poor visibility in a very humid climate.
Q5: Which Is Better, Alcohol-Based Or Vinegar-Based Glass Cleaner?
This decision is largely based on sensitivity to respiratory reactions. Alcohol is an effective cleaner of dirt and grease, but without proper ventilation, it could affect breathing or irritate the eyes. Also, you have to be very careful to keep it away from small children.
For its part, vinegar is not an irritant or an allergy agent. Although good at cutting through grease and killing germs, the action of a window cleaner with vinegar as an active ingredient is not considered as powerful as an alcohol-based one.