Relax in the open air on sunny days or look at the starry sky after a delicious dinner on your terrace, balcony or in the garden on mild evenings: In the warmer seasons, we like to spend a lot of time in our outdoor living room. It should be cozy and trendy at the same time.
But which garden furniture is trendy this year? Which materials ensure coziness in our open-air paradise? And which colors are fashionable in summer? We have put together the most beautiful garden furniture trends in 2021 for you.
Everything About The Garden Furniture Trends In 2021
Trend 1: The open-air living room
A trend that has been established for some time and is continuing this gardening season is the ideal of the so-called "open-air living room." With this trend, our outdoor garden furniture continues the charm and convenience of our living room furniture outside, and can work effectively for small gardens and those with more space. Because comfort in the garden, on the terrace or balcony is still the trump card!
With lounge furniture, open-air sofas or armchairs, you will ensure coziness in the open air in 2021. The weatherproof upholstered furniture looks very similar to the upholstered furniture for indoors – and lets us spend cozy hours in our garden, on our balcony or on our terrace. The great trendsetters are often made of (poly) rattan wickerwork on steel or aluminum framework.
They are provided with soft cushions in pleasant colors and invite you to relax. They also get their popularity from their versatility. Because no other outdoor furniture at the same time exudes the stylish level of chic living room seating and Mediterranean laissez-faire. So there is hardly a way around trendy lounge furniture in the garden furniture trends 2021.
A little tip: let your new lounge furniture become the focal point in your garden. Place them free-standing on your terrace or in your garden – and enjoy cozy hours in your open-air paradise.
Would you like to transform your garden or balcony into an open-air living room with comfortable seating? Discover our comfortable garden furniture and have high-quality furniture delivered to your home free of charge.
Reading Suggestion: The 5 Best Garden Arches Of 2022
Trend 2: Beach Chairs And Porch Swings
For those who prefer it traditional on the terrace or in the garden, we recommend our two favorite designs evergreens: Beach chairs and porch swings are among the garden furniture trends for 2021 in addition to comfortable upholstered furniture!
You can relax alone or as a couple in a stylish, maritime beach chair – and you always have a place to put a cool drink. The shade-giving roof directly over the head is perfect for hot summer days. And if you close your eyes, you might even hear the sound of the sea.
A Hollywood swing is available in different sizes, even as a narrow single-seater for one person. This makes the porch swing trend for gardens both large and small. Depending on the type of cover for the cushions and pillows, you can set a discreetly modern or a playful, romantic accent in your outdoor area. In any case, you can relax wonderfully on the soft cushions while rocking.
Trend 3: Multifunctional Garden Furniture
Multifunctional furniture is not only ideal for those who have little space outdoors. Multifunctionality is especially popular because it is sustainable and environmentally friendly. The clever garden furniture combines several functions so that you save yourself the purchase of additional pieces of furniture.
This saves your wallet and resources at the same time. How about, for example, a piece of furniture that offers seating and storage space at the same time?
Trend 4: Rope, Teak, Polyrattan, And Aluminum
From natural to modern: rope, teak, polyrattan and aluminum are the material favorites this year.
Rope describes a modern braid with a corded look. Rope garden furniture is robust, weatherproof and durable. They are light but still stable. In addition to a modern look, garden furniture made of rope scores above all for its comfort.

Teak: Wooden garden furniture is still one of the classics. But sustainability is also playing an increasingly important role in garden furniture. Teak is therefore particularly popular this year! Because the tropical wood is sustainably extracted from old boats or houses. Teak garden furniture not only ensures cozy hours outdoors but also lets us enjoy the good feeling of making an important contribution to protecting the environment.

Poly rattan weave creates a special feeling of well-being on your terrace. Polyrattan means a synthetic fiber that is made on the basis of polyethylene as a braided material. The material is particularly resistant to moisture and UV rays. The intertwined synthetic fiber has therefore been a popular material for garden furniture since the late 1980s – and this year it is particularly popular again.

Aluminum: The use of aluminum brings the industrial style into our outdoor living room. Aluminum garden furniture is usually available in muted colors such as anthracite, gray or silver.
The special thing about this is that you don't have to choose a material this year. Because a mix of materials is allowed: teak meets aluminum, polyrattan meets steel. 2021 is the year of interesting contrasts.
Trend 5:

Organic Shapes, Round And Oval Garden Furniture
What applies to the furnishing trends in 2021 also applies to the garden furniture trends: Round and oval tables are all the rage! With this trend, you can quickly create a pleasant atmosphere in your open-air living room. Your whole family will find space at the organically shaped tables.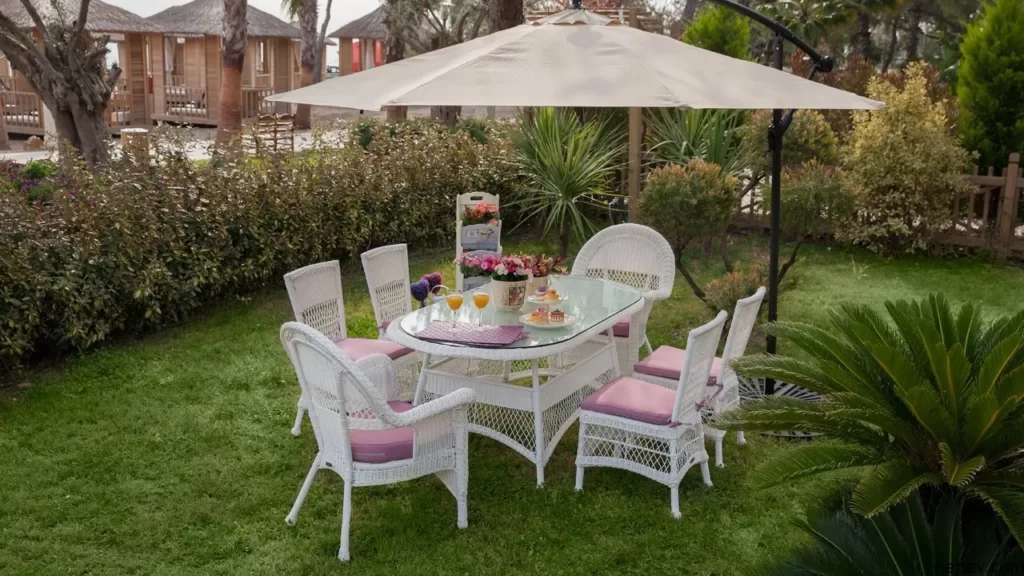 Trend 6: It Stays Subtle And Becomes Colorful
Sounds like a contradiction? Not this year! In addition to subtle, warm and natural colors, colorful garden furniture is also popular in 2021.
Naturalness And Closeness To Nature In Earth Colors
In terms of design details in your outdoor area, naturalness and closeness to nature are very popular with the garden furniture trends 2021. Everything to do with the colors green, terracotta or earth colors pleases our eyes. The colors help us to forget the hectic everyday life behind the patio door. They ensure well-being, relaxation and that certain incomparable holiday feeling. In addition to beautiful plant pots and boxes in different designs, raised beds are still trendy. It has never been so easy to plant your own herbs or vegetables right on your doorstep. Setup, filling and maintenance are not difficult at all. Test your green thumb, you will be amazed!
Set accents with colorful details
Expand your outdoor living room with a few stylish colorful accents and let individual pieces of furniture become eye-catchers. Or how about a brightly colored parasol and pillow?
Trend 7: Atmospheric Lighting For Maximum Comfort In Your Garden
Whether it is a chain of lights, solar-powered LED lights that only unfold their magic after dark, or an illuminated water feature: atmospheric lighting belongs in your open-air living room this year too. There are no limits to your design imagination.
Use it to create an atmospheric ambiance in your garden. Tip: For cooler evenings in spring or summer, we "warmly" recommend a cozy terrace fireplace in an appealing design.
Trend 8: Less Is More
Minimalism has also found its way into outdoor furniture. True to the motto: "Less is more!"
Minimalism is about consciously limiting yourself to the bare essentials. Instead of many pieces of furniture and decorative elements, you rely on a few practical and aesthetic elements with minimalism. Garden furniture without playful details is particularly suitable for small terraces or balconies. But minimalist furniture also looks great in spacious areas.
Tips For Buying New Garden Furniture
Rely On High-Quality Materials
The selection of garden furniture is huge. This can also be seen in the price range and the quality of garden furniture. When choosing, look not only at the look and the price but also at the materials. Do you withstand materials from external influences? Are they stable and durable? How can the materials be cleaned and maintained? High-quality garden furniture lasts longer. That protects the environment and is trendy.
Only Follow Trends That Suit You
You certainly don't want to buy new garden furniture every year, but instead, want to create a timeless, yet modern outdoor living room. When buying, ask yourself: How do I furnish my home? More modern, romantic or rustic? Carry on your style in your outdoor living room. So you can be sure that you will feel comfortable there too.
Put Your Garden Furniture In The Foreground
Your new garden furniture can become an eye-catcher in your garden. To do this, place a few other objects as possible around your garden furniture. A few plants can find space. However, larger flower pots or eye-catching decorations should be placed elsewhere in your garden.