1. Relaxdays 10017904 Arch for climbers
Advantage
This garden arch is simple but functional and its size is not exaggerated, which allows it to be used in small gardens without affecting the accessibility of the land.
Disadvantage
One of the buyers commented that his bow swayed in the wind, but if you live in a very windy place, you can purchase heavy brackets that will hold the bow in place.
Verdict: 9.7/10
Relaxdays offers you a garden arch where you can let your climbing plants grow and thus add a touch of elegance and style to your own home.
Main Features Explained
Design
Having a garden at home requires dedication, effort, and time, but if you want to give it a particular style or a special touch, garden arches can be a good alternative. Before investing in any available model, one of the details you should consider is its design.
The Relaxdays model has the advantage of being very versatile. Its height is 2.4 meters and the space between the two supports is 1.70 meters, so it is compatible to allow the growth of different types of plants. Thanks to the fact that it is not too big, you can easily place it in your garden without taking up much space or getting in the way, but rather becoming a point of interest and beauty.
Its shape is simple and it is made up of two ladder-shaped sides that meet at the tip and a very attractive and distinctive detail has been incorporated into that union: two metal lilies.
Materials
Although the arches for gardens are merely decorative, it is highly recommended to carefully analyze their manufacturing materials, since, after all, they will be placed outdoors and in contact with water, sun, and snow, as the case may be.
Reading Suggestion: Veibae Face Reveal
The Relaxdays garden arch 10017904 will not cause you any problems in this regard. This model has a structure made of metal and with resistant joints that will be able to support the weight of the plants that get entangled in it. The upper curved pinnacle, the lilies, and the silver balls that decorate the structure along with the product itself are resistant to the elements.
This guarantees that the bow can remain outdoors without sudden wear or oxidation. However, although it is made of metal, it is not designed to support the weight of a person or an animal, for example.
Mounting
Due to the size that garden arches usually have on the market, many of them are delivered unassembled. However, they are not usually very complicated to have ready, especially if you follow the manufacturer's instructions to the letter. In case you want to avoid inconvenience and waste of time, evaluate the level of assembly complicity of the model of your interest.
With the Relaxdays garden arch, you should not have any problems. This bow includes with the purchase an instruction manual for its assembly, although, with its design, it is quite easy to guess where each piece goes.
According to what its buyers have said, it does not take much time to assemble the arch and in just a couple of minutes, you can have it ready to install in your garden and give it that distinctive touch with beautiful climbing plants.
2. Brema 123.322 Garden Arch
For those looking for the traditional without getting too complicated, the BREMA 123.322 bow is just what they need. This bow features a semi-circular design at the top, which offers ample access to go through the interior without complications.
A product made of a 13-millimeter metal tube with five levels on each side so that your plants grow without complications. This model measures 2 meters high and about 1 meter wide.
The advantage of the size of the bar is that it makes assembly easier, directly nailed to the ground. A product that is also part of the cheap models, so it could well be the best garden arch for value for money.
Although it seems easy, it is not so easy to decide which garden arch to buy, therefore we have selected this Brema model whose characteristics we describe below to help you in your purchase.
Construction: It is made of 13 mm metal tubes and is highly resistant to the growth of climbing plants.
Installation: The assembly of this bow is very simple; the bars are driven directly into the ground and the crossbars are easily screwed on.
Design: This model measures 2.40 m high by 1.40 m wide and stands out for having a good green finish and a classic design so that flowers and plants are the protagonists.
Appearance: The wide distance between the bars can hinder the growth of climbing plants, taking longer to see the dense foliage, however, the product fulfills its function.
3. Gardman Easy Arch for Vines
Simplicity at a cheap price and with good quality is just what this model offers us. An arch specially designed for all types of vines, which has a more profuse and thick rod where the plants can develop comfortably.
A model that has measured 2 meters high, 1.4 meters wide, and a draft space on the ground of approximately 40 centimeters for its correct fixing.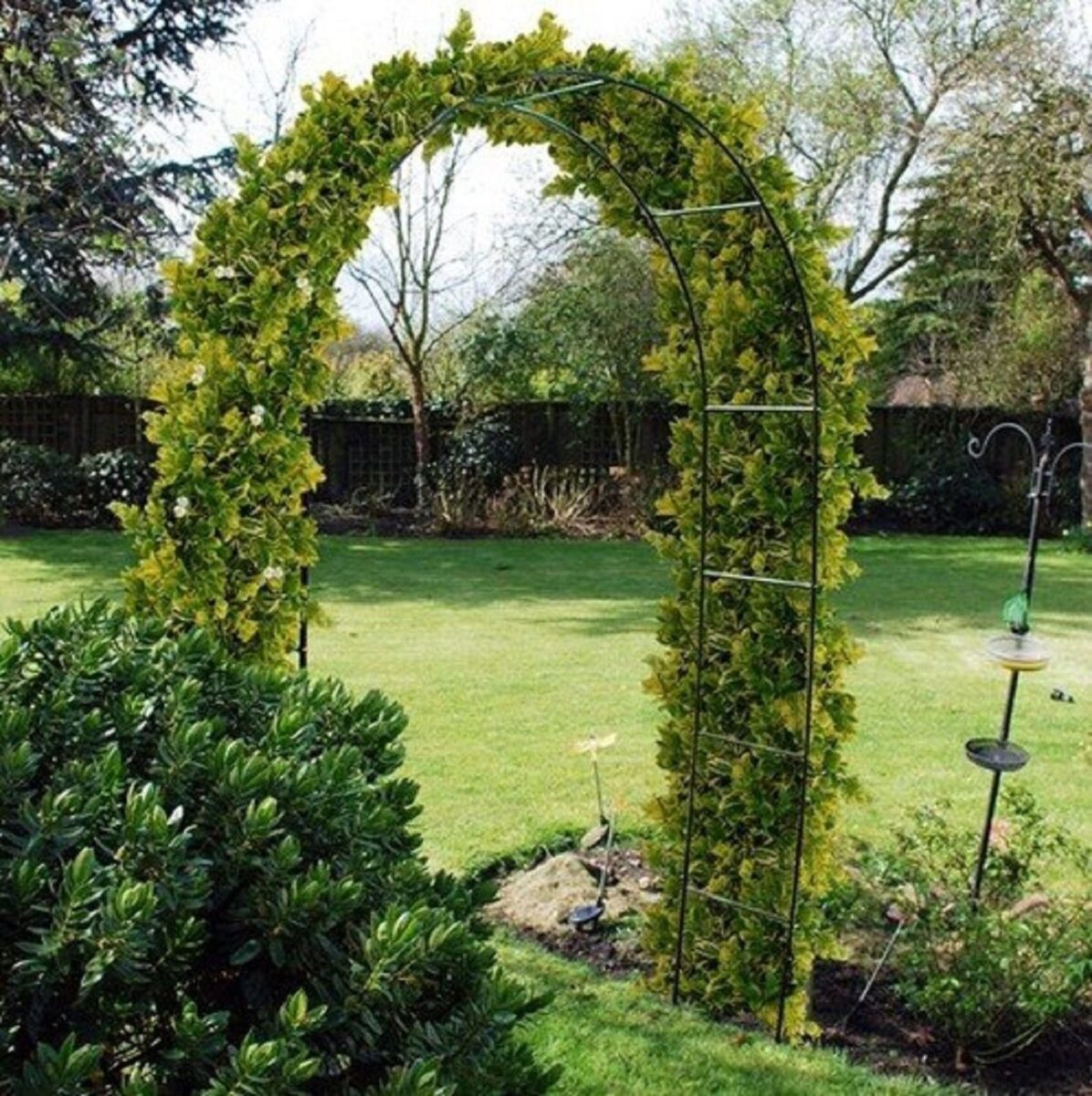 The product offers good quality metal construction, incorporating a powder coating treatment that improves resistance to moisture and the elements. Something that helps the model to accompany you for a long time without deteriorating.
To beautify your garden you don't need to invest a lot of money, that's why customers recommend this product considered the best garden arch for 20 euros according to user reviews. Below we summarize its pros and cons.
Strength: The bow has been manufactured from tubular steel with a powder coating to offer a higher level of strength and durability.
Size : Its dimensions are 2.40 x 1.40 x 0.37 m, plus 40 cm for proper installation.
Utility: This arch fulfills its decorative function and is one of the cheapest we have selected, so it is appropriate to use in a wedding celebration, communions, or simply give a different touch to your garden.
Support: This model has to be nailed to the ground, it does not include supports to use it superficially, which is a disadvantage for some customers.
Design: It is a very traditional arch, so if you are looking for more attractive products you can continue reviewing the following garden arches.
Reading Suggestion: The 4 best Baby stroller
4. Nature Metal decorative arch for garden 6040802
Designed for the most classic and traditional design, the Nature 6040802 arch is another interesting proposal. An arch that has a thicker interior trellis, with a width of 38 centimeters and a structure of three rows of rectangles that are distributed to give greater support to your plants.
The measurements of the model are completed with a height of 229 centimeters high and 113 wide so that the decoration is of a good size. This bow weighs 9 kilos and despite its structure does not offer a more complicated assembly than conventional models.
And thanks to its epoxy galvanized steel construction, it adequately supports the effects of being outdoors.
If you are looking for a high-end model to decorate your garden with suitable support for climbers, you can take a look at the characteristics of this Nature product, highlighted by its robust design.
Materials: The quality of this bow is determined by its construction in galvanized steel with an epoxy laminate for greater resistance to weather conditions.
Space: When mounting this arch, the dimensions it will occupy will be 2.29 m high and 1.13 m wide.
Design: The length of the bars is 38 cm and they also have several rectangular divisions to provide greater support to the different climbing plants that are used.
Weight: This model weighs 9 kg, and although it is easy to assemble, it can be heavy for several clients.
Cost: This bow is one of the most expensive in this comparison, but the quality of its materials supports the investment.
5. vidaXL Garden Rose Arch Pine Wood
The Vida XL 41912 wooden garden arch is a good alternative to metal models. A product with a gazebo structure that measures 50 centimeters wide in the structure, about 150 centimeters wide, and two meters high, which is very elegant as a gateway to your garden.
The model is presented in a pleasant rustic tone of treated wood, thanks to its manufacture in green pine. A material that has been previously treated to prevent rot over time.
An arched gazebo with a trellis on the sides, also made of wood, with very easy assembly and a design to fit into rustic or vintage garden designs.
Vida XL offers a wide variety of decorative products for the garden; That is why many customers value it as the best brand of garden arches and one of its most popular models is the 41912, whose pros and cons we describe below.
Treatment: This bow is made of green pinewood treated to resist bad weather and offer many years of durability.
Assembly: This product is easy to assemble and nail into the ground; In addition, its finish is very robust once assembled.
Step: With a width of 1.50 m for the step, this arch has ample space to be used at the entrance to the garden or to decorate the altar of a wedding.
Imperfections: As it is a natural product, it is normal for it to have imperfections or grains typical of wood, but they do not affect its functionality at all.
Design: Unlike previous models, this product does not have a curved shape at the top, its gazebo design is completely straight.
Reading Suggestion: Getstreaming TV: Your One-Stop Solution to Entertainment
How to use a garden arch?
If you want to decorate your garden in such a way that it can look very nice and attractive to anyone's eyes, it will be ideal if you can have an arch where you can place your favorite climbing plants to give it a more elegant and natural touch.
In this way, once you have acquired your own garden arch, you will surely need to have information regarding the assembly that you will have to carry out, so taking a look at our article described below will be very useful for you, since in it we provide you with the appropriate information both to assemble it and to give it the correct use.