Buying a gift for a loved one is always a difficult task. However, finding one that is also meaningful and, at the same time, deeply sentimental can be next to impossible. There is one timeless give out there that is sure to provide all this and more.
What is this gift, you ask? It is none other than the universally appreciated gift of art. If you want to keep memories alive " paint my life " artwork hanging on your wall can drastically improve your daily mood and fill your environment with a renewed appreciation for life. It is a tremendous gift to give to a loved one.
You can also easily buy a high-quality reproduction of any famous painting from any famous painter in art history. These impressive replicas are just as good as their original and, in many cases, are a quality improvement. When it comes to a gift that is both emotional and sentimental, a painting is an excellent and unique choice.
Starry Night Over The Rhone – Vincent Van Gogh
When discussing the most sentimental and emotional paintings and painters, Dutch Impressionist master Vincent Van Gogh is normally the first painter to come to mind. He is internationally regarded as one of the most emotional and colorful painters ever.
The incredible vividness of colors and the distortion and exaggeration of natural shapes showcased throughout all of Van Gogh's paintings are breathtaking. They can be seen as the artistic expression of the complexity and depth of human emotions.
Impressionism and Expressionism are perhaps the two best painting styles for exploring and expressing emotions through painting. This is because these two modern movements are fundamentally focused on portraying the emotion and mood of the scene rather than a realistic interpretation. As a result, gifting a loved one an Impressionist painting such as Van Gogh will invoke an emotional response.
When the Dreams Came True – Leonid Afremov
If you are looking for an artist whose art embodies a mix of emotion, sentimentality, and color, then there is no better choice than Impressionistic painter Leonid Afremov. His paintings are beautifully colorful portrayals and are examples of just how incredibly magical and dreamlike life can be.
Afremov also has the unique talent of capturing another kind of magic in his artwork: the magic of memories and the magic of the given moment. This combination of factors has resulted in some of the most brilliantly colorful and emotionally charged paintings ever composed.
His painting When The Dreams Came True is the perfect example of this. The sheer color and emotion will practically blind your eyes from the moment you view it. This is true for all of Leonid Afremov's paintings. They will invoke wonder while making you reflect on your happiest memories.
The Kiss
When shopping for an emotional painting for a loved one, you ideally want something eye-catching, colorful, thought-provoking, and, most importantly, beautiful. When it comes to Symbolist artist Gustav Klimt, his unique paintings provide this and so much more.
Klimt was renowned for his extravagant use of the color gold and femininity, eroticism, and romance. His painting titled The Kiss is regularly featured on the most significant paintings of all time lists and is the artist's crowning achievement.
Not only does The Kiss definitively represent the power of love, but it also represents philosophical ideas such as unity and eternity. This deep symbolism, accompanied by its lavish gold and silver leaf finish, would make for the perfect symbol of love to gift someone close to you.
Breakfast In Bed – Mary Cassatt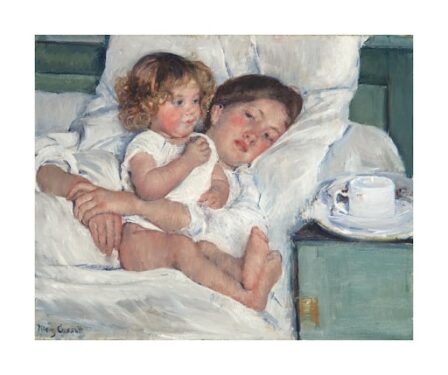 American artist Mary Cassatt is the most family-oriented painter on this list and brings a sentimental approach to her parental-themed paintings like no other artist ever has. Cassatt's specialty was painting everyday scenes mostly involving family relationships, especially mothers and their children.
Her paintings are heartwarming reenactments of the bonds shared between loved ones. Her paintings are composed of many vibrant colors, and her delicate brushstroke style provides an impression of aliveness and movement not seen in art until long after her time.
Her painting titled "Breakfast in Bed" is a wonderful example of the combination of these sentimental and heartwarming qualities. The painting portrayals a simple scene of a mother and child sitting in bed together. However, what stands out the most, other than the mother's deep love for the child, is the impression of joy and sentimentality the painting gives.
Reading Suggestion: Birthday Wishes To Daughter From Mother
The Hay Wain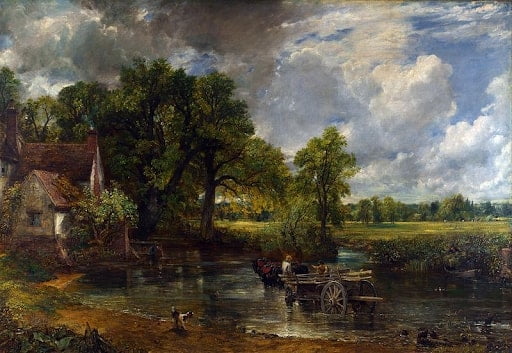 Another fantastically emotional painting idea for a gift is that of a sweeping landscape scene. Landscape paintings have been one of the popular genres throughout art history. Perhaps the greatest aspect of this timeless genre is that there are so many great artists and paintings to choose from.
Celebrated artists such as Monet, Lorrain, Constable, Van Gogh, Rubens, Cézanne, and Rembrandt all have incredible landscape paintings within their collections. In addition, these breathtakingly captivating depictions of nature are some of the prized possessions of museums worldwide, so why not give a loved one a painting such as this?
English landscape painter John Constable is regarded as one of the greatest landscape painters of them all. His wonderfully realistic paintings are filled with depth and have an emotional and warm charm. If you are looking for a deeply captivating painting, then a landscape painting such as John Constable's The Hay Wain might be the one for you.
Conclusion
Searching for that perfect gift can be a real challenge when it comes to finding something meaningful and sentimental; however, if you are interested in a gift that is unique, personal, colorful, and has the potential to last a lifetime, then you can't go wrong with the gift of a painting.
Reading Suggestions: