Do you want to decorate your living room with purple? That is very possible, purple is a beautiful color for the living room. Yet it can also be a bold color. It is a fairly bright and powerful color, so people sometimes find it a bit scary to decorate with this color. What should you pay attention to when you decide to decorate your living room with purple? How can you decorate your living room beautifully with purple?
Purple Decor
Purple is a striking color and too much purple can do more harm than good to the living room. It is therefore important not to exaggerate. Also, note that it can sometimes be better to use different shades of purple. This creates just a little more variety and at the same time peace. When everything contains the same shade of purple, it becomes too overpowering.
Walls
Is it possible to paint the walls in your living room purple? Many people do not dare to do this and that is understandable: the color is very powerful. Still, painting the walls purple can work very well. Please note that it may be a bit too much if you give all walls a purple color. That's why it's better to give one or two walls a purple color. What can also be very nice is to paint the ceiling purple. This gives a beautiful effect. Daring? Yes, but well worth it.
Reading Suggestions: How To Choose Bedroom Wardrobes?
What Colors Go With Purple?
When you are going to decorate your living room with purple, it is good to consider which colors go well with purple. This way you can create a beautiful combination that suits your home perfectly. Please note that really bright colors can cause overkill. More neutral colors usually do better.
White
White and purple make for an elegant color combination. You can do it in different ways: give white the upper hand and provide some purple accessories, or do it the other way around with purple walls and white furniture and accessories.
Gray
Gray and purple create a modern atmosphere and appearance. It is possible to combine different shades of purple with grey. Both a light shade of purple and a dark one can work very well in combination with gray.
Green
When you combine green and purple with each other, it is wise not to choose a too-bright green color. For example, go for a mint color. A moss color can also work very well. You can also combine purple and green with some yellow elements.
Black
Black is very daring to combine with purple. It is wise to choose light purple and also add some other light colors, such as white, otherwise, it will probably be much too dark.
Red
Although it is said that purple should not be combined too much with bright colors, red is a beautiful color that goes well with purple. You have to make sure that you distribute the colors in a nice way. Too much of one color can make the room less attractive. Optionally, red and purple can also be combined with gel.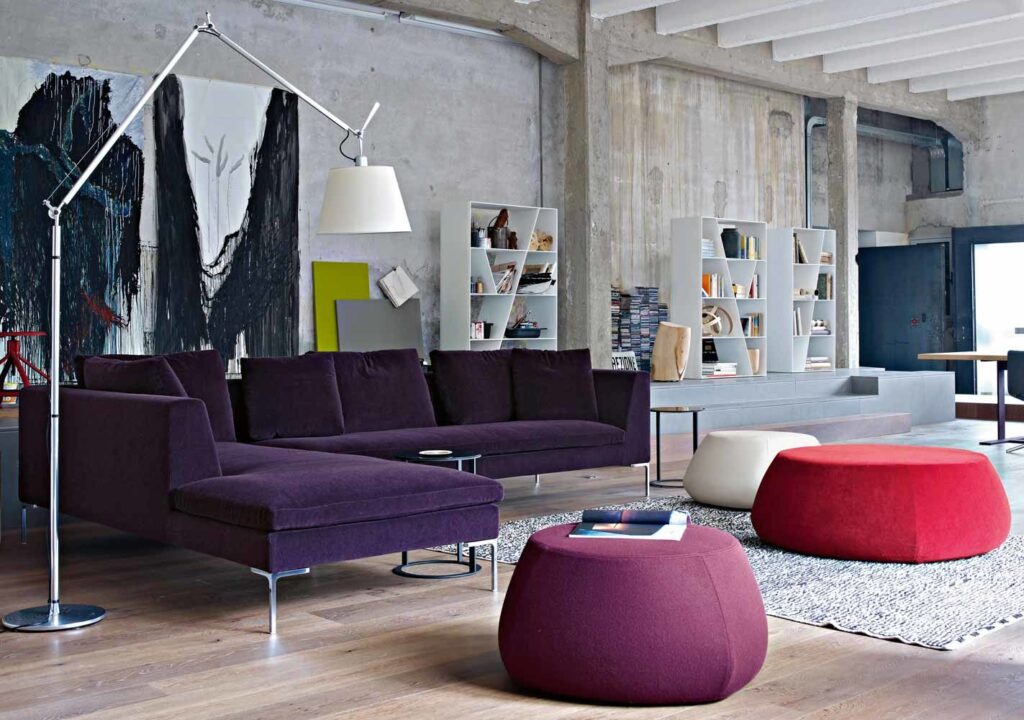 Accessories In Your Living Room
Purple accessories can work really well in your home. You can place all kinds of small accessories to add more color to your living room. Think, for example, of beautiful candles or decorative pillows on the couch. You can also hang a canvas on the wall with purple hues on it. You can put a purple rug on the floor for a nice effect. What can also be incredibly beautiful is a large vase that you put on the floor, for example, filled with a fake flower.
Get Inspired
When you decorate your home, it is important to be well-inspired. View websites and magazines. Think about what you like and what you don't. You can also go to a home furnishing store to see how the spaces have been used there. What is done with purple? When you look around you, you can quickly judge whether something is to your taste or not.