Teeth and molars can become discolored due to external influences, but also due to other causes. Often it concerns white spots, black spots, or brown spots. Especially the front teeth look ugly quickly. Often half the battle is already done when the cause is tackled. However, the discoloration of the teeth does not just disappear: it must be treated.
The teeth have a solid color that varies from white to dark yellow. On the one hand, the color of the teeth is hereditary and on the other hand, external influences such as food determine the color of the teeth.
In itself, darker-colored teeth are not a problem for many people, but they are when stains appear. Stains are much more eye-catching and often people want to get rid of these unsightly stains. There are white, brown, or black spots that can appear on teeth.
White Spots On The Teeth
White spots are common on the front teeth. In most cases, these are descaling stains. Bacteria in the oral cavity convert sugars from food into an acid that attacks the tooth enamel. The result: the well-known descaling spots, visible as white spots. This is especially common among young people who have worn braces.
Browsing online for a pediatric dentist here would be a wise choice, Ironwood Dentistry can help to rectify superficial white spots and help to ensure that their teeth remain healthy in the years following having braces on, so that they remain healthy into adulthood.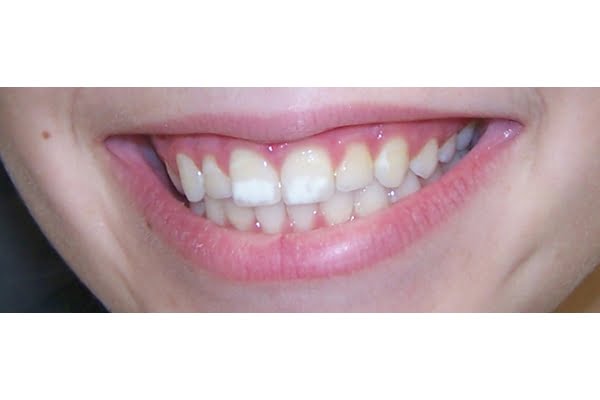 Young people are generally less motivated to keep brushing properly during the braces period. after removing the fixed bracket, descaling stains are seen where the brackets were. GC tooth mousse is an agent that can help minimize these white spots.
The drug can be used temporarily. In case of long-term use, it is recommended to consult with a top dentist in Bakersfield, California, or wherever you are located. A number of dentists do not know enough about this medicine to give advice about this.
Another cause of white spots on teeth is mottled enamel/fluorosis. This is caused by excessive exposure to fluoride during childhood. In the past, extra fluoride was added to the drinking water and it was advised to give young children extra fluoride tablets.
Although fluoride makes the tooth enamel stronger, an overdose clearly has its drawbacks. As of 2008, no more fluoride is added to drinking water in the there is significantly less fluoride in children's toothpaste. Extra fluoride tablets are only needed for advice from the doctor or dentist.
In young children, white spots on the teeth can also be caused by a fever when the child is sick. The enamel-forming cells react sensitively to an increase in body temperature, which can cause white spots during the formation of the enamel. Furthermore, white spots in children can be caused by mouth breathing, causing the sensitive enamel to dry out and show spots.
Teeth That Turn Brown Or Have Spots
Descaling stains that were initially white can later turn brown. This is because nutrients are absorbed into the stains. Brown spots make it more difficult to remove. Also due to fluorosis, which starts as white spots, brown spots can develop later on.
Brown spots can also develop from the use of mouthwashes such as chlorhexidine and Listerine. When using these products, be careful not to use them right after drinking tea or wine.
These agents attract discolored particles from foods, causing brown stains on the teeth. The dentist or dental hygienist can remove these stains by polishing the teeth. Teeth whitening is a more thorough approach that is often unnecessary for a few stains.
Reading Suggestions; Beauty, Health; Tips for your Wellbeing
Tartar also gives brown spots, often on the inside of the mouth because plaque builds up here more easily. Tartar is hardened plaque that has not been removed sufficiently during brushing. New plaque easily adheres to the surface of tartar, which also turns into tartar.
Tartar cannot be removed yourself but is removed with equipment or a hook by the dental hygienist or dentist. A Tartar that is not removed can form a starting hole. It can also turn brown and later turn black.
The Teeth Show Black Spots
As mentioned above, a black spot is sometimes a hole in the tooth. This starts out as a brown spot that eventually turns black. The brown spot is not always noticed and one suddenly sees a black spot. However, a black spot does not have to be a cavity (caries). It could also be caries that have remineralized or have stopped. Caries then no longer 'grows'.
Black spots can also be caused by coloring substances from foodstuffs or stimulants, especially tobacco, coffee, and tea have this property. Licorice also sometimes stains the teeth black. Coloring substances mainly adhere to plaque and tartar. The dentist or dental hygienist can clean the teeth by polishing. The spots often come back if the diet is not changed.
Preventing Stains
Preventing stains is often simple: good oral hygiene and being on time to the dentist. In addition, be careful with agents that quickly discolor the teeth such as licorice, coffee, tea, wine, and tobacco, especially in combination with mouth rinses.
Some people are more prone to developing spots on their teeth. This is often seen several times within one family. There is very little that can be done about this, but with the help of extra oral hygiene, the worst suffering can be prevented.