When you have a tooth that's starting to decay, the sooner you have an oral surgery done the better. Whether it's a root canal, tooth extraction, or cavity repair, getting the procedure done sooner is better. For example, root canal procedures take anywhere between one and two hours, while you're under sedation.
For many people, oral surgeries are uncomfortable and filled with anxiety. Having a damaged tooth, in particular, is a call to action. It's time to see your dentist.
But it's not a straightforward procedure when you see your dentist. There are a few different options available when it comes to repairing a damaged tooth. These include crown vs bridge.
Let's see what the differences are and which one is better.
What Is a Dental Crown?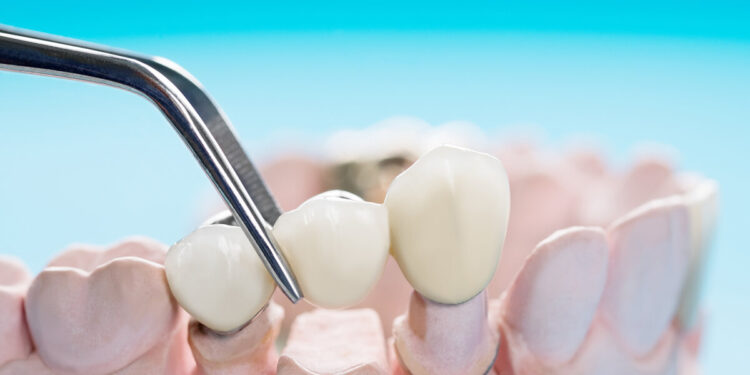 A dental crown is a "cover" that looks like a tooth and goes over a weak or broken tooth. It is made to look like a real tooth in size, shape, color, and overall look. A dental crown is usually made from:
ceramic

metal alloy

gold

zirconia

porcelain
The material used depends on a range of factors, including the original condition of the tooth, its position in the mouth, and how much of the natural tooth is to be covered. A dental crown can be used to do the following things below.
Protect a weak or damaged tooth from further damage, provide a cosmetic improvement to a tooth, restore a previously broken tooth, or prevent further decay on a tooth.
What Is a Dental Bridge?
As their name suggests, dental bridges fill in gaps where teeth are missing. They are made by putting crowns on the teeth on either side of the gap and connecting them with a fake tooth called a pontic. A bridge is one piece of dental work that connects the crowns and the pontic.
A bridge is custom-made to fit into the gap and is permanently cemented in place with dental cement. It is a great way to replace one or more missing teeth and improve one's smile. The bridge not only fills the gap in the smile but also helps maintain the shape of one's face and distribute the biting force accurately.
What Are Their Differences in Price?
The price of a crown and bridge will vary depending on the material used. A crown is usually more expensive than a bridge. This is due to the amount of materials/ time/ and labor involved in putting a crown in place.
Additionally, bridges are more affordable since less work is required of the dentist. In general, crowns usually average around $800-$2,500, while bridges usually range from $600-$2,000 depending on the material used and number of teeth involved.
What Are Their Differences in the Procedure?
The procedure for placing a crown involves taking an impression of the tooth, shaping the tooth to fit the crown, and cementing it in place.
A bridge, on the other hand, involves shaping and reducing the neighboring teeth and creating a bridge unit to fit over the two adjacent teeth providing support and stability.
If you are looking for personalized care and detail-oriented dental procedures, you may check out your local dental lab.
A Contrast Between Crown vs Bridge
In conclusion, when selecting between crown vs bridge, it is important to understand the purpose of each treatment. Crowns are ideal for restoring an existing tooth, while bridges are beneficial for replacing missing teeth.
Ultimately, the best path to take depends on your individual needs which your dentist can help you to determine.
Did you find this article helpful? You can check out our website for more awesome content like this.