Just like the rest of your body, your feet can experience quite a bit of pain if things go wrong.
When it comes to foot pain, you need to know what to do. It's one thing to complain, but the pain should be a sign that something is going wrong and needs to be addressed. If you ignore the problem, it may get worse and turn into a condition that needs rehabilitation or surgery.
That's why understanding the foot pain chart is vital so you'll know when to seek help. If you don't take care of the issue yourself, a doctor can give you the proper treatment. They may be better equipped to identify the issue.
When you don't know what you're dealing with, getting expert aid is key. Below, we'll give you a quick guide to identifying common foot problems and how to treat them. Keep reading to learn more.
What Is a Foot Pain Chart?
The foot pain chart is an essential tool in understanding and identifying common foot injuries. It provides a visual representation of the foot and ankle anatomy, clearly labeling and detailing each part.
By familiarizing oneself with the chart, one can easily locate the source of their foot pain and determine the appropriate treatment. It categorizes foot pain based on its location, such as heel, arch, or toes.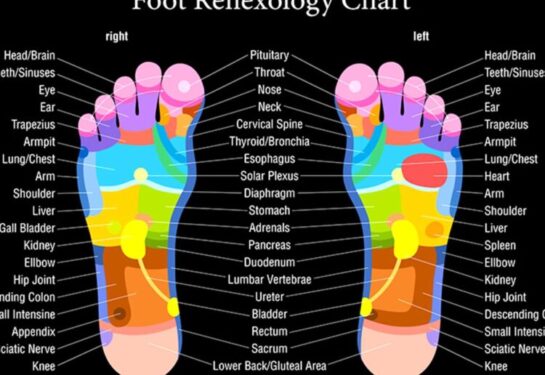 For instance, if the pain is in the foot's arch, it could indicate plantar fasciitis, while pain in the heel may be a sign of Achilles tendonitis. Proper treatment can be sought, whether it be rest, stretching exercises, or medical attention. Overall, the foot pain chart helps individuals take better care of their feet and prevent further injuries.
What Is the Foot and Ankle Anatomy?
The foot and ankle anatomy plays a crucial role in our daily activities. Pain or injury in this area can greatly impact our mobility and quality of life. The foot is a complex structure of bones, muscles, ligaments, and tendons. The foot is a complex part of the body comprising 26 bones, 33 joints, and more than 100 muscles, tendons, and ligaments.
Understanding its anatomy can help us better understand how to treat foot injuries. This is crucial in correctly identifying the underlying issue and providing appropriate treatment. Due to its intricate structure and constant use, foot pain is a common ailment.
What Are the Most Common Foot Injuries?
The most common foot injuries include plantar fasciitis, Achilles tendonitis, stress fractures, and ankle sprains. Others are hammertoes, bunion, Morton neuroma, corn, and heel spurs. These injuries can be caused by factors such as overuse, improper footwear, and accidents.
Treatment options vary depending on the type and severity of the injury but could include rest, physical therapy, or, in severe cases, surgery. By utilizing the foot pain chart, individuals can better understand and address their foot injuries for a speedier recovery.
Plantar Fasciitis
This painful condition occurs when the tissues that connect the heel to the toes become inflamed and irritated. The pain is usually felt in the heel or arch of the foot and can be described as a sharp, stabbing sensation. By using the foot pain chart, one can identify the specific location of the pain and determine the appropriate treatment.
Treatments for plantar fasciitis may include resting and icing the affected area, stretching exercises, and wearing supportive shoes or orthotic inserts. With proper understanding and treatment, the foot pain chart can help individuals find relief from plantar fasciitis and other common foot injuries.
Reading Suggestion: Retro Bowl Unblocked 66
Achilles Tendonitis
One of the most common injuries, Achilles tendonitis, can be easily recognized on the chart by its location at the back of the heel. This injury occurs when the Achilles tendon becomes inflamed or overstretched, resulting in pain and stiffness in the area.
Treatment for Achilles tendonitis includes rest, ice, and stretching exercises to help reduce inflammation and strengthen the tendon. Wearing supportive shoes and avoiding activities that put excessive strain on the tendon can also aid in healing. By using the foot pain chart and following proper treatment, individuals can effectively manage and overcome Achilles tendonitis.
Stress Fractures
Foot pain can be a frustrating and debilitating issue, impacting our ability to move and function. One common foot injury that can occur is a stress fracture. This occurs when the bones in the foot are subjected to repetitive stress, causing small cracks to form. Symptoms of a stress fracture include pain and swelling in the affected area.
Treatment for a stress fracture typically involves rest, some exercise, and avoiding activities that put pressure on the foot. It is important to seek medical attention to properly diagnose and treat a stress fracture to prevent further complications.
Bunion
A bunion is a bony bump that forms at the base of the big toe, causing pain and discomfort. The foot pain chart can help individuals identify whether they have a bunion by looking for a protrusion on the inner side of the foot.
Treatment for bunions may include changing footwear, using orthotic inserts, and performing foot exercises to improve alignment and reduce pain. If left untreated, bunions can worsen and may require surgery. Understanding the foot pain chart can help individuals recognize and address bunion pain before it becomes a more serious issue.
Corn
A corn is a small, circular area of thickened skin that forms on the toes or feet as a result of friction or pressure. It can be caused by ill-fitting shoes, foot deformities, or repetitive actions such as running or dancing.
To treat corn, it is important to relieve the pressure on the affected area and properly moisturize the skin. The foot pain chart can help individuals properly identify and treat corns, preventing further discomfort and potential complications.
Hammertoes
Hammertoes occur when the toe muscles become imbalanced. This causes the toe to bend in an abnormal position. This can result in pain, discomfort, and difficulty walking. The foot pain chart can help individuals identify the symptoms of hammertoes, such as corns, calluses, and redness on the affected toe.
Treating foot problems like this may include wearing supportive shoes, using orthotic inserts, and doing toe exercises to strengthen the muscles. It is important to address hammertoes early on to prevent further complications and discomfort.
Reading Suggestion: Soccer Video Games
Heel Spurs
Another foot injury is heel spurs, which are bony growths on the bottom of the heel bone. The causes of foot pain can be by repetitive strain, overuse, or even wearing improper footwear. Treatment for heel spurs can range from rest and stretching exercises to more severe cases requiring surgery.
Ankle Sprains
An ankle sprain occurs when the ligaments in the ankle are stretched or torn. This is often due to a sudden twist or turn. Using the foot pain chart, one can identify the affected area and determine the severity of the sprain.
Treatment for ankle sprains may include rest, ice, compression, and elevation, as well as exercises to strengthen the muscles and ligaments. It is important to understand the foot pain chart and properly treat ankle sprains to prevent further injury and promote proper healing.
When to Seek Medical Attention?
It is important to pay attention to any persistent or severe foot pain, as it could be a sign of a more serious injury or condition. In such cases, seeking medical attention is crucial. A doctor will be able to properly diagnose the issue and provide appropriate treatment, whether it be physical therapy, medication, or surgery.
It is always better to seek medical attention sooner rather than later, as early intervention can prevent further damage and promote faster healing. For instance, if you experience a bunion, you can opt to have a foot care plan have a podiatrist appointment, and consult about Hallux Valgus Deformity.
What Are Tips to Prevent Foot Injuries?
For a foot care plan to prevent foot injuries, it is important to wear properly fitted shoes, stretch before exercise, and avoid repetitive stress on the feet. It is also important to listen to your body and take breaks when necessary, especially during high-intensity activities. You should also maintain a healthy weight.
Incorporate strength and balance exercises that can help strengthen the feet and decrease the risk of injury. Paying attention to any warning signs of foot pain and addressing them promptly can help prevent more serious injuries from developing. Being mindful of foot health and taking proactive measures can greatly reduce the risk of foot injuries.
Reading Suggestion: Best Bottle Warmer
Understanding the Foot Pain Chart Is Essential to Identify Foot Injuries
Understanding the foot pain chart is essential in identifying and treating common foot injuries. By understanding the different types of foot pain and their corresponding causes, proper treatment can be administered to prevent further damage.
Remember to always consult a medical professional for proper diagnosis and treatment. Take care of your feet. Stay on top of any pain using the foot pain chart as a guide. Start taking steps towards healthy and pain-free feet today!
Did you find this information helpful? If you did, check out the rest of our site for more informative articles.