The tomato is a fruit of the tomato plant (Solanum lycopersicum) and is a culinary vegetable. Tomatoes are not only culinary versatile, but they are also extremely healthy. Tomatoes are high in water and low in calories, plus plenty of vitamins C, B1, B2, B3, B5, B6, E, and potassium.
The concentration of vitamin C in the peel is three times higher than in the pulp. To a lesser extent, tomatoes offer iron, calcium, magnesium, manganese, copper, zinc, phosphorus, and sodium. But the substance lycopene is particularly important. This carotenoid has an antioxidant effect.
It protects the cell membrane of plants, also keeps human skin cells healthy, and even lowers LDL cholesterol levels in the blood, which prevents cardiovascular diseases. The fruits are not only available in red, but also in yellow, brown, black, and green, and they vary in shape and size little; there are more than a thousand tomato varieties.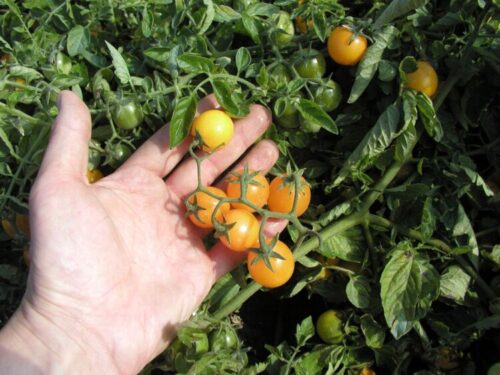 Origin of the tomato
The nightshade family can no longer be ignored in the Netherlands and other European countries. It is hard to imagine that it was completely unknown in Europe during the Middle Ages. 
The tomato came from America with the Spaniards. It probably originates from the very rainy regions of the Andes. This explains its enormous water requirement. The indigenous people of Mexico and Peru had been growing tomatoes for a long time when the Spaniards invaded the 'New World'. 
Archaeologists have found seeds that testify to the fact that the Maya cultivated the fruit for centuries in Mesoamerica—a cultural-historical region stretching from central Mexico to Nicaragua—before Columbus arrived on the continent in 1492. The name 'tomato' is derived from 'automate' which means 'chubby thing with a navel' in the Aztec language. The Spaniards shortened the word to 'tomato' (tomato).
Nutritional value of the tomato
Vitamins and minerals
Average per 100 grams: does tomato contain the following vitamins and minerals:
Vitamin or mineral

Amount of

Vitamin A

833 IU

Vitamin B1

0.04mg

Vi

tamin B2

0.02mg

Vitamin B3

0.59mg

Vitamin B5

0.12mg

Vitamin B6

0.08mg

Vitamin B8

7.20 mcg

Vitamin B11 (folic acid)

7 μg

Vitamin B12

–

Vitamin C

13.7mg

Vitamin D

–

Vitamin E

0.97mg

Vitamin K

14.2 mcg

Iodine

–

Chlorine

108mg

Chrome

1.26 mcg

Sodium

6mg

Potassium

297mg

Calcium

14mg

Phosphorus

26mg

Iron

0.94mg

Magnesium

10mg

Buyer

0.11mg

Zinc

0.31mg

Selenium

–

Manganese

0.21mg

Molybdenum

9 mcg

Fluoride

–
Lycopene
The tomato protects against coronary heart disease and atherosclerosis (hardening of the arteries). The reason for this is the substance lycopene, a special carotenoid with antioxidant properties. 
Lycopene is a bright red carotenoid that is not only present in tomatoes, but also in other red fruits, such as watermelon and rose hips. This phytochemical, which is supposed to protect cell membranes, are known to reduce the risk of certain cancers.
Carotenoids are so important for our organism because they help fight the so-called 'free radicals', which in the long term lead to cardiovascular diseases can lead. Since carotenoids are fat soluble, this must be taken into account during preparation. A few drops of olive oil may be enough.
The daily dose of lycopene recommended by experts is 6 mg. It is interesting that lycopene from tomato paste or tomato juice is absorbed by the body many times better than from fresh tomatoes. This can be explained by the fact that the relatively heat-resistant lycopene only fully unfolds at higher temperatures (which are reached during the production of juice or puree) and can then be absorbed much better by the body.

The following table shows the lycopene content (in milligrams) in various tomato products:
Tomato (raw): 9.3

Tomato juice: 10.8

Tomato paste: 16.7

Ketchup: 17.2

Tomato sauce: 18.0

Tomato paste: 55.5
Other fabrics
In addition to lycopene, other phytochemicals in the plant have a preventive effect against calcification of the blood vessels and cancer: flavonoids, phenolic acids, and terpenes.
Health benefits of the tomato
General
However, tomatoes are not only very healthy, but they also contain very few calories with 75 kilojoules (kJ) or 18 kilocalories (kcal) per 100 grams.
Before being recognized as an everyday food, tomatoes were used for medicinal purposes. They are known for their high lycopene content, which prevents several types of cancer. Because the carotenoid lycopene has an antioxidant effect, this substance strengthens the immune system and also gives the tomato its red color.
The tomato peel is particularly valuable for health and it is, therefore, advisable to eat it. It contains many different flavonoids and fatty acids. Many of these substances contribute to the formation of body tissue, the strengthening of the immune system, or the direct defense against pathogens. The flesh of the tomato, which consists of a jelly-like mass with seeds, contains a lot of water and fewer nutrients than the skin.
Protection against cancer
Lycopene gives the fruit its red color. It has a firming effect and thus neutralizes free radicals in the body cells. It is twice as effective as beta-carotene (a precursor for vitamin A) in carrots. Lycopene can prevent prostate cancer, as well as colon cancer, breast cancer , lung cancer, and cervical cancer.
Prevent sunburn
Lycopene also protects against the sun's UV rays by intercepting the free radicals formed that destroy skin cells. The protection against lycopene is increased by lycopene, but you must, of course, continue to use sunscreen when you go sunbathing.
Strengthen the immune system
Vitamin C and potassium strengthen the immune system. With a sturdy tomato, you already cover half of your daily vitamin C requirement. As an adult, you need 75 mg of vitamin C per day. Potassium is important for the body's water balance. Iron is also necessary for a functioning immune system. Although the fruit does not contain much iron, vitamin C ensures that it is well absorbed by the body.
Blood purification
Tomatoes neutralize metabolic acid residues, expel urine and enhance kidney function. In addition, despite their acidity, they have an overall alkaline effect and balance the content of acids and bases, which helps against gout and counteracts acidity.
Heart and vessels
LDL cholesterol is affected by free radicals, it becomes oxidized and then adheres to the arterial walls. The altered cholesterol sends out messenger substances that cause more and more blood cells to migrate to the deposits in the blood vessels. The blood vessel is now even narrower. The opening for blood flow becomes smaller and smaller. 
Reading Suggestions: Health Benefits of Indian Spices
The antioxidants in tomatoes prevent this development by fighting free radicals. Regular consumption of tomatoes prevents the narrowing of the blood vessels and reduces the risk of heart attacks and strokes.
Buying and storing tomatoes
To buy
Tomatoes are sometimes harvested just before ripening and then ripen in the days following harvest. So there is no reason not to buy an unripe tomato. If the tomatoes look full, free of pressure marks and scratches, and look bright red, they are edible. A fresh tomato is most easily identified by its stem. If it smells intensely of tomato, it is at the peak of its freshness. Tomatoes keep well at room temperature for about 1-2 weeks.
Save
When storing tomatoes, keep the following tips in mind:
Tomatoes are sensitive to cold and therefore do not belong in the refrigerator, not even in the vegetable compartment. Preferably store them in a dark place at room temperature. This is how they develop their full aroma.

Do not store tomatoes with other ripe vegetables such as 

cucumbers

. The red fruits release a natural ripening gas (ethylene), which makes cucumbers soft.

Conversely, apples, which also produce ethylene, ripen tomatoes. It also helps to place them in sunlight.

Use the tomatoes within four to five days. Otherwise, light, heat, and oxygen will reduce the nutrient content.
Grow your own tomatoes
The countless species vary from 20 cm-high shrubs to two-meter-high vines. Typical are the dark green leaves with fine hairs that give off a spicy scent. From April you can grow tomato seeds in small pots with nutrient-rich soil. They must be watered abundantly. 
The plants germinate quickly, the warmer it is the better. From about 15 cm you have to support the plant, first with small wooden sticks, later with bamboo sticks or other plant sticks. Then the yellow flowers appear. They form in the leaf axils and self-pollinate. The plants are not allowed outside until after ice saints. You really need to take this seriously, because even a little frost can destroy the plant. 
From late June to early July, the flowers turn into green fruit. Depending on the species, they turn red, orange, yellow, brown, or violet. Never eat them unripe. While the fruits are still green, they contain solanine, a poisonous alkaloid. The fruits do not all ripen at the same time.
You can count on several edible specimens per plant and it takes several weeks for all the fruits on a bush to ripen and be ready for harvest. Tomato plants need a lot of water and nutrition. They also like sun and warmth. So you have to water the plants a lot in the morning and in the evening.
Allergy
A tomato allergy is well known. It often occurs in histamine intolerance or in the form of a pollen cross-allergy. Tomato allergy manifests itself in the form of flatulence, nausea with diarrhea, headache, rapid heartbeat, and/or an itchy, red rash shortly after contact or consumption.
Preparation tips
Tomatoes can be eaten raw or cooked and offer many valuable nutrients, especially in tomato skins. You can cook, bake, grill, or dry these vegetables in the oven, but you can also make stuffed tomatoes, make soup or use them raw in salads.
Tomatoes form the basis for sauces with meat, pasta, or other side dishes, but also serve raw as an ingredient for salads, sandwiches, or as a snack or decoration. Pure tomato juice is not very popular in the Netherlands, it is nowadays used more for smoothies than other fruits and vegetables.