Drinking rooibos tea offers many health benefits. It contains antioxidants that scavenge free radicals. Various polyphenols in the rooibos have a positive effect on the cardiovascular system.
Rooibos (Aspalathus linearis) comes from the leaves and twigs of the Aspalathus linearis plant, a plant from the Leguminosae family (Leguminosae) that grows only in South Africa. So it is not actually a 'real' tea.
During a long fermentation process, this tea gets its distinctive reddish color. Green rooibos comes from the same bush and is not fermented. Rooibos tea is very popular in some countries and is suitable as an alternative to black tea for people who do not tolerate oxalic acid and tannins.
Profile Of Rooibos
Rooibos has the following characteristics:
Scientific name: Aspalathus linearis

Family: pea family (Leguminosae)

Distribution: in the Cederberg area north of Cape Town (South Africa)

Parts of plants used: leaves and branches

Applications: sleeping problems; stress and tension; to strengthen the immune system; stabilization of blood vessels; inflammation.
Rooibos Tea
Rooibos tea is traded worldwide but is only grown regionally in the mountains of South Africa, near Cape Town. It is a traditional native remedy and drink. Rooibos tea is not only suitable for drinking, but also for cooking and skin care. Unlike black tea, rooibos tea does not contain caffeine. Strictly speaking, rooibos is not tea, but a tea-like drink.
According to the ISO standard (ISO stands for 'International Organization for Standardization'), real teas are just infusions of the tea plants Camellia sinensis (Chinese tea plant) and – (Indian tea plant). Rooibos tea contains valuable minerals and flavonoids and is therefore an ideal drink for athletes. Rooibos tea contains no caffeine and has a natural sweetness, making it particularly suitable for children.
Nutritional Value
Flavonoids
Rooibos contains numerous medically active substances such as phenols and flavonoids. Flavonoids are antioxidants and scavenge free radicals. The flavonoids include:
luteolin

aspalathin

isoorientin

orientation

rutin

isovitexin

vitexin
Minerals And Trace Elements
Compared to the tea bush, rooibos contains no caffeine and only a few tannins, also known as tannic acid, a collective term for chemical compounds found in plants. The following minerals and trace elements are also present in rooibos:
iron

fluorine

potassium

calcium

buyer

magnesium

manganese

zinc

sodium
The leaves and branches contain many essential oils. Its flavor comes from two flavonoids that give it a sweet taste.
Health Benefits Of Rooibos
Rooibos has an antioxidant, cleansing, and antispasmodic effect.
General
People with kidney stones can drink rooibos tea very well because it does not contain oxalic acid. If you suffer from iron deficiency, you can take rooibos instead of real tea, because it hardly contains tannins, which slow down the absorption of iron.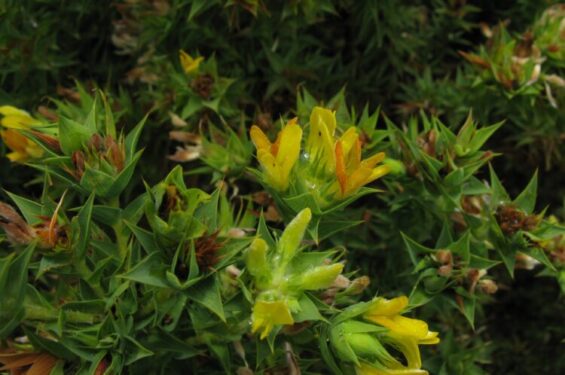 Reading Suggestions: Food That Makes You Happy
Heart And Circulatory System
Various polyphenols in the rooibos have a positive effect on the cardiovascular system and drinking rooibos tea can potentially prevent heart disease, stroke, and arterial hardening ( arteriosclerosis ).
Bone Formation
The flavonoid luteolin slows down the activity of the osteoclasts. These are cells responsible for breaking down the bone substance, leading to bone loss ( osteoporosis ). Conversely, luteolin promotes the action of osteoblast cells, which promotes the formation of new bones.
DNA Protection
Flavonoids have an antioxidant effect and scavenge free radicals. These are aggressive substances that can cause damage to cells and tissues. In doing so, they prevent damage to DNA, which can cause mutations that promote cancer formation.
Anti-Inflammatory
The flavonoids quercetin and luteolin inhibit inflammation and can prevent inflammation. Quercetin also promotes the release of the hormone serotonin, also known as the happiness hormone. Traditionally, people drink rooibos tea to improve their mood. This effect may be due to quercetin. This flavonoid also lowers stress levels. Especially people who suffer from chronic stress can benefit from this.
Prevent cramps
Aspalathin relieves cramps and that could explain why rooibos tea is traditionally used for colic, abdominal cramps, and stomach cramps.
Other
In addition, the flavonoid rutin (which is also found in buckwheat, rhubarb, apples, onions, tea, and asparagus ) strengthens small blood vessels and vascular walls, which can prevent thrombosis, varicose veins, and strokes.
production
Rooibos only grows on the sandy soils of the Cederberg, about 200 kilometers north of Cape Town. The cultivation itself and the production of the rooibos are uncomplicated compared to black and green tea. 
The branches and leaves are cut off between January and April. However, this is manual work, as machines are hardly usable in the sandy highlands. The branches and leaves are moistened with water, crushed, and spread out.
During this process, they ferment and the originally green rooibos turns red-brown in color. The material now only needs to be dried and pasteurized, then it is ready for packaging.
History
Swedish naturalist Carl Peter Thunberg (1743-1828) wrote in 1772 that the Khoisan – the collective name for Khoikhoi and San peoples of southern Africa – used the shrub, which would eventually become known as rooibos, to make a herbal drink. 
In 1904, Russian immigrant Benjamin Ginsberg (1886-1944) traveled to the Cederberg. Ginsberg came from a family of tea merchants and when he saw the local people making tea from a shrub that was healthy, he tried it himself and was enthusiastic about it. He was the first to organize the export of rooibos and his family became the market leader.
To date (2023), rooibos is only grown in the region of its natural origin, around the towns of Clanwilliam and Citrusdal, as its special habitat makes it unsuitable for global production. The Cederberg area has wet winters and hot dry summers, in which about 300 to 350 milliliters of rain falls, plus sandy soil with red-brown stones.
All attempts to grow rooibos under similar conditions, for example in Australia, have failed. Annual production today is about 12,000 tons, and about 90 percent of the harvest is for export. It is a popular and widely drunk tea in the Netherlands.
Rooibos Tea For The Garden
It is wasteful to throw the remains of the rooibos in the trash or green bin after drinking. The minerals make it an excellent fertilizer for house and garden plants. If any tea remains while drinking, do not flush it down the sink. Use it to water plants.
Rooibos In The Kitchen
In South Africa, rooibos is not only drunk as tea but also used for cooking. It is suitable for adding flavor to cakes, biscuits, or bread and gives desserts with nuts, chocolate, or vanilla a unique note. Rooibos tastes particularly good in ice cream, and it even tastes great in pumpkin or lentil soup.