Silent Portable Air Conditioner
Olimpia Splendid Dolceclima Compact
This model, patented by the Olimpia Splendid house, is for many the best portable air conditioner since it brings together a series of attributes, both physical and functional, that adapt to the specific needs of different users.
Let's start by talking a little about the structure of this silent portable air conditioner. It is a case of 70.3 x 34.5 x 35.5 centimeters and 23 kilograms, made of white polymer and soft to the touch. In the upper part, it has a screen with a small control panel, so you can program the cooling levels,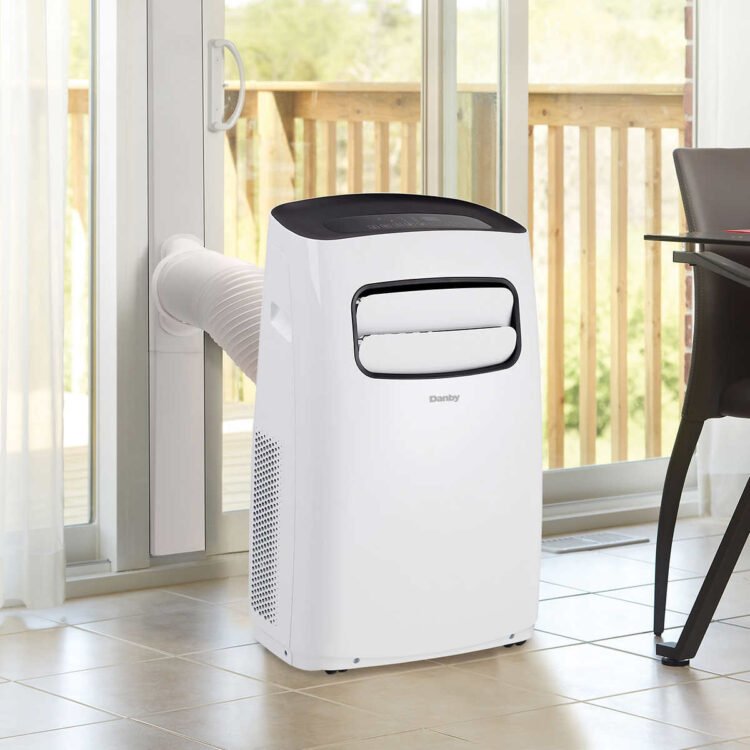 the opening angle of the front grilles, as well as the power on and off of the equipment. All this can be done manually or if you wish with the help of the built-in remote control.
On each side, you will find specific grip pieces and at the base a bearing system, designed to speed up mobilization. In addition, this silent portable air conditioner has low power consumption, since its energy classification types A and the noise level is 49 decibels.
With low power consumption, ease of mobility, and instinctive remote-controlled operation, this model is positioned as the best portable air conditioner of the moment.
Electrical efficiency: The air conditioning motor has a power of 2300 watts, thus offering low consumption of type A energy efficiency.
Remote control: The incorporation of the remote control will allow you to program the equipment from any angle of the room. In addition, its operation is instinctive.
Format: The structure of the equipment measures 70.3 x 34.5 x 35.5 centimeters together with a weight of 23 kilograms.
Bearing system: The manufacturer incorporated a rotating bearing system at the base of the air conditioner so that you can move it comfortably.
Noise: User comments coincide in qualifying this product as noisy since the decibel level reached is annoying with constant use.
Reading Suggestion: Getstreaming TV: Your One-Stop Solution to Entertainment
Tubeless Portable Air Conditioner
DeLonghi Pac AN98
The DeLonghi manufacturer's tubeless portable air conditioner is one of the best models available on the market. It is equipped with a cooling capacity of 10,700 BTUs. In addition, it works with several modes and is versatile, so it can be used as a dehumidifier or as a fan at three power levels. It has a compact and functional design of 30 kilos, with four swivel wheels, which facilitates its portability, being available in white.
For its operation, it uses ecological gas and is equipped with light indicators to recognize comfort at three levels, ranging from "search for comfort" in orange, to "perfect comfort", which is indicated in blue. In addition, it includes a remote control that allows you to remotely and easily select and activate all the functions of the equipment.
For the purchase to be efficient, it is convenient to know more about the positive and negative properties of the models. Learn about this option.
Light: It has a luminous warning for the level of comfort, being the orange color for the search of comfort, up to blue color for "perfect comfort".
Portability: It has a weight of 30 kilos, but it is equipped with swivel wheels that facilitate its portability.
Power: It has a power of about 10,700 BTUs, a sufficient amount for rooms of a standard size.
Functions: It stands out for its versatility, being suitable as a fan, dehumidifier, and condensation system.
Noise: In the opinion of some users, this model can become very noisy during its operation.
INFINITON PAC-93CB
If you don't have enough space, the Infinity Electronics Pac-93cb small portable air conditioner can be an interesting proposal for your well-being. We are talking about one of the most compact models on the market, with measurements of 33 centimeters deep by 43 wide and 80 high, which facilitate its location anywhere.
Something that does not affect its capacity, since thanks to its 3,000 Grigoris it is easy to air-condition spaces of up to 30 square meters with this device, according to the manufacturer.
A process that we can control through the panel and the LED display included on the front or using the included remote control, as we see fit. And as if that were not enough, the product also saves energy, as it has an energy class A classification.
Cool down any space with this small but cool air conditioner.
Reading suggestion: Veibae Face Reveal
Power: Its 3,000 BTUs are very efficient when it comes to cooling rooms of up to 30 square meters.
Size: It is one of the most compact products we have found on the market.
Control: You can control its functions from the included panel or through the remote control.
Noise: It is recommended to maintain the device's filters, to prevent the noise generated from being greater than the 62 dB indicated by the product.
See deals of the day on Amazon
Daitsu portable air conditioner
Daitsu 3NDA0088
This Daitsu portable air conditioner has achieved great acceptance among buyers because it has functions that you can adjust according to your needs and that of the other members of the family group. In this way, they will be able to enjoy adequate air conditioning. Among the working modes offered by the device, the dehumidifier, heating, and cooling functions stand out.
These modalities can be adjusted to up to four speeds, incorporating a fifth that will increase power significantly, such as the "Turbo". You can program the device to work uninterruptedly for a period of 24 hours, as well as select the Sleep option, to achieve maximum energy savings, and Light, when you want the indicators integrated into the unit to remain inactive.
Regarding the structure, we have a format of 39 x 40.5 x 82 centimeters, a weight of 39 kilograms, a control panel with an upper screen, a base with bearings, and an A+ classification efficiency.
Daitsu 3NDA0088 is an air conditioner that you can use in any season of the year thanks to its dual operation. More details are below.
Low energy consumption: Thanks to the fact that the equipment works with R32 refrigerant, you can reduce electricity consumption by up to 20% of the normally stipulated average.
Dimensions: The manufacturer had 39 x 40.5 x 82 centimeters measurements, offering you a rectangular and quite compact design.
Dual function: This air conditioner has a dual operation since you can program it to cool or heat the spaces.
Control panel: The control panel is intuitive to operate and is accompanied by a small, easy-to-read LCD screen.
Grilles: The presence of a filter in the ventilation area has been missed since the dust is more easily fixed.