The Best Mops – Opinions 2022
Due to a large number of mops models, selecting a piece of equipment that suits your cleaning needs could be a complicated task. For this reason, below you will learn about some designs of electric and manual mops, recommended in the market as the best of this year.
1. Black+Decker Fsmh1321Jmd-Qs 17-In-1 Steam Mops
For many followers of the Black+Decker brand, this model could be the best mop, since it allows cleaning almost any surface, thanks to the incorporation of a set of 17 interchangeable tools. In this way, it is possible to enjoy a good user experience.
These are four SteaMitt-type mops, with different textures, which allow them to absorb, clean, and shine, as well as three microfiber mops with rectangular and triangle formats, which adapt to corners and edges.
In addition, you will find pieces adjustable to the head for cleaning windows, upholstery, and carpets. Likewise, a hose, protective gloves, steam nozzle, and brushes of different sizes are added, providing total versatility.
Among other interesting data of this steam mop, we have its efficient workforce corresponding to 1300 watts and the incorporation of a head with a 180° rotation mechanism, suitable for cleaning spaces with limited access.
This product may be the best possible mop at the moment. Next, learn about the positive and negative aspects of the model.
Head: The turning mechanism offered by the head allows easy access to any small space.
Accessories: A set of nozzles, brushes, mops, and other elements that will improve your user experience are attached.
Mop: The microfiber used provides softness, great absorption, and long useful life because it is reusable.
Tank: It has a 500 ml tank, which is enough to produce an adequate amount of steam and avoid frequent refills.
Humidity: Some traces of humidity have been registered after each pass, but this may be due to an incomplete configuration of the mechanism.
2. Vileda Steam Mops With Electric Triangular Head
When reviewing the Vileda house catalog, we will find that this model is recommended as one of the best mops of 2022, since it has been manufactured with high-quality materials, a pleasantly soft touch, and an ergonomic grip handle for comfortable handling.
Its head has a triangular format, which is convenient for you to clean any corner or edge, while the pivot system allows you to access limited spaces, such as under the table or any other furniture.
In addition, this Vileda mop has a 1550-watt motor, which in turn generates a steam pressure of 1.5 bars. Its tank has a volume of 0.4 liters, to produce steam for a long time and the six-meter power cable allows it to reach a suitable area.
Finally, you will be interested to know that with the purchase you will enjoy a set of accessories for cleaning carpets and two microfiber mats for the main head, which increase the versatility in the use of the equipment.
Vileda could be the best mop brand, whose designs offer the highest quality standards. Here, are the details of one of their models
Cable: You will not need extensions because its power cable is quite long.
Head: Its triangular format head allows you to easily access any corner.
Ecological: The steam system avoids the use of disinfectants and chemicals that pollute the environment.
Accessories: You can clean your rugs thanks to the special built-in accessories.
Steam: The steam generated may not be suitable for cleaning deep-pile carpets. However, its use is successful in short-pile upholstery.
3. Tencoz Spray Mops
It is a multifunction mop since it is used to clean the floor, but also the ceiling and the windows. In this way, you do not have to adopt awkward postures or use stairs or stools to access certain areas of the home. In addition, it includes microfiber mops, which efficiently trap dirt.
One of the most outstanding features of this model is that it incorporates a sprayer on the front, which you can easily activate from the handle, to spray water whenever necessary. Therefore, it allows dirt to be removed more easily.
The mop has a head that can rotate 360°, allowing access to difficult areas, such as corners, for thorough cleaning. To top it off, the pack includes 2 pads and 2 microfiber towels, which are reusable and machine washable for added convenience.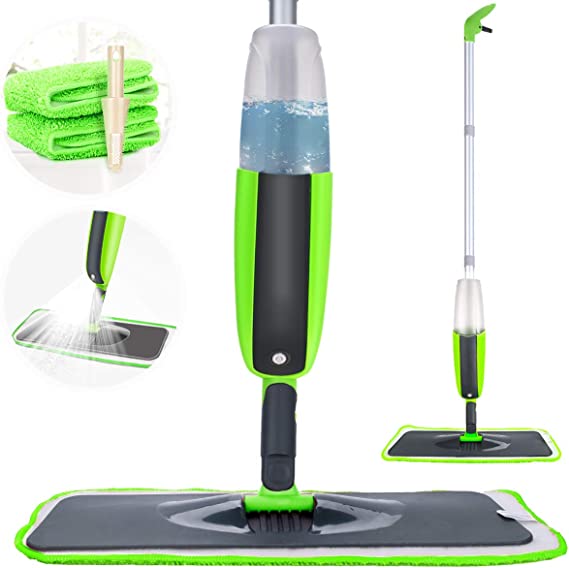 This is one of the cheapest mops in this selection, but it does its job perfectly. For this reason, we present its main pros and cons.
Sprayer: It has a water spray system that can be easily activated from the handle for greater comfort.
Tank: Bring a tank with a capacity of 300 ml, where you can put water and detergent or air freshener.
Rotation: The mop head can rotate 360°, allowing you to reach difficult places without too much effort.
Use: It is designed for daily maintenance, so it is not ready for deep cleaning if the surface is very dirty.
4. Stanhope Magic Tool Floor Cleaning System
This product, patented by the well-known brand Stanhope, is for many of its followers the answer to which is the best mop since it has a light and adjustable structure. The model stands out for its flat head with articulated corners that you can bend to create a kind of triangle adaptable to edges and corners.
Also, this cleaning tool has a telescopic pole with three adjustment areas to extend it up to 143 centimeters. Thus, you can easily access any surface.
Finally, this Stanhope mop incorporates four covers, which you can place on the head, depending on the type of surface you are going to clean. Each of them is made with double microfiber, with terry and simple fabric, qualities that allow them to sanitize on wet surfaces, dry excess moisture, or remove dust and cobwebs from the walls. All of them are easily machine washable at a temperature of 40°C.
Those who still do not know which mop to buy may be interested in this model with an adjustable design, whose positive and negative aspects you will learn about below.
Reading Suggestions: "Spring cleaning" in the wardrobe; 6 tips for perfect order
Handle: The telescopic handle offers three levels of adjustment to extend it according to your needs.
Covers: The built-in covers are made with different types of microfibers to provide better treatment to each surface.
Head: You will be able to easily access the corners and edges thanks to the articulated system of the corners.
Weight: Its light weight allows you to manipulate the equipment for long periods of time without generating fatigue in your hands.
Flexibility: The structure may appear unstable, but this is due to the flexibility of the cane.
Frequently Asked Questions
Q1: How To Use Mops?
To use a mop, the first thing you should do is place the respective textile or microfiber mat or the corresponding cleaning accessory on the head. Everything will depend on the selected model.
Then adjust the size of the pole to fit your anatomy, giving you full ergonomics for comfortable handling.
In addition, if it is steam mop-operated equipment, you will have to fill the respective tank with water and connect the power cable to the nearest power source. Thus, it only remains to start the equipment and start cleaning.
Q2: How To Clean The Mops?
To clean the mop you have to remove it from its respective head and submerge it in a soapy solution, which could include bleach if you wish. Then, let the textile rest for about 15 minutes and rub a little with your hands to remove the accumulated dirt.
In this way, you can proceed to wash the mop under the water tap to rinse it. Afterward, all that remains is for you to place the cloth or microfiber to dry in the open air.
Remember that there is also the option of incorporating the mop in the washing machine, but this will depend on what is set by the manufacturer. In this sense, the ideal is to read the instruction manual included in the purchase package.
Q3: How To Remove The Lint From The Mops?
To remove the lint generated by the mop, you should wash the mat, as usual, that is, with soap and water. In this way, you can proceed to submerge the textile in a solution made up of lemon juice and vinegar in equal parts. Then, let it rest for a period of approximately three hours. Thus, the lint will come off, and, by rinsing the mop in the water, you will have restored its usual appearance.
Q4: How To Make Homemade Mops?
Making homemade mops is a simple task for which you will need a piece of cotton or microfiber fabric, scissors, a needle, thread, and Velcro tape. In this way, you can start the preparation.
The first thing you should do is cut a strip of fabric approximately 40 centimeters long and 20 centimeters high. Next, make a fold on one of the larger sides and sew it carefully. Thus, you will be able to extend the textile piece on a table and, with the help of scissors, you will be able to start making vertical cuts, preserving the previously made edge.
At the end of the cuts, you can take the mop that you just made and place it around the head or the stick in an enveloping way. Previously, you should have attached a velcro strap or clasp to the end to prevent the mop from slipping off the base.
Q5: Which Is Better, Cloth Mops Or Microfiber Mops?
Saying that cloth mops are better than a microfiber one or vice versa would be a bit of an unfair judgment since it is a pair of fabrics with great properties, resistant, reusable, and with a pleasantly soft touch. In any case, we could comment that the absorption power of the microfiber is a little higher than that given by the fabric, but the performance must also be evaluated depending on the type of surface to be cleaned.
Q6: With What To Moisten The Mop To Clean?
If you are going to use a manual mop, you can moisten it with water directly from the tap, with a soapy solution or any disinfectant of your choice. For their part, the electric models incorporate a small tank to spray water or generate a mist of steam, which will go directly to the equipment mat, moistening it.
In this way, bacteria and dirt are eliminated more quickly. Likewise, some robot-type mops incorporate a water tank, which is used to scrub surfaces.
Q7: How To Descale Steam Mops?
To remove this annoying mineral from inside the mop, you need to make a solution of water with baking soda and add vinegar. Then, pour the mixture into the tank and let it sit for 10 to 15 minutes. Next, empty the tank, fill it with water and start the device. Thus, you will clean both the tank and the ducts.