Milk Kettles – Opinions 2022
In many households, they still prefer the utility of a milk kettle with which preparing hot drinks is much faster. If your home needs one of these, we recommend you review the characteristics of the products that we have selected for you below.
1. Severin Induction Milk Emulsifier
When looking for the best current milk kettle, it is convenient to bet on quality models, such as the Severin 3583-000. This has an induction heating system, which carries out this process progressively and without high-temperature areas, which end up burning the milk.
Its capacity is 700 milliliters, also has the possibility of frothing the milk, if you need it. There is also no lack of a temperature selector, with four different levels. Something interesting is to give the milk the precise temperature according to what the elaboration requires.
The piece is finished off with details such as a good opening at the top, which makes it easy to serve the milk or first-rate stainless steel construction. Details of the best brand of milk kettles that we find in this model.
Deciding which milk boiler to buy is much easier if you go for quality solutions, like this one from Severin.
Dimmable: The device has four different levels to control the temperature.
Induction: This technology offers efficient and stable heating, which does not burn the milk.
Power: Its power is 500 watts, saving you time when using the product.
Frothing: In addition to heating, it is also possible to froth the milk whenever you want.
Cleanup: Cleanup is as easy as popping the container into the dishwasher and letting it do the work.
Maximum temperature: The maximum temperature is 65 degrees, something scarce for those who want piping hot coffee.
2. Solac Mh9100 Choco-Latte Milk Heater
If you need a kettle and milk, your model is the Solac MH9100. This proposal has a power of 250 watts that, despite seeming scarce, generates homogeneous heating of the liquid that you place inside, without the milk or chocolate burning during the process.
This is achieved through details such as a hidden resistance, which improves the hygiene of the product and better distributes heat. An anti-cream filter is also included, which prevents the cream from appearing when the milk is hot.
Reading Suggestions: The Best Kitchen Griddles Of 2022
There is also a high-quality non-stick interior, which prevents milk, chocolate, or any other product from sticking to the interior walls. To top it off, its design is PFOA-free and compact size, which makes it easy to place it anywhere comfortably.
After analyzing this electric milk kettle, we leave you its most important features.
Versatile: It is suitable for heating milk, chocolate, water, and almost any other liquid, due to its characteristics.
Interior: Its non-stick interior facilitates cleaning and prevents anything from sticking during cooking.
Capacity: Its 1-liter capacity is adequate to cover all kinds of needs with solvency.
Anti-cream filter: This accessory prevents the appearance of that annoying cream on hot milk.
Temperatures: It is missing that the product includes a temperature selector for heating since currently it is limited to heating without further ado.
3. Jata Cl819 Heater For Milk And Chocolate
This milk kettle offers a capacity of 1 liter and has a PFOA-free non-stick coating on the inside, so it does not release toxic agents when subjected to high temperatures, making it safer for food use. It is important to mention that it has a power of 400 W, which indicates good performance.
Also, it is capable of reaching a temperature of up to 80 °C, making it suitable for heating milk and preparing hot chocolate in a few minutes. In addition, it has a light indicator that lets you know when the device is on.
Design-wise, it has a white outer body with a cool-touch surface, which prevents burns and gives you added safety. Likewise, it incorporates a hidden resistance to avoid contact with the heat zone and protect the internal mechanism from humidity.
If you are looking for the best value-for-money milk kettle, then it is important to mention that this model is one of the cheapest. Let's take a closer look at its most important pros and cons.
Security: It has protection against overheating to avoid accidents. In addition, the resistance is hidden to avoid direct contact with the heat source.
Performance: It is capable of maintaining the temperature at 80 °C because it offers a power of 400 W, which provides good performance when heating milk and chocolate.
Non-stick: It has a black non-stick coating on the inside compartment, which prevents food from sticking. It is also a PFOA-free material.
Cord: Cleaning could be a bit inconvenient, since the power cord is built into the kettle, so it is important to keep it away from water.
4. Solac Milk And Chocolate Ch6302 Milk Kettles
This heater is appropriate to save time and money when we just want to enjoy a good hot drink, since we will not need to turn on gas stoves or electric stoves, which is why many users see it as one of the best milk kettles of 2022.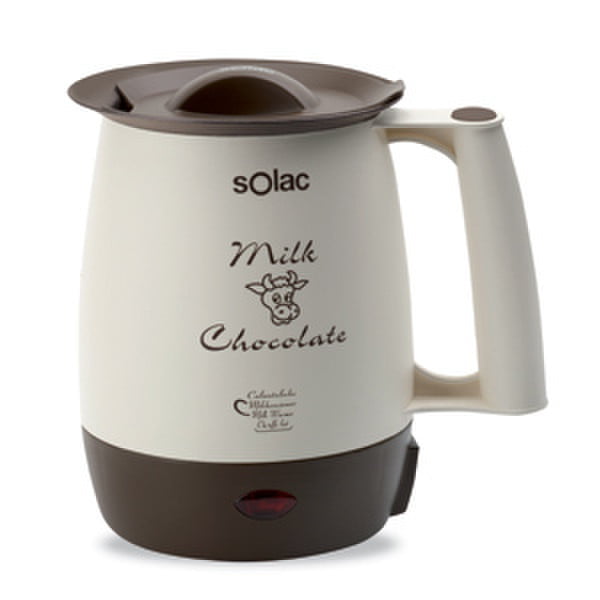 Among its main characteristics, it is found that it has the capacity to heat up to 1 liter of liquid, which facilitates the preparation of any recipe for the whole family at times such as breakfast, for example.
It also has a heat-insulating handle to prevent hand burns when serving. In addition, its cleaning is very easy thanks to its non-stick coating.
On the other hand, it has a removable anti-spill lid, with an anti-cream filter included so that this part of the milk can be removed if it begins to cool. And, as it is made with an elegant black and white design, it will be a product capable of combining with all types of decoration.
Several customers of this type of product show that this model could well be the best milk kettle of the moment, so we have no choice but to leave you a list of the pros and cons of this model so that you can assess this statement.
Time: The kettle is capable of heating the drinks placed inside it in a maximum time of one minute.
Cable: It has a power cable for the electric current that can be removed to facilitate the mobility of the kettle.
LED lighting: With the LED light that the equipment incorporates, the user will have full security when the kettle is on.
Without automatic shutdown: The user must pay attention to the moment in which the kettle finishes its work to turn off the equipment.
Swivel base: A user indicates that he would have liked the base to be swivel for greater ease when using the product.