The 8 Best Invisible Locks – Opinions 2022
As technology put at the service of security, invisible locks could be defined, because they are equipped with features that offer greater protection in access to doors through automated systems, magnetic sensors, WiFi connection and more. You can read more here about smart home security alarm systems that ensure your safety and that of your family.
For those interested in acquiring one of these, we present a selection of the models that stand out among the most popular in the user community, with their most representative aspects.
1. Lynx 94940Tk Electronic Deadbolt
Compact and resistant, this is how this Lince invisible lock has been defined, since it weighs only 750 grams and measures 15.5 long by 8.7 cm wide by 3.5 cm high, which makes it easy to carry. door installation and handling.
In addition, it works with 4 AAA alkaline batteries and is efficient in environments with temperatures between -20 degrees and 60 degrees Celsius, with humidity between 5 and 80%. It is also equipped with a control that allows remote control through easy-to-use buttons to activate and lock.
Therefore, it is not surprising that this model is positioned as a strong contender to be the best invisible lock on the market. Likewise, it has a security mode, which makes manual closing impossible and reserves energy for a final automatic opening, in case the batteries are not changed.
There are those who have suggested that this is the best invisible lock of the moment, but it will be through its pros and cons that it will be possible to determine if it is suitable.
Design: It has a compact design, with modern finishes and robust construction.
Siren: Among its functions, it includes a 90 dB sound alarm system to prevent theft.
Control: Includes a total of 3 controls for effective control. These have a fixed frequency of 433 MHz.
USB: It has a micro USB connection to supply continuous current and not depend on batteries.
Batteries: The lock is delivered without batteries, so they must be purchased separately.
2. Ayr Invisible Brass Electronic Lock
The manufacturer AYR promotes the sales of this model under the premise of being "the best solution in high-security electronic locks" and, due to its construction properties and technological operation, it frequently appears as one of the best invisible locks of 2022.
It is a device equipped with an alarm and other innovative functions that increases security at the main access doors, since, once installed, the rooms will be protected against forced entry.
In addition, it has an elegant design, built with a steel structure and modern finishes, which can be used in lift, overhead, swing doors and in materials such as aluminum, stainless steel, wood, iron, PVC and more.
The AYR invisible lock has a self-closing mechanism and, although it includes two controls, it has the possibility of being linked via Bluetooth and activating its configuration through its application for Android and iOS mobiles.
Some manufacturers flaunt quality and the pros and cons of this model might give you an idea of ​​why AYR is considered the best brand of invisible locks.
Operation: It works with the Bluetooth 4.2 protocol and with 128-bit AES encryption for greater radio frequency security.
Systems: Even if the user forgets to close the door, the system will activate and manage the battery to increase its life. In addition, it has an emergency opening.
Design: Its design is modern, with a robust construction, available in matte brass to visually fit into the spaces.
Controls: Includes two controls, with the possibility of extending the wireless control options to 10 users, through the mobile.
Installation: Its installation could be difficult in some models of doors.
3. Ba30Dellylelly Wireless Remote Control Electronic Lock
One of the biggest problems with some locks on the market is the range that their remote can provide. To avoid this inconvenience, the lock that we analyze on this occasion has an improved antenna, which allows it to perceive the signal at a greater distance than other models. In addition, the purchase includes 4 controls, to distribute them as best suits between trusted people.
On the other hand, in addition to being a cheap option, this invisible electronic lock has the possibility of powering the device via USB. In this way, you will not be left home if the internal battery runs out.
To add practicality, the model has 3 additional unlocking modes. These are: through the internal button, through the phone application or with the use of another remote control. In this way, it will be easier to access your home in the event of any unforeseen mishap.
It is normal to wonder what is the best invisible lock. To answer this question, it is convenient to inform yourself in detail about each model.
Purchase kit: The purchase includes all the necessary accessories to assemble the lock and start using it.
Dimensions: Its size is 15.5 x 8 x 3.5 cm, so it is not a very large model and it fits almost any type of door.
Durability: It is a lock made of zinc alloy, so it resists constant use and the passage of time.
Battery warning: The signal to indicate that the battery is about to run out is visual, so people with visual limitations may not notice it.
4. Demeras Invisible Security Lock 
If you are looking for an invisible security lock with a minimalist design and high quality, we recommend you analyze this model. Among its many outstanding qualities, it should be mentioned that the model is designed to withstand explosions and also withstands mechanical unlocks, code transformation attempts and master key unlock attempts.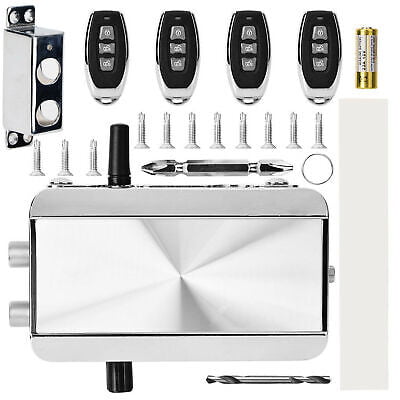 Similarly, the lock has an anti-rust box, which provides a more durable use and high quality and efficient mechanisms. In fact, it is estimated that it can withstand up to 300,000 operations without reducing its effectiveness. Due to these qualities, many find in this model an answer when they ask themselves which invisible lock to buy.
As for its use, it also has practical functions, such as the low voltage acoustic warning, to attend to the change of batteries before they run out. At this same point, you should know that its low consumption allows it to last up to a year, with normal use and two pairs of AA batteries.
This lock has many qualities that are worth noting. Therefore, we have prepared a summary with more related information.
Password level: Thanks to its code encryption, an intruder is less likely to break the lock and gain access to your home.
Efficiency against attacks: Its robust materials can withstand explosions, forced and anti-technical opening attempts, among others.
Design: It is an elegant lock with good finishes, with a format of 7.5 x 13 x 3.3 cm, so it is not too bulky.
Emergency release: Compared to other models, this one offers fewer options for emergency opening.
5. Wafu Smart Wireless Lock 
The Wafu brand has several intelligent security options in its catalog at an affordable cost. On this occasion, it presents us with a lock with double power. In this way, when you go on a trip, you will not have worries about not being able to enter your house, if the battery has run out.
Another interesting aspect of this Wafu invisible lock is its unlocking system through a mobile application, which expands its use alternatives. In the same way, thanks to its improved reception antenna, you will have no problem opening the door with the remote control at a distance of up to 15 meters.
Reading Suggestions: Tips To Choose The Best Broadband
In relation to its appearance, it is a lock made of highly resistant materials, with a modern design, and you will be able to know the state of charge of the batteries at all times, thanks to its indicator light. In addition, its use and assembly are very simple.
This lock, even being one of the cheapest, offers qualities that could be of interest to you. Know its pros and cons.
Double power supply: You can always keep the power supply for the lock safe through the USB cable.
Compatibility: It is possible to mount this lock on almost any door. In addition, it includes the screws to do it.
Additional unlocks: In addition to the included remotes, this lock adds unlocking via an app, which can be handy.
Instruction manual: It would be convenient if the assembly instructions were in English, for a better understanding.
Frequently Asked Questions 
Q1: How To Use An Invisible Lock?
To use an invisible lock, it must be verified that the device is ready to be used, with batteries and installed correctly on the door. In order to activate the mechanism, it is only necessary to use one of the remote controls that are included in the package.
This control must be operational and have batteries. Its use is simple, since you only have to press the open button, so that the lock is released, and then the close button, so that the mechanism is blocked. Some models do not require the use of a control from the inside, so it is only necessary to press a touch panel to open the bolt or, failing that, press the button for emergency opening.
 Q2: How to install an invisible lock?
Its installation can be a simple process that usually varies according to the model. However, almost all of them are equipped with the anchors, screws and other elements, as well as the user manual.
First, the lock must be placed in the desired location on the front door. Afterwards, the fixing plate is placed with its lag bolt, for which it will be necessary to open some holes in the door with the help of a drill. When the base is firm, the invisible lock should be placed on it.
To continue, the closure plate must be installed on the other side. This should be aligned with the body of the lock. In some cases, certain adjustments need to be made to the frame in order for it to sit. Once fixed, the mechanism can be activated by simply pressing the button on the remote.
Q3: Which Is Better Invisible Lock, Wufu Or Remock Lockey?
Both brands of locks are positioned among the favorites of users due to their adequate performance and design. Defining which one is better than another is not an easy task, because there are different models. Therefore, it is possible that a Pro-type Remock Lockey lock is better than a simple Wofu or vice versa.
To try to provide a correct answer, you have to know both models. Remock Lockey locks tend to be more recognizable and modern in design, available in various colors. They are made of steel, have secure coding, a secondary motor in case of failure of the main one, low battery warning, unlocking in case of emergencies, among other features. In contrast, they cannot be fitted without a regular cylinder, so the key cannot be dispensed with and their prices are high.
In the case of Wafu locks, they can use the mobile to open and close via Bluetooth, they are powered by batteries and by current, their controls have an adequate frequency and some versions incorporate a touch panel to open from the inside, in addition to being cheaper. However, they may not be as hardy.
Q4: How To Open An Invisible Lock?
To open an invisible lock it is necessary to use one of the controls enabled for it or the configured mobile. From the inside, depending on the model, accessories may not be required, since some have panels or buttons.
For emergencies, due to loss of remote control, not having an associated mobile phone, lack of power, etc., there are several proposals, ranging from going to the brand's technical support, to the use of the emergency battery and even, in some cases, brute force (not recommended). These locks are usually made of robust materials and are usually not visible from the outside, making them difficult to open. Thus, they tend to be bump-proof.