Are you wondering how you can best train your cat? Then you are exactly right here. In this blog you will learn how to training cats tricks and what an appropriate training for the house tiger looks like.
Good preparation promises the best training success
First of all, it is important that you prepare the training for your cat well, because especially at the beginning it is important that you develop a routine together with your velvet paw. It is best to always train in the same place and in a quiet environment without distraction. Avoid music if you want to successfully teach cats tricks. Of course, you should also have tasty rewards ready. It is important that you subtract the fed reward from the daily food ration so that cats do not run the risk of becoming fat. The training offers a good opportunity to have to work out the food .
When should I start training cats?
Basically, it is possible to train cats at any age. However, here you should take into account that kittens cannot concentrate as well. It is therefore advisable to wait until the kitten has completed its first year of life before training.
Patience is the be-all and end-all: take your time!
Exercising cats means success or failure on both sides. Your cat will only be as good as you teach her to be as a trainer. You should therefore have a lot of patience for training cats. After all, nothing can be forced. Also, keep in mind that there are both good and bad days. As with us humans, all the efforts a cat makes depends on its daily form. So if cat tricks do not work so well today, although Felix, Luna & Co. have already mastered them, then continue training the next day instead of overwhelming them and thus spoiling the fun of the training.
Classic conditioning is the key to success
Conditioning means that the cat learns a certain behavior through positive reinforcement. Conditioned processes can already be observed in most house cats in everyday life. For example, when the smart fur nose comes running up because they heard you open the pantry with the treats in it. This is a basic principle that you can use to teach cats tricks.
Important: You are certainly assuming that the cat training is completed with commands. That is also correct, but you should only pronounce it when the cat has already mastered a certain trick.
Tricks for the cat: jumping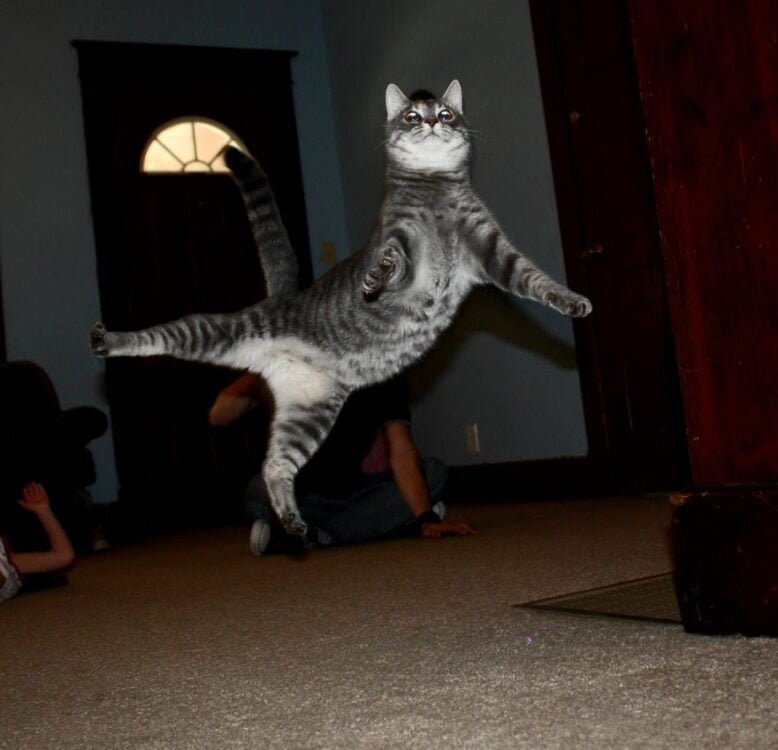 The best way to teach your cat to jump is as follows: Hold a tire in front of your cat and make sure that it is close to the ground. Now you can put the tiger through the hoop with a treatCurls. However, make sure that you have the necessary patience if the fur nose is a bit skeptical at the beginning. If the cat walks safely through the hoop, you can position it a little higher to get it used to jumping step by step. It is important that you position the tire higher and higher, but you should make sure that this only happens as far as the little companion can actually jump. If the house tiger runs under the tire, it is best to take one more step back. If the cat successfully jumps through the hoop, you can introduce a command such as "Hop" or use your outstretched arm to make it jump over it.
Read More:Cats and Children a Good Team?
Training cats: slalom
If you want to teach your cat to slalom, a close bond is required between the two of you. In addition, some coordination is required on both sides. Your goal is to have the cat walk between your straddled legs. As with jumping, it is important that the exercise be done gradually.
Tricks for the cat: sit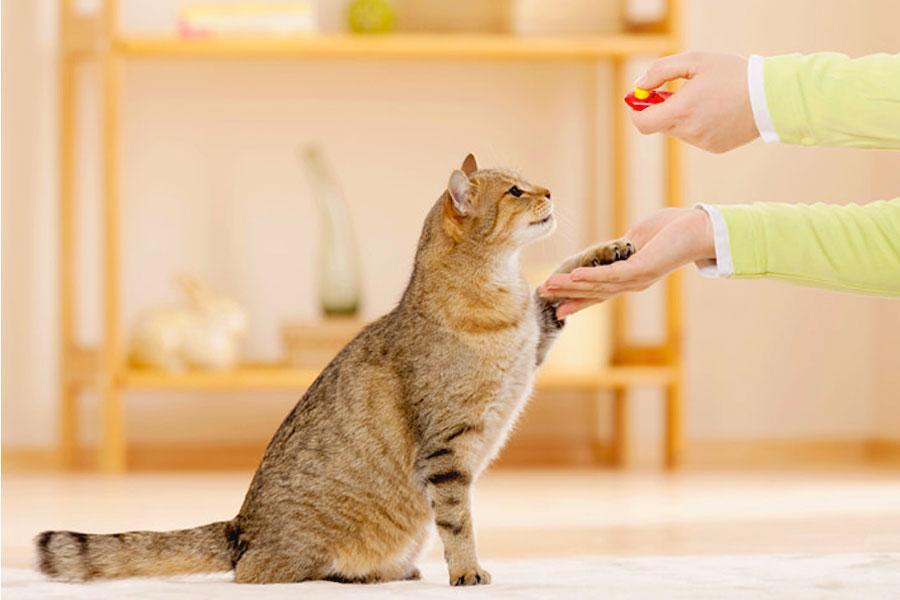 You thought only dogs can sit? Then you might be surprised that cats are able to do this too. To teach your cat this trick, simply hold a treat over its head. If she then becomes aware, you move it over her head, a little backwards. Most cats will then automatically sit down so they can keep an eye on the prey. You reward this behavior immediately and ideally with acoustic reinforcement. But you can also use any situation in which your house tiger sits down to reward him. However, the reward only makes sense if it occurs immediately after sitting down. If you first have to run into the kitchen to get a treat, it is enough only the next time you sit down.
Teaching cats tricks: making males
For the male trick, hold your cat a treat over its head and wait for it to sit down to continue to fixate on the prey. As soon as the cat sits and moves its paws upwards in this position to grab the treat, you should use an acoustic signal to let the cat understand that this behavior was desired.