Dogs love petting, but not just any petting. It is important to know the right way to pet your animal, the areas where it likes to be touched, the others where it does not appreciate the contact, as well as the right times to do so. 
Caressing your dog is like a reflex, a mark of affection, a validation to congratulate him or simply to show him that we love him. But is the caress always welcome? Are we always choosing the right time to pet our dog? Are we still going for the right approach?
Let's see why, when, and how to stroke your dog to be sure to please him, but also so that the stroke serves to improve both the handler-dog relationship and education.
Why Stroke A Dog?
In many situations, we tend to pet our dog "for free" just to show him our affection. This is not a bad thing in itself, but it is important to realize that petting your dog "for no reason", and this very regularly, can lead to undesirable behaviors such as hyper-attachment or even mismanagement. 
Indeed, if you get a dog used to always being petted, on the one hand, he will no longer see the caress as a reward (you will therefore no longer be able to use it in various training) and on the other hand, he will end up by considering as " acquired " the contacts which he has with his master.
However, a dog who considers contact with his master as having been acquired is a dog who, subsequently, may experience very badly the fact of not being petted when he asks for it.
The dog will then become the initiator of contacts and this will engender behaviors that can alter his good integration within his home, but also within society in general (like a child who would make caprices constantly in stores for having a packet of candy…).
Clearly, stroking your dog should be like a reward, a mark of affection following the desired behavior. Of course, it will always be possible to stroke your dog for no particular reason, but it will always be advisable to have asked, before the stroke, something from your dog in order to enter into a cooperative relationship: "you suggest this, then you get that ".
Read More: Cats and Children a Good Team?
The Caress Is Not Always Positive
Did you know that some dogs are not tactile at all and do not appreciate physical contact such as petting? And yes, it does exist and it is important to know how to observe and understand the signals sent by the dog so as not to risk an imbalance in the interaction.
Thus, if you observe that a dog backs up, looks away, licks his nose, or even yawns, these are sometimes very subtle signals that you should not under any circumstances ignore. You could risk ending up being bitten.
If you observe in your dog an uncertain affection for petting, he may prefer other forms of interaction such as play for example, as well as various rewards such as treats, toys, or verbal congratulations.
If you are finding that your dog is particularly anxious or stressed when interacting with you, you could consider natural remedies or supplements to help him. For instance, CBD for dogs has been found to not only support animals with joint and skin issues (that could be causing pain-related stress) but also to be a useful supplement for pets that suffer from anxiety.
When To Pet A Dog?
Just as you wouldn't give your dog a treat in the course of a job to reward him for a bad deed, neither would you pet him to validate, unconsciously in many cases, a behavior that we would not like to see repeated.
Indeed, it is unfortunately not uncommon to reward and therefore validate certain bad behaviors with caresses. At the moment, they are not really considered as such, and yet this is indeed the case, at least in the mind of the dog.
Here is a very frequent example to illustrate my point: the fact of stroking your dog when he jumps on us (because at the time it does not bother us, we have not seen him all day and it is his way of saying hello, etc.), and scolding later because we jump on it while it is dirty and that one is dressed for work … it is inconsistent for the dog since previously it had been strengthened and validated in this first contact.
The correct timing of the caress is therefore a guarantee of respect and consistency in the handler-dog relationship.
When Not To Pet A Dog?
As mentioned previously, you will of course have to be careful not to pet a dog when he adopts a behavior that you do not want him to reproduce.
In addition, you should never go pet a dog when it is sleeping or when it is in its basket: it is its refuge area, it must therefore be strictly forbidden to any other person/congener/animal other than its tenant.
Then, it will be inadvisable to go pet a dog when he eats: this moment must be his moment and he should never be disturbed during his meal. If you want to defuse a possible aggressiveness related to the bowl, prefer to pass by leaving beside the bowl or in the bowl of treats so that your dog assimilates your passage to something positive: but avoid petting him, at the risk of letting him down. 'irritate.
Finally, it will not be very productive to stroke a dog when he is afraid. In the same previous logic, the caress will serve as validation: thus, caressing a dog who is afraid amounts to legitimizing his attitude and (in a very short way) reinforcing his fear.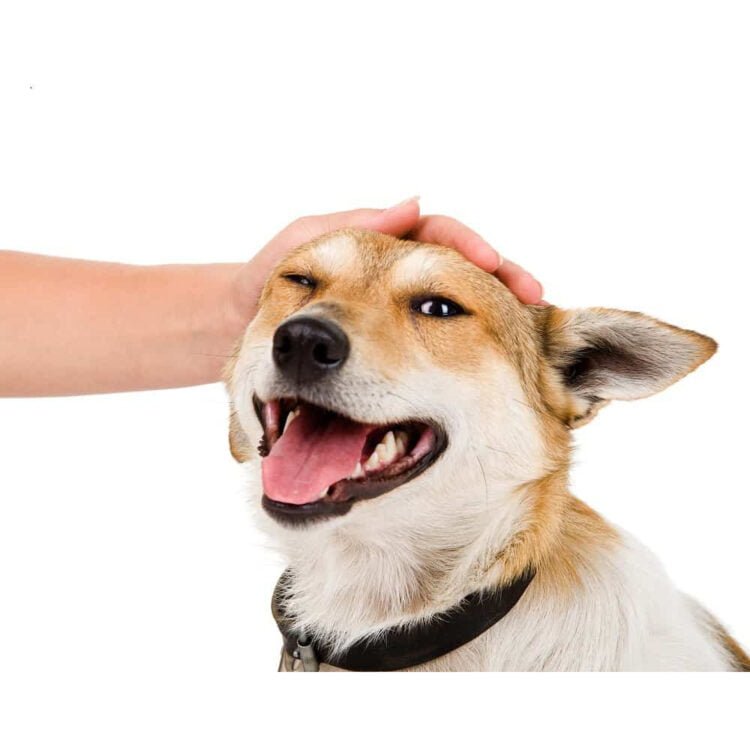 How To Pet A Dog?
Of course, a master's caress of his dog will be different from a stranger's caress on a dog, but in any case, here are 3 tips for caressing a dog with respect :
Ask him for permission by offering an outstretched hand, palm open, towards his nose

If he accepts (that he comes to sniff your hand), prefer a caress on the side or at the level of the neck because a caress on the head could be perceived as too intrusive.

As soon as the dog emits one of the signals mentioned above, stop contact and adopt one of the signals offered by the dog (turn the head, yawn, etc.) this will allow it to really enter into communication with the animal and make him understand that you do not want to get into the conflict