With an automatic feeder for the cat, you can fully automatically provide your pet with the portions of food that it needs every day – even when you are not there. This makes the product the ideal choice for professionals and people who travel over the weekend. In our new guide, you will find out everything you need to know before purchasing.
What is a cat feeder?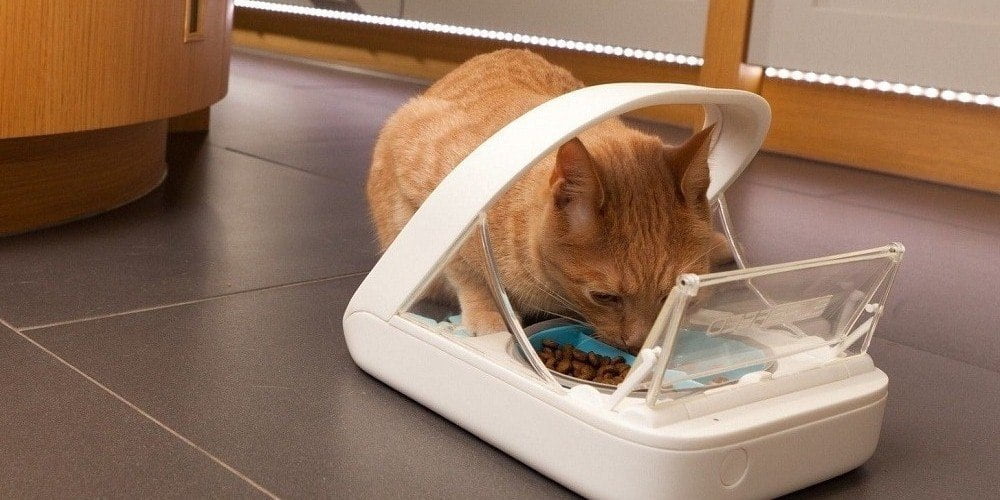 An automatic feeder for the cat is extremely useful when you are away from home for a long time, but you still want to have your cat cared for. The basic principle is simple: the device automatically fills the cat bowl with food with the help of a timer. There are many different designs that cover almost every function requirement, from simple to complex.
A simple principle is an automated feed dispenser for the cat with a timer. It consists of a bowl and a larger feed container. You fill the container with dry food before you leave the house. The cat cannot get to the food because it is safely enclosed. Depending on the setting, a flap will open at your preferred time. The food then falls from the container into the bowl so that the cat can eat.
You can also get a food dispenser for the cat without a timer. Then there is no closed flap between the container and the bowl. The food always slips down when your cat eats from the bowl. In principle, this means that the bowl is always full. But because the container protects most of the feed, it stays fresh.
A feed dispenser without a timer is the cheapest choice for fur noses that do not tend to swallow. With an automated variant, you always have the size of the feed portions under control in your absence.
Is an automatic feeder only suitable for dry feed?
A simple food dispenser for the cat is often only suitable for dry food. But there are special models for wet food. The food does not flow from a container into the cat's food bowl, but for practical reasons, these models use hinged lids that open automatically. Since most food spoils easily, many automatic feeders have a cooling function or offer space for ice packs.
Special designs for the automatic feeder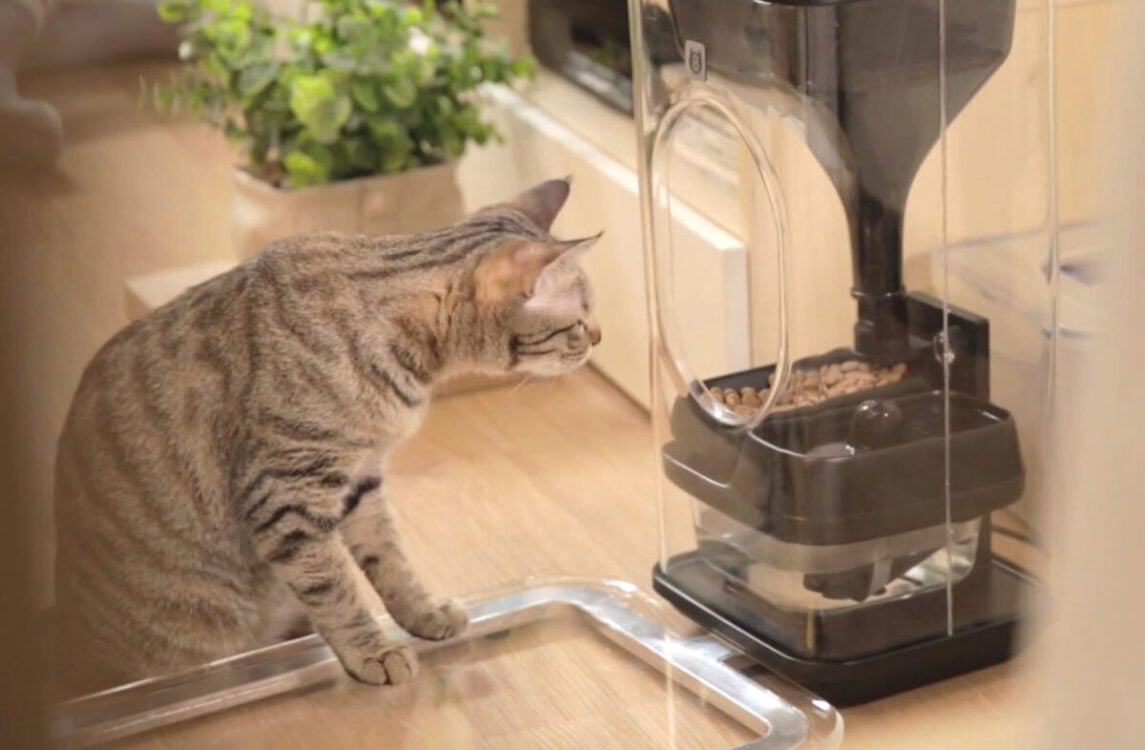 The manufacturers of bowls are constantly coming up with new ideas to simplify everyday life with the cat. A special automatic feeder can use an RFID chip to help the cat so that only it is allowed to eat the food in it. Worn on the collar, a flap opens over the bowl when the cat is directly in front of it. With several cats or a dog living in the household, such a model helps against food theft. Each animal only gets the food intended for it. This is extremely practical with regular medication or special feed.
Other models also work with a food bowl that is covered by a flap. The flap does not always have to be opened by a chip. In some models, it opens with a timer. The cat's food bowl will then no longer fill up automatically, but with double or multiple bowls, each with its own lids, you can still guarantee two or more meals.
Read More: Training cats: this is how it works with the tricks
Properties that can be worthwhile with the automatic feeder
Sometimes it makes sense to invest a little more money and buy a machine not only with a timer but also with other additional functions. From simple helpers to luxury high-tech models, everything is available in stores. The following extras are particularly interesting from our point of view:
Dishwasher-safe quality: allows machine cleaning

Removable food bowl for the cat: for easier cleaning

BPA-free: protects your cat from harmful plasticizers

Safe stand: the machine cannot be knocked over by a hungry cat

Anti-slip floor: make sure that the cat cannot push the feeder around

Battery already included in delivery: unless it is a battery or mains model

Battery indicator: shows the current charge level of the battery

App control and internet connection: convenient online programming using your mobile phone

Integrated camera: for photos, videos, and/or live streams

Microphone and loudspeaker: allows you to communicate with your cat over the Internet

Voice recorder: for playing back previously recorded voice messages during feeding

Sealed seal: keeps food fresher longer and doesn't make your cat wild with smells

Integrated ice packs: keep perishable food fresh longer

Split bowls with separation: if your cat is given two different types of food

transparent containers for feed dispensers: allows the filling level to be checked visually
Of course, not all models offer all of these practical benefits. But since the extras are reflected in the price (especially the high-tech functions), it makes sense anyway to buy the feeder for the cat tailored to the needs of the cat.
Automatic feeder for the cat: tips for buying
The cat's food bowl must be big enough so that you can fit the entire portion in it. Make sure that there is still air, if possible so that it does not overflow when you eat.
Depending on the model, there is the possibility that you may only fill feed with a certain diameter. This is especially the case with food dispensers for dry food, as it is supposed to fall through a thin neck. Chunks of food that are too large lead to clogging.
In the case of feed dispensers, it has proven useful if you can set the size of the dry feed portion individually. Sometimes it makes sense to offer the cat more or less food than usual. Then it is practical if you can set the desired volume as required.
It is also recommended if you can program a large number of meals into the feeder for the cat. Cats are normally only fed two or three times a day. In many cases, however, a larger number of meals, each with smaller servings, is helpful. Much mini-servings help against swallowing, for example.
Not every automatic feeder for cats is suitable for dry, semi-moist, and wet food at the same time. When choosing products, pay attention to the manufacturer's information so that you are not disappointed. Even water vending machines or well you should use it only for the intended use.