The Best Baby Gyms – Opinions 2022
Below, you will find the best baby gyms available on the market, appropriate to offer the little ones the right tools to discover sounds, colors, textures, and shapes; which favors and encourages the development of their motor and cognitive skills in a fun way.
1. Baby Einstein 11749 Music Discovery And Activity Baby Gym
Many consider this model the best baby gym today since it is a wide and comfortable blanket of approximately 87 x 68 cm. Here your child will be able to discover her environment while he learns and has fun since it has been designed to encourage his psychomotor development and his cognitive abilities. It can be used either with the baby lying on his back, on his stomach, or even when he is able to sit up.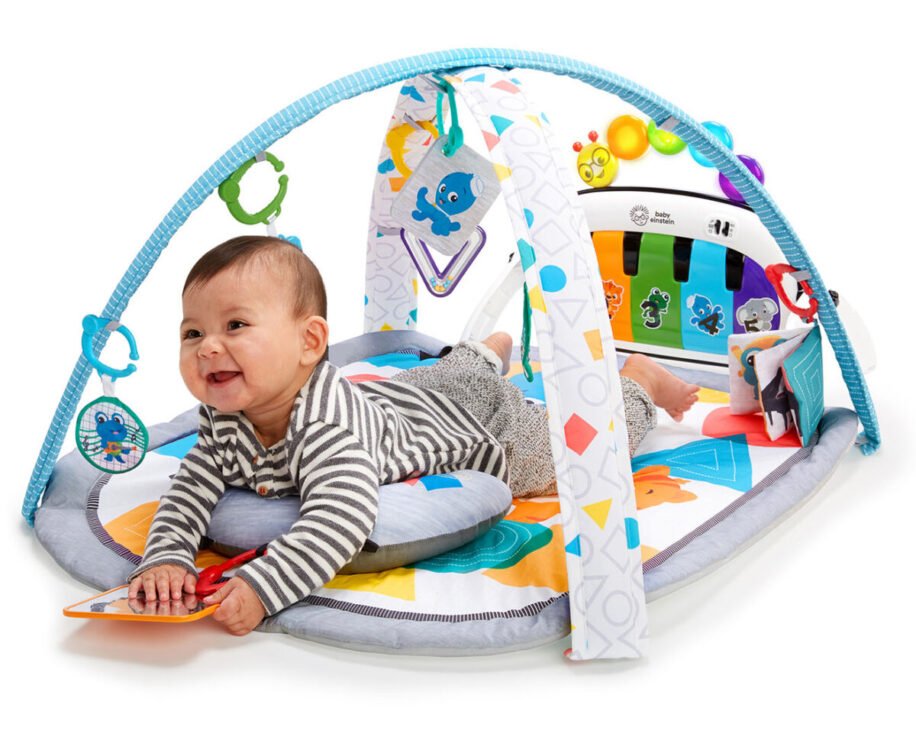 It is a baby gym blanket that offers contrasting and attractive colors; It also has seven toys, including a rattle, a crinkle medallion, a musical piano with magic touch technology, a mirror, educational cards, and a prop pillow. In addition, it has 70 different sounds and phrases.
With these elements, the child will be able to develop their senses, especially their visual and auditory acuity while learning about different textures and shapes; all in a safe and comfortable space.
This could be the best baby gym of the moment, given its design and functionality, which favor your child's learning. Analyze its pros and cons.
Toys: It has toys with different textures, colors, and sounds, which will help the development of the senses and the understanding of the environment.
Piano: It has a piano with magic touch technology so that your baby can easily play it with his hands or feet, inside or outside the blanket.
Pillow: Includes a soft pillow that favors the child's comfort either in the face down or faces up position.
Thickness: A thicker padding is missing in the blanket, in order to provide extra comfort to the baby.
2. Tiny Love Magical Tales With 18 Development Activities Baby Gym
As parents, we are always looking for the best for our children and this baby gym blanket, belonging to the "Magical Tales" line, has been created by experts in child development, which is why it stands out among the best baby gyms of 2022.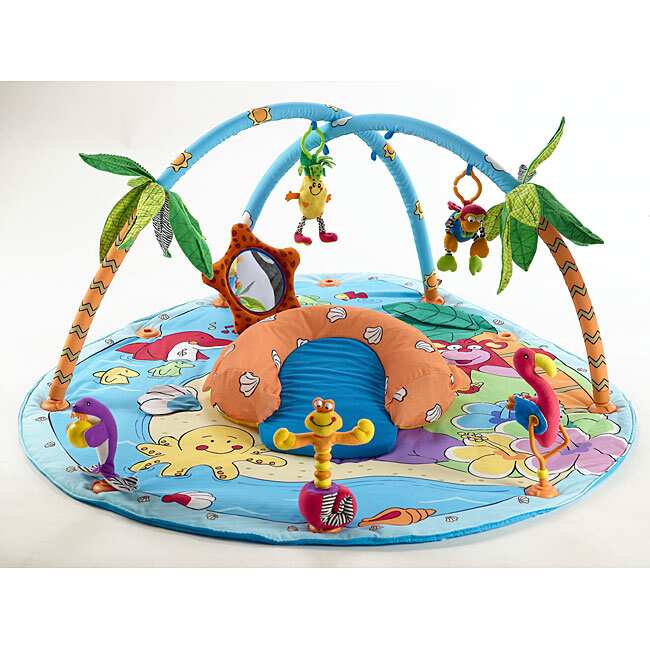 It is a gym that brings together up to 18 functions in a single entertainment space since it encourages fine and gross motor skills, the development of the senses, and cognitive ability. Since newborns are unable to see the world in color, this model offers a range of black and white toys and items; which favors the understanding of the environment.
On the other hand, the blanket has a padded surface that provides maximum comfort to the child while having fun. In addition, it has arches that adapt to the growth of your baby, so you can conveniently adjust them according to the position or size of the child.
If you don't know which baby gym to buy, you could consider this model to enhance the development of your little one. Here are its pros and cons.
Materials: It is made with excellent quality plastic and fabric since, in addition to offering easy cleaning, they are also reliable materials.
Variety: The manufacturer gives you the option to choose the gym among 7 available models, according to your preferences.
Characters: Regardless of the design you choose, it is a product that includes adorable and attractive characters for the little ones.
 Washing: In order to preserve the useful life of the dolls, it is advisable to wash them only by hand with mild detergent.
3. Bright Starts Your Way Ball Play Gym 5-In-1
If you are looking for a gift for an expectant mother and you do not know which is the best multifunctional baby gym, this versatile model could be the most suitable; since in addition to the activities offered by the didactic blankets, it also allows you to turn it into a ball pool so that the little one can enjoy the most at home.
It is an activity gym for babies that stands out in its category since it has four padded side walls that you can easily adapt according to the needs of the child: up to create a pool of balls and down to expand the space and according to your child's growth.
In addition, it includes a variety of animal-themed children's toys, in attractive colors and textures that the little one can explore and thus learn about the world around him. Also, thanks to his electronic elephant you can enjoy 20 minutes of happy melodies.
Reading Suggestion: The Best Baby Clothes
If you are looking for a product that entertains and at the same time promotes the neurological development of your child, this gym could be an excellent option. Know its pros and cons.
Set: 35 colorful balls and a handy storage bag with a handle are included; it also offers attractive figures of animals that entertain the child.
Size: The blanket measures 1.21 m; so it has enough space to provide comfort to the baby while playing.
Versatility and variety: It is a model that can be used as an activity blanket and also as a ball pool. In addition, you can choose between pink or green.
Balls: The material of the balls could be improved. However, they do their job.
4. Tech Traders Newborn Baby Playmat Musical Activity Gym
Few of the cheap products on the market could give you the quality that this Tech Traders baby activity gym. It is a model that gives your child the opportunity to develop their motor and cognitive skills, while having fun and exploring the textures of the toys it contains, adopting different positions comfortably and safely according to their development and physical maturity.
The gym contains musical activities, a soft toy, fun and eye-catching animals, different textures, a safety mirror that promotes self-awareness, and an easy-to-clean quilted blanket that will make playing a safe and educational activity.
The development of motor skills and the strengthening of muscles, in general, are some of the benefits that you can offer your baby with this complete gym. In addition, for all its features and its affordable cost, this could be the best value for money baby gym at the moment.
If you want to pleasantly surprise an expectant mother, this activity gym could be an excellent option for its quality and for being one of the cheapest on the market. Read on to learn about its pros and cons.
Design: It has a cheerful design in bright colors that will visually stimulate the baby while exercising and having fun.
Sounds: Includes sounds and music that favors the child's auditory development.
Assembly: It has an easy assembly system, so you can assemble and disassemble the gym without any problem.
Batteries: Batteries are not included, so to enjoy this activity blanket you will need 3 AAA batteries.
Frequently Asked Questions
Q1: How To Use A Baby Gym?
A baby gym is a didactic blanket or rug, an entertainment center for your little one, especially thinking about stimulating their senses since while they develop physically they improve concentration and explore their environment.
If you have just purchased one of these products, you should evaluate its functions and its usefulness. For this, it is important that you read the included user manual so that you proceed with the correct assembly of each of its parts; from its structure to hanging its toys. These gyms are usually placed on the floor, preferably on a rug or blanket, in order to provide maximum comfort to the child. Also, remember that the baby must always be supervised by an adult.
Q2:How To Make A Baby Gym?
According to the needs of the baby, you can design a home gym for your little one to play and have fun, and learn different textures, colors, shapes and sounds. With a little imagination and easy-to-find materials, you can do it.
You'll need a quilted blanket, an arch that could be a hula hoop lined with brightly colored ribbons or fabric, and a variety of sensory toys to hang from the gym frame for your baby to touch with their hands and feet. You can also add a musical toy, rattles, safety mirrors, and endless accessories that stimulate the baby.
To do so, you can search online for any tutorial that serves as a guide to developing this project.
Q3: When To Use A Baby Gym?
It is advisable to use them from 2 months after birth since this age is when the baby has managed to develop sufficient muscle mass to carry out this type of activity that stimulates his motor and cognitive development.
After 4 months of age, it is recommended to limit its use or modify its functionality, so that the baby not only plays with hanging objects but encourages to lie face down to stimulate the development of the muscles of the back and cervical area.
Once he has achieved sitting (approximately 6 months), he could continue to use it and play in this position. It is important to highlight that the child should not spend long hours in this type of activity.
Q4: How To Clean A Baby Gym?
This process will basically depend on the model you have purchased; since there are gyms for babies that you can disassemble to clean each toy separately and wash the blanket in the washing machine using a gentle cycle and neutral soap.
However, this cleaning is not applied in all cases, so it is advisable that you consult the user manual provided by the manufacturer and thus be able to carry out an effective cleaning that does not compromise the useful life of the product.
Q5: Where To Put The Baby Gym?
Regardless of the space, you have at home, it is essential that you place the gym in a safe place, away from the traffic of people or pets, protected from drafts and direct sunlight. Likewise, it should be in a place where you can constantly visualize what the child is doing. You can put it directly on the floor, carpet, or rug or put it inside his crib. The idea is that the little one feels comfortable and can entertain himself while he learns.
Q6: What Functions Does A Gym Develop In The Baby?
From the moment of birth, the baby requires sensory stimulation that contributes to its physical and mental development. With a gym, your child could improve his grip, exercise his reflexes, and his muscles and he will be encouraged to crawl safely; because the padded surface will be a space that provides confidence for the little one.
In the same way, the colors and sounds offered by these products positively stimulate vision and hearing, while developing concentration, memory, and other cognitive abilities. In addition to this, babies are interested in exploring their environment and improving their psychomotricity.
Q7: Which Baby Gym Is Better, V Tech Or Fisher Price?
Although they are two excellent brands recognized in the toy market, where each one offers reliable and high-quality products; Fisher Price stands out for having a history of more than 90 years, so its experience manufacturing children's products make it worthy of an impeccable reputation. In this sense, Fisher Price baby gyms are products that have a functional design, specially designed to enhance all of your little one's skills.