Autism Spectrum Disorder
The reason why children and young people with autism think differently is due to three areas. This is the triad of disorders, according to British psychiatrist Lorna Wing. This triad consists of deficits in social interaction, verbal & non-verbal communication, and imagination.
In order to carry out targeted interventions that suit the needs of the child or young people with autism, it is necessary for the supervisor or educationalist to know in which area the most serious shortcomings exist and what they entail.
Four Levels Of Autism
Autism can be explained on four levels: behavioral, cognitive, neurobiological, andf genetic. For pedagogical action, it is important that the behavioral and cognitive level is taken into account. The pedagogue or supervisor can respond the most to these two levels.
It is therefore important for the counselor to gain a good insight into how the child suffering from autism behaves and how thinks. Only in this way can he or she respond adequately to the needs of the child.
Reading Suggestion: Heart Touching Birthday Wishes For Daughter From Mother
Behavioral Traits
Every child with autism behaves differently and has different needs that need to be met. The wing was able to describe these behavioral characteristics in general terms. She called these general behavioral characteristics the triad of disorders. This triad consists of:
A social interaction disorder
A disorder of verbal and non-verbal communication
A disorder of the imagination
Children and young people with autism especially have difficulty with reciprocity. They have a hard time empathizing with another person. This sometimes makes them appear selfish to others. Furthermore, there is also a reduced ability to interact with peers. This is especially noticeable in unstructured situations, for example during playtime. These social deficits have been present since early childhood. Four types are also distinguished in social interaction.
Aloof Or Inactive Type
The first type is the aloof or alert type. The children and young people who fall under this category mainly show classic characteristics of autism. They often also have an intellectual disability. Young people with this type usually appear indifferent to other people. There is mainly instrumental contact. This means that they use people to satisfy certain needs. An example of this is a boy who takes his mother to a toy store. They also seem to have little interest in others and often reject approaches from strangers.
Passive Or Compliant Type
The passive or compliant type does accept advances from others. However, they take very little initiative. They only take action when asked to do something. It is striking that this type is only discovered late. They are usually very quiet children or young people who do not behave strangely.
Active-But-Peculiar Type
Children and young people who fall under this category are very active and take many initiatives for social contact. Since they have difficulty with mutuality in a relationship, they mainly talk about themselves. Other children, often come across as pushy and disruptive.
Stiff-Formalistic Or Stilted Type
This type shows few social problems on the outside. In the early years, however, they do have problems with social interaction. These children and young people are very intelligent. They memorize certain social rules. They try to apply these rules in similar social situations they encounter. It is noticeable that they have difficulty applying the rules when the situations change. We especially see the social flexibility and social naivety reflected in this group.
Disorder In Communication
Verbal Communication
Speech in children with autism usually starts with a delay. They have trouble picturing the words in their heads. The objects they speak of must be concretely perceived. When an abstract word is taught that is not visually supported, a child with autism will not understand the word.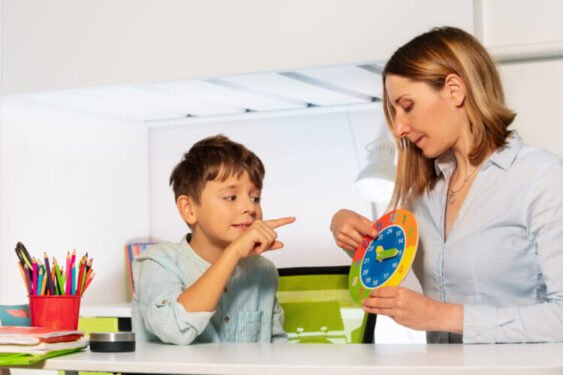 It is also striking that they take language very literally. Jokes, expressions, and sayings are not always understood because of this.
Another important characteristic is that children with autism often forget important information in their stories. They focus on the details that are less important and assume that the person they are talking to knows the main points. This clearly shows the lack of mutuality.
Non-Verbal Communication
Not only verbally but also non-verbally it is difficult. They especially have a hard time understanding facial expressions and gestures. It is striking that they can tell a happy story without any emotion.
Children and young people with autism have difficulty with what is not said. It is quite a task for them to listen and read between the lines and to deduce things. This sometimes makes it seem like they haven't listened properly.
Imagination Disorder
Children and young people with autism especially have a hard time imagining something out of the blue. It is limited to concrete imitation. They will mainly stick to reenacting what they have seen on television.
However, imagination is more than fantasy play. Imagination means you see more than is actually there. It is striking that children and young people are particularly less creative because their creativity is based on reality.
A deficit in imagination also has consequences in adulthood. Young people and adults, for example, have a deficit in their social imagination. This means that it is difficult for them to predict events and it is almost impossible for them to anticipate them. A question such as "imagine that" is difficult for people with autism.