Mythology has an immeasurable impact on societies around the world. It influences culture, promotes archetypes, and shapes belief systems.
Throughout the ages, women of myth have expressed bravery, virtue, and tenacity. The tales surrounding these strong female characters offer wonderful lessons for all ages.
Today, we are taking a moment to honor 10 of the most inspirational mythological women from around the world!
1. Draupadi (Indian Mythology)
Draupadi is a powerful and inspiring female character found in Indian mythology. She is the heroine of the ancient Indian epic, the Mahabharata, and is known as a powerful, brave, and faithful wife, as well as a symbol of justice.
Draupadi is revered for her courage and her refusal to accept unjust treatment. Along with her five husbands, the Pandavas, Draupadi faced numerous challenges throughout the Mahabharata and prevailed with courage and wisdom.
Reading Suggestion: A Selection of Celtic Legends from History
2. Anath (Ugaritic/Ancient Semitic Mythology)
Anath is one of the most powerful and inspiring mythological women across the world from ancient Semitic mythology. She is the sister-wife of Baal and consort of the supreme god El.
She is also considered to be a mother goddess and the patron of heroes. Anath is a warrior goddess who uses her powers to protect and defend her people.
In her capacity as a goddess of love and fertility, Anath is often depicted as a beautiful woman wearing a wreath of flowers.
3. Sita (Indian Mythology)
Sita is a beloved character in Indian mythology. She is the wife of Rama, an Avatar of Vishnu, and their love story is told in the Ramayana.
According to the Hindu religion, Sita exemplifies moral strength, sacrifice, and purity. Born of the Earth, it is said that she was crowned with a crest of jewels, which symbolizes that she is a being of divine grace.
Even though she was wrongfully accused of adultery and forced to suffer untold dangers, she maintained her inner strength throughout her journey.
Reading Suggestion: Marie France Trouillot, Wolfgang Puck's Ex-wife
4. Hel (Norse Mythology)
Hel is one of the most powerful and inspiring mythological women across the world, appearing in Norse mythology. She is the goddess and ruler of the realm of the dead, a place known as Helheim.
Her physical appearance is described as half alive and half dead, with half her body rotting and pale and the other half vibrant and healthy. Hel is believed to have the power to grant her visitation to the living and can influence the fate of the living and the dead.
5. Tefnut (Ancient Egyptian Mythology)
Tefnut Ancient Egyptian Mythology is the goddess of moisture and weeping. She is the daughter of the god of the sun, Ra, and was born out of his eye. She is considered to be the divine mother of the gods, created to help them with the cycles of life and death.
She is compassionate and understanding, symbolizing the power of life that every living thing needs. In ancient Egyptian mythology, Tefnut was one of the most powerful and inspiring of goddesses. She was also the patron of the sciences.
6. Frigg, Also Called Friia( Norse Mythology)
Frigg, also known as Friia, is one of the most powerful and inspiring mythological women from Norse mythology. She is the wife of Odin, the leader of the gods.
Frigg has many roles in Norse mythology, such as being the goddess of motherhood, marriage, fertility, and love. Her namesake, Frigg, also means 'beloved', and this is usually a sign of her intense love for her family and her willingness to care for them and protect them. Learn more about Odin's wife here.
Reading Suggestion: Anime Plus Myanmar
7. Antigone (Greek Mythology)
Antigone is one of the most powerful and inspiring mythological women in an ancient Greek tragedy. She is a symbol of self-determination and courage.
She risks everything to ensure that her brother's body is treated with the proper respect of a burial, defying her uncle and the laws of the kings.
Antigone has become an inspiration for many people throughout the ages, a reminder of the power of individual conscience.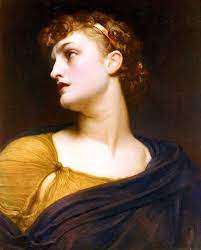 8. Artemis (Greek Mythology)
Artemis is the Greek goddess of the hunt, the wilderness, and wild animals. She is usually portrayed as a strong and independent woman who is a team player with her companions.
She is passionate about her work and is not bound by the customs of others. She is skilled with her bow and arrow and is a warrior in battle. She values nature and is a goddess of protection for animals, fertility, and childbirth.
Artemis is a symbol of strong female leadership and authority who fights for her people and her beliefs.
9. Morrigan (Celtic Mythology)
Morrigan is one of the most powerful and inspiring women in the world. She is a Celtic goddess of war and a powerful warrior who can shape-shift into a crow.
In some myths, she is described as a triple-form goddess as, a combination of a young maiden, a motherly woman, and an old crone. Her association with war and battle makes her a powerful figure who is both feared and respected.
As a deity of war, she is also a goddess of death, strategically using her power in battle. Her presence is often enough to victory or to signal a famine or other natural disaster.
Reading Suggestion: Cyberpunk 2077 Nudity Censorship
10. Atlanta (Greek Mythology)
Among these mythological women, none are more iconic than those of classical Greek mythology, largely seen through the lens of the story of the hero, Atlanta.
In Greek mythology, Atlanta was the daughter of the King of Arcadia, who, after a life of testing and challenges, became a goddess and the protector of all hunters. She was a powerful representation of determination and feminine strength, inspiring many different women in history.
Other inspiring Greek mythological women include Eurydice, Medea, and the Furies, among many others.
Explore More About Mythological Women
These inspiring mythological women have proven that female power is an undeniable force of nature and is something to be admired. They are living proof that with ambition and perseverance, anything is possible.
There is much to be learned from these characters and the way they used their courage and strength to make a lasting impact on our world. If we allow ourselves to be inspired by their stories, we, too, can make invaluable contributions to society. Check our blogs for more!