fatigue in the morning can be very annoying. You find it difficult to get going in the morning, feel sleepy and find it difficult to motivate yourself to start the day. Fortunately, there are several things you can do for more energy in the morning.
For example, it can help enormously to take your sleep cycles and the influence of light into account. But also drinking water, or simply going to sleep earlier at night can ensure that you are fitter. It is, as it were, a search for what helps you to wake up personally and what gives you more energy in the morning.
1. Let Your Body Know It's Time To Wake Up
When we wake up in the morning, we have been asleep for 7 or 8 hours. Your body has been in a state of rest all this time. To make sure you feel fit again, you can give your body signals that the rest period is over. When you get moving, eat a good breakfast and do active things, you will notice that you wake up faster. Forcing your body into active mode will quickly dissipate that fatigue feeling in the morning.
2. Complete Your Sleep Cycle
During the night you go through a number of sleep cycles. Each sleep cycle has a number of phases. If you want to wake up well-rested, it is important that you also complete the last sleep cycle. For example, if you wake up from 'deep sleep' (one of the stages), your body and mind are still fully asleep. You then have the feeling that you 'have to come a long way'.
You can ensure that you complete all your sleep cycles properly by establishing a regular sleep schedule. Then your body knows exactly where it stands. The ideal thing is to wake up without an alarm clock. If you do use an alarm clock, don't hit snooze. When you fall asleep again falls, a new sleep cycle starts again, without you having the time (about an hour and a half) to complete it. and that's exactly what you want to avoid.
3. Wake Up By Light
Light can help a lot to wake up in the morning and to drive away fatigue. As long as it is dark, your body produces melatonin: a hormone that makes you sleepy. When it gets light, the production of melatonin slows down. Daylight is most effective, but if that is not available (for example because you have to get out of bed early), artificial light is a good alternative.
Reading Suggestions: The Science of Appearance Men S Fashion Grooming And Lifestyle
5. No Lights On At Night
If you turn on the light at night, you can mess up your biorhythm; even if you only turn on the light for a very short time. When you turn on the light, the production of melatonin slows down and it is more difficult to get back to sleep. As a result, you fall asleep less quickly, and your body has more difficulty getting into a deep sleep. In the morning you will therefore be less rested.
5. Be Careful With Coffee
Into the caffeine, coffee gives you a big energy boost, but that effect is only temporary. In addition, your body gets used to the daily dose of caffeine, which negates the effect. As a result, coffee does not provide extra energy through habituation; you need the caffeine to get to your normal energy level. A small amount of coffee (2 to 4 cups a day) can do little harm, but coffee is certainly not the magic cure for fatigue.
6. Get Fit By Drinking Water
During the night you lose a lot of moisture, including through your breathing and through sweating. Because you don't take in moisture at night, you slowly dry out. Dehydration makes you feel fatigued. If you want to break this, you should drink a large amount of water as soon as possible in the morning. If you suffer from sweating in bed, it is wise to do something about it.
7. Less fatigue By Music
By listening to music you give your body the signal that it is time to wake up. Listening to your favorite music makes you happy. That encourages you to become active. By listening to the radio you become aware of the fact that other people are also awake. That can help you get through the first heavy hours in the morning.
8. Get Up With A Purpose
When you wake up in bed in the morning, it can help enormously to think about the things you will be doing that day. Especially when you think about activities you look forward to, it suddenly becomes a lot easier to get out of bed and shake off the fatigue.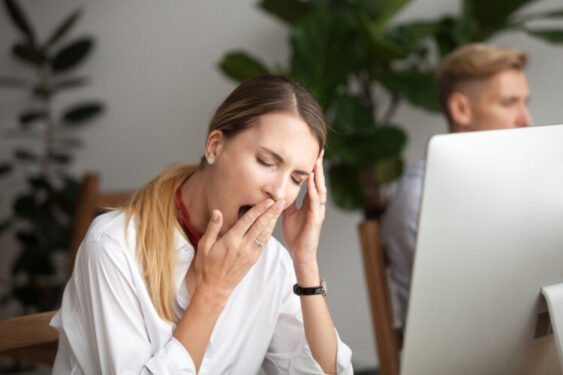 9. Wake Up With A Hot Shower
A cold shower stimulates your body to activity, and thus promotes waking up. If you are tired in the morning, put yourself under the cold tap as soon as possible. If you are particularly fond of a hot shower in the morning, consider ending it with a cold shower.
10. Go To Sleep On Time At Night
If you often suffer from fatigue in the morning, you may not go to bed on time at night, so you don't get enough sleep. A feeling of fatigue does not only arise because your body has been resting for a number of hours in a row; it can also be a signal that something is wrong, that you need more rest. Sleeping more is not always the solution. There can also be other causes of fatigue, for which more hours of sleep do not offer a solution.