Dates are the fruits of the date palm (Phoenix dactylifera) and grow in clusters on the female trees. The date palm is native to the Persian Gulf, an offshoot of the Indian Ocean between the Arabian Peninsula and Iran (Persia). In 2023, people cultivate the plant in the area from North Africa to Pakistan, but dates are also grown in California (US), Israel, and Australia.
In terms of volume, Egypt, Iran, and Saudi Arabia lead the way. Only top-quality dates are exported. Dates contain a lot of sugar and have correspondingly high-calorie content. That earned them the name "Bread of the Desert". Dietary fiber, minerals such as potassium, calcium and magnesium, and B vitamins make their healthy snack.
The amino acid tryptophan is particularly interesting. Tryptophan produces the hormone melatonin in the body, which is important for the sleep-wake rhythm. Arabs take a few dates in the evening if they have trouble falling asleep.
Dates Come From The Date Palm
The date palm likes a warm and sunny position and needs a lot of water, especially in the summer. The trees are grown in date palm gardens. Date palms reach heights of up to 30 meters. Dates grow in clusters on the female trees. 
Since dates grow on palms, they are also referred to as palm fruits. Dates have an elongated oval shape and are up to seven centimeters long. Ripe dates can be recognized by their light to dark brown, sometimes golden yellow or bright red color. 
They have very sweet, rather dry flesh. It satiates well and tastes honey-sweet. There is a hard seed in the fruits, which you can sow again. The date is a drupe. That is a collective name for various fruits with a hard stone in the heart. A date has edible shiny brown skin. A tree can yield up to 100 kilograms of fruit, but bears dates only once every two years. There are hundreds of different types.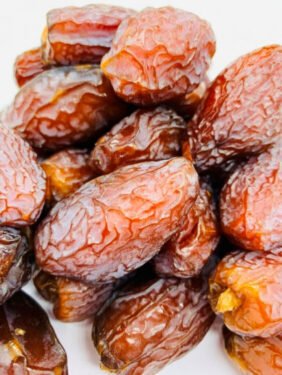 Nutritional Value Of Dates
The health value of dates mainly lies in their abundance of vitamins, minerals, trace elements, secondary plant substances, and fiber. All data varieties contain, among other things, the following nutrients, the amount of which depends on the type of date and natural fluctuations:
Reading Suggestions: Papayas: health benefits and nutritional value of papaya
vitamin C

vitamin A

vitamin E.

B vitamins

, except 

vitamin B12

high amounts of 

potassium

 (656 mg per 100 g of fruit)

magnesium

calcium

iron

zinc

phosphorus

buyer
In addition, dates are rich in fiber that is valuable for digestion and they also contain some important secondary plant substances and amino acids such as tryptophan. An important substance for your hormone system, which is also suitable as a natural sleep aid.
Origin Of The Date
Persian Gulf
Dates originated in the Persian Goff and from there have spread to the entire Arabian region, especially North Africa. This region is perfect for growing dates. Dates grow in clusters on date palms and are divided into several species. 
One of the most popular and expensive dates is the Medjool date from Morocco, which has a decent size and really great taste. This date is seen as the topper among dates, because of its size and thickness and its delicious sweet taste. 
The first cultivation of this coveted date variety was also successful in the United States (US) in the late 1920s. The first date palms were introduced to the US in the 17th century. The Nevada desert climate and the warmth of Southern California are also suitable for growing the date palm,
Cultivation
In 2023, Egypt, Iran, Saudi Arabia, United Arab Emirates, Pakistan, and Algeria will be the largest producers. Date palms only give noticeable yields after 3-5 years at the earliest and 'turn' to full strength only after 10-12 years. Date palms can live to be over 100 years old, but they are 'only' used for about 80-100 years. Female date palms always need male palms nearby to produce fruit.
Health Benefits Of The Date
Dates have several health benefits, such as:
Dates are ideal as a natural dietary supplement in case of a (threatened) 

potassium deficiency

. It contains 656 mg per 100 g and the Adequate Intake (AI) of potassium for adult men and women is set at 3.5 grams per day.

Dates are very good for the cardiovascular system as they are one of the most potassium-rich fruits.

Good for falling asleep, because it contains many substances, including tryptophan, which have a calming and sleep-promoting effect. Dates eaten in the evening can have positive effects on sleep problems. The tryptophan content of dates is particularly high.

Dates are good for your nervous system. They contain a lot of B vitamins.

The fiber in dates works well for digestive problems and helps with 

constipation

and maintaining healthy bowel activity.

Dates have an invigorating effect on the body.

The substances in dates can help improve blood formation.

With regular consumption, dates can improve your metabolism.

Dates can help lower levels of so-called "bad" (LDL) 

cholesterol.

The glucose and fructose in dates are usually better tolerated by diabetics than the industrial

sugar

from sugar beet, and they are also much more natural because of the other substances contained in dates. Dates contain a lot of sugar, but it still has a low value, measured on the glycemic index. The glycemic index (GI) indicates how quickly carbohydrates are absorbed into the blood. Sometimes dates are topped with a layer of sugar. Fresh dates contain considerably less sugar.

Dried dates contain almost no fat in the form of saturated fatty acids.
How many dates can you eat daily?
There is no guideline that prescribes how many dates you can eat per day. However, if you eat four to five dates a day, you can be sure to reap some of the positive health benefits without getting fat or consuming too much sugar.
Fresh Dates And Dried Dates
The date is very healthy, both dried and fresh. The big difference is that fresh dates promote digestion a little more and can also have a laxative effect. Dried dates are sometimes topped with a layer of sugar and that is a disadvantage. 
Fresh dates in particular are an excellent source of good nutrients. It contains a lot of fiber, vitamins, and minerals and a good package of antioxidants, but these are not so easily available in the Netherlands. Fresh dates are available from about October to Easter.
Storing Dates
Fresh produce is best placed in the refrigerator and should be consumed within a few days. Dried dates have a longer shelf life. Caution is advised, among other things, in case of contamination with mites or fungi. These fruits should no longer be eaten.