The Best Yoga Mats – Opinions 2022
There are all kinds of yoga mats, therefore, at the time of your choice, you must have the appropriate information so that you can make a good purchase. That is why, below, you will be able to know some models as well as their most relevant characteristics, so that you can more easily deduce which one could be the one for you.
1. Amazon Basics Yoga Exercise Mat With Strap
Among the cheapest yoga mats is the PVC-BL model, special to carry out your practice routines, pilates, and yoga without any inconvenience.
It has an embossed anti-slip surface so you can enjoy improved traction. It is also available in 4 different colors being the same purple, red, blue, and pink.
As for its dimensions, this Amazon yoga mat measures approximately 188 x 61 centimeters, while the thickness it offers you is 0.63 centimeters, so you can enjoy a much more comfortable and cushioned support with each movement.
If we talk about its manufacture, it is important that you know that it is made up of high-quality light foam. In addition, a carrying strap is included with your purchase, which will be easy to place on the mat once you have finished using it.
Among all the options present in our list of recommendations, this is one of the cheapest mats, therefore, we invite you to know its most relevant characteristics.
Manufacturing: It is made of high-quality lightweight foam, which means durability and resistance.
Color: You can find this mat in 4 colors, these being blue, purple, red, and pink.
Carrying strap: You will have at your disposal a carrying strap that you can use to carry the mat comfortably.
Thickness: To mention a downside of this product, the mat may be a little thinner than you expect.
2. Amazon Basics Tpe Yoga Mat
The AmazonBasics brand this time offers you a good quality yoga mat, which has a rectangular shape, as well as dimensions of 188 x 60.9 x 0.76 centimeters.
It should be noted that it is made of a good and resistant material such as soft TPE, but capable of providing you with good density, elasticity, and resistance to breakage, very similar to rubber.
With this Amazon yoga mat, you could do different activities, including yoga, pilates, meditation, and stretching. You could also perform strength exercises on the ground as well as restorative exercises.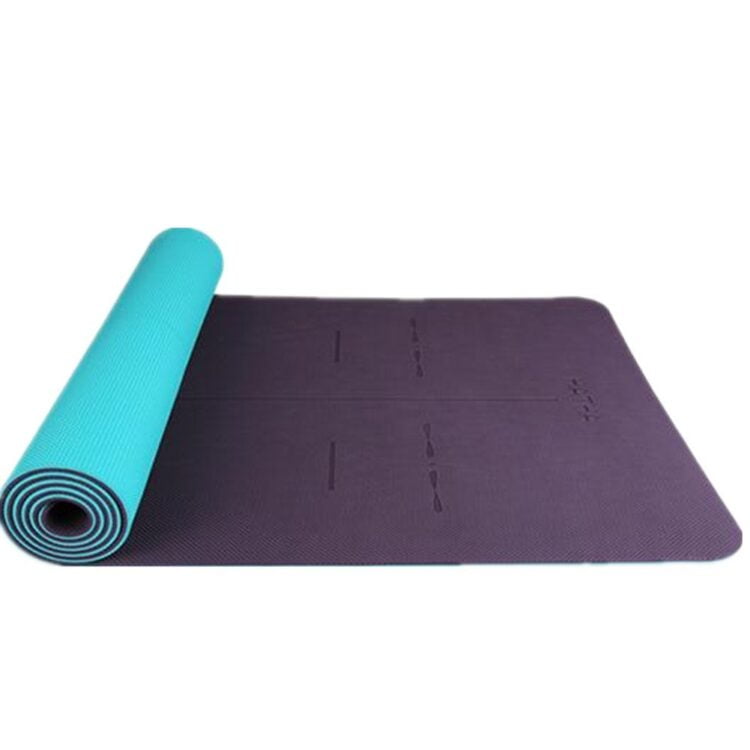 We cannot ignore the fact that this pad has a thickness that provides you with greater stability, safety and comfort while you use it, so you can remain static or change your posture if you wish.
The purchase of a good and durable mat will depend largely on each of the details that you take into account to make your choice.
Shape: This mat has a rectangular shape with dimensions of 188 x 60.9 x 0.76 centimeters so that you can perform the movements comfortably.
Manufacturing: Regarding its manufacturing, the mat is made of soft TPE capable of providing you with a little elasticity as well as a good density.
Practicality: It should be noted that with the AmazonBasics mat you can carry out the practice of different activities such as meditation, pilates, and, of course, yoga.
Color: You need to know that this mat has only been manufactured in black, therefore, you will not have the opportunity to choose the tone you prefer.
3. Topless

 Non-Slip Yoga Mat Pilates Mat
If you are looking for the best value-for-money yoga mat, then you could be in front of the indicated model. This is characterized by offering you quality at an affordable price.
In this way, it is important to mention that the mat is composed of eco-friendly material, this being the TPE certified by the SGS, without odors, free of latex, toxic chemicals, or PVC.
This is a non-slip yoga mat that offers you a double-layer design capable of providing you with optimal grip, as well as good cushioning for greater comfort, and as if that were not enough, it has been designed with a thickness of 6 millimeters in total, which makes it suitable for those who practice yoga at different levels.
Another very important detail regarding this yoga mat has to do with its weight since we are talking about a fairly light model so that you can take it from one place to another without causing any inconvenience since a strap is included with your purchase. user-friendly transport.
Some mats differ from others due to their dimensions, comfort levels, or even the type of material used during their manufacture, so it is important that you know the characteristics of the model that interests you the most.
Material: The mat is made of TPE, a material certified by the SGS that does not contain odors, is free of latex and chemicals that are harmful to health.
Weight: It should be noted that the mat has very lightweight, which allows you to transport it from one place to another without inconvenience.
Thickness: As for the thickness of this mat, it is 6 millimeters in total, therefore, you will be able to make all the movements you want while enjoying a good level of comfort.
Use: During the use that you give to this mat, we must point out that it could be stained with sweat. However, it is easy to clean to make it look new.
4. Homtiky Non-Slip Yoga Mat Cork Yoga Mat
The Homtiky brand has for you a non-slip yoga mat made with quality materials, among them we can mention the anti-allergic cork accompanied by a 100% recyclable TPE base. It should be noted that its surface is soft to the touch and provides a good level of stability and balance while practicing on laminate or tiled surfaces.
It should be noted that said cork structure contains suberin. It is a waxy and sticky substance that is easily released when the mat is wet, that is, the more you sweat, the more chances there are that you can get a better grip.
Reading Suggestions: Get streaming TV
For its part, you will also find microholes in the mat that will prevent sweat from accumulating on the mat. On the other hand, it is important to mention that the dimensions of this model are 183 x 65 centimeters, the thickness is 7 millimeters and the weight is 1.2 kilograms, so you can easily carry it.
If you want to acquire a good yoga mat, you must know each of the characteristics that it offers you, for this reason, we will mention the most relevant details of the model sponsored by the Homtiky brand.
Size: The mat has dimensions of 183 x 65 centimeters and a thickness of 7 millimeters in total. Also, its weight is 1.2 kilograms so you can easily transport it.
Structure: The structure of this model has special microholes to prevent sweat from accumulating on the mat.
Substance: This mat contains suberin, a sticky, waxy substance that is released when the mat gets wet to give you a better grip.
Color: This mat is made in a single tone, which means that you will not be able to choose the color of your preference.
5. Lotuscrafts Pure Natural Rubber Non-Slip Yoga Mat
If you want to carry out an adequate and satisfactory yoga practice, you should choose to buy a yoga mat to complete your basic practice equipment.
That is why we present you with a model that stands out for its special size, so that you can enjoy the space you need before each movement since its dimensions are 183 x 66 x 0.4 centimeters.
The yoga mat is made of fully degradable natural rubber, which also has a PU coating right on its surface. This is skin-friendly and prevents unexpected slips. It is important to mention that it does not contain solvents, phthalates, or plasticizers that are harmful to the environment.
It should be noted that you can find this natural rubber yoga mat in 4 different shades, these being bamboo, aubergine, cornflower, and anthracite. In addition, you can use it to practice different styles of yoga as well as relaxation exercises, thanks to the level of cushioning it provides.
This time we invite you to learn a little about the model sponsored by the Lotuscrafts brand, a mat that could easily meet your needs.
Dimensions: The mat has dimensions of 183 x 66 x 0.4 centimeters, which is an adequate size to make all the movements you want.
Composition: It is made of degradable natural rubber and is free of phthalates, plasticizers, or solvents that are harmful to health.
Surface: The surface of this mat contains PU, therefore, you will be able to avoid those uncomfortable slips.
Cleaning: After each cleaning you give the mat, it may take a while to dry. Also, it tends to stain easily.
Frequently Asked Questions 
Q1: How To Use A Yoga Mat?
Using a yoga mat is usually very easy, comfortable, and practical. In this sense, the first thing you should do is stretch it in the place where you are going to perform your yoga sessions. Likewise,
it is important that you consider the fact of always keeping it clean so that it does not lose the qualities that characterize it, also when it comes to storing it after use, you must do it in a place free of moisture and easily accessible.
Q2: How To Make A Yoga Mat Cover?
You could easily carry out this task as long as you have at your disposal the necessary materials and tools for such an action. In this way, for the cover, you must choose a textile that is resistant and durable, as well as a thread of the same color, scissors, a needle, and a sewing machine. Next, proceed to cut said fabric considering that the lining must have a cylindrical shape.
Then, with the help of scissors, cut it giving it the corresponding shape, and finally, proceed to sew. In the upper part, you could implement a couple of strips to close the cover easily, while on one of its sides it would be ideal to place a large ribbon, which fulfills the function of a handle so that you can carry the mat comfortably.
Q3: How To Do Yoga Without A Mat?
The mat is usually a fundamental accessory when doing yoga at home, however, if you don't have one on hand, you could start your yoga practice on a clean and comfortable mat that you have at home, obviously with a good size so that your movements and exercises you can perform them correctly.
Among other options, the use of a mat or a blanket could also be suitable, as long as one of these is non-slip to avoid any type of inconvenience.
Q4: What Should A Non-Slip Yoga Mat Look Like?
Yoga mats are made of different types of materials capable of providing them with the resistance, durability, and adherence you need to be able to perform each movement properly.
That being the case, a non-slip mat should be lightly padded and should provide you with special construction features, such as some anti-slip spots on the bottom. According to this detail, the manufacturing material has a lot to do with it, since, for example, rubber mats usually have a good grip.
Q5: How To Clean The Yoga Mat?
Hygiene in this type of accessory must be constant to avoid bad odors or even the mat can be easily damaged. That is why it is recommended to give it a good cleaning constantly. Some users advise preparing a mixture with natural ingredients in a spray bottle so you can enjoy easier cleaning; for example, one option is the following: add an appropriate amount of water into the container followed by a little non-alcoholic white vinegar.
Also, add at least 8 to 10 drops of tea tree essential oil and about 5 drops of lavender essential oil. Finally, after making the mixture, it will be time to spray your entire mat to remove sweat and bad odors, as well as any dirt that may be present on it, rub with a cloth and that's it.
Q6: How To Store The Yoga Mat?
Although some people believe that the correct way to store the yoga mat is to roll it up, the truth is that it is always best to keep it fully stretched after each use.
Only then can you prevent it from deteriorating easily. In this sense, being at home you could implement a special hook for this type of product, one of those that go on the wall and that's it, or you could always place it stretched out under your bed, considering rolling it up only when you go to your yoga classes.
Q7: When To Change The Yoga Mat?
The change of the yoga mat is usually always evident because over time its qualities are lost and it is no longer as comfortable as it was at first. Especially if you don't give it the care it needs to stay in perfect condition.
If the model you have purchased has a light padding and it is no longer as comfortable, to the point of not being felt while you perform the different movements, then it will be a clear and precise signal that the change of the mat must be carried out as soon as possible. soon as possible, so you can enjoy the comfort you need.