Rosehip Oils – Opinions 2022
Taking care of your skin with natural products is the best way to hydrate it, avoid premature aging and maintain a healthy appearance, for this reason, we bring you a summary of the best rosehip oils of 2022, according to the evaluation of thousands of users, so that you. You can choose the one that provides you with the greatest benefits and a positive value for money for your pocket.
1. Kanzy Hair And Beauty 100% Organic Pure Rosehip Oil
Mainly used as a moisturizer for skin, hair, and nails, Kanzy's pure rosehip oil is a versatile cosmetic, as its antioxidant and rejuvenating properties make it the main ingredient in many homemade face care masks.
For its extraction, the cold pressing process of 100% wild and organic, unrefined seeds was used. With this, all the characteristics of natural oil are maintained to increase its effectiveness, without adding flavorings or chemical additives. Something typical of the best rosehip oil of the moment.
The application of this product is very simple, just put a few drops on your hands and spread the oil on the face, abdomen, arms, and areas with greater dryness. It is also useful if you are looking for rosehip oil for stretch marks and scars, with which to regenerate the dermis and improve the appearance of these areas.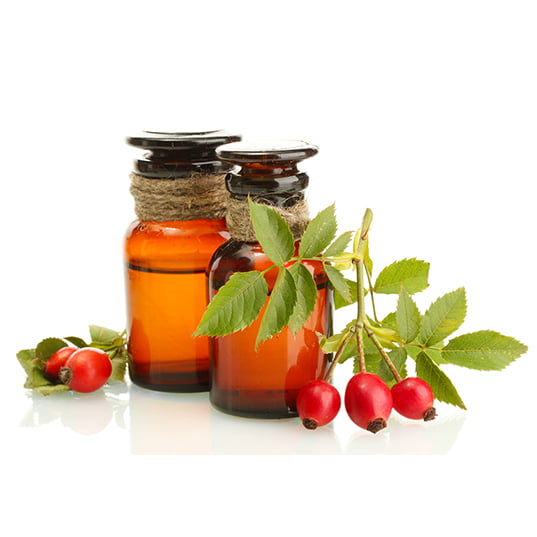 About this natural cosmetic, we have observed some positive and negative aspects that we summarize below.
Absorption: This rosehip body oil absorbs quickly into the skin, leaving no oily feel. In addition, it does not have flavorings and is pleasant to use.
Elaboration: The wild seeds to elaborate this oil have been cold pressed, to maintain all its properties and the purity of the extract.
Applications: The wide use of this oil increases its versatility since it can be placed directly on the skin, prepared with facial masks, or combined with other oils and natural balms.
Dropper: The design of the dropper could be improved to better dose the product since it is not as precise as expected.
2. Naissance Rosa Mosqueta Rubiginosa Vegetable Oil 246
If you are looking for a natural cosmetic to hydrate any type of skin, this pure rosehip oil seems to be a good option, as it is a vegan product that can be used in combination with other products or individually as a make-up remover or moisturizing serum.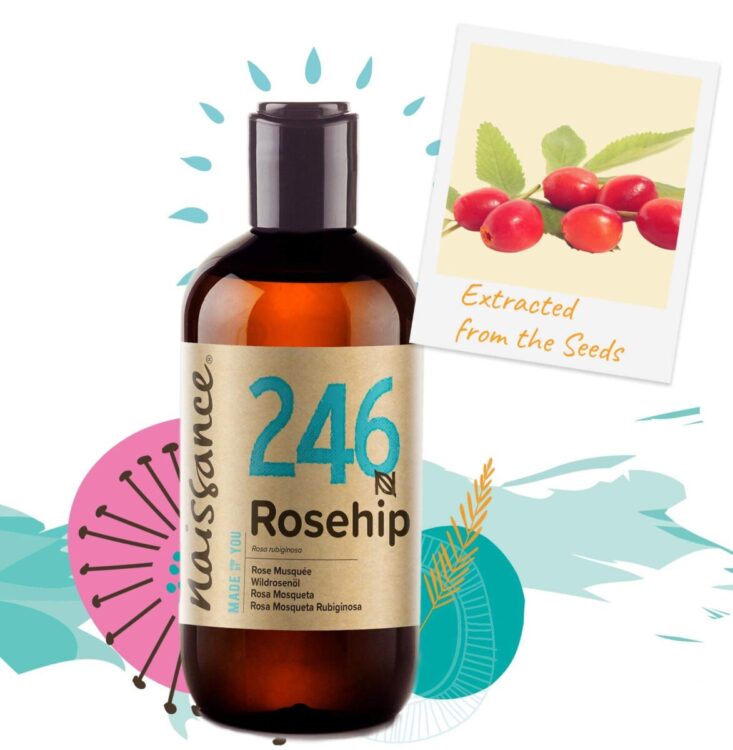 As the uses and applications of this product are varied, it could also be considered the best rosehip oil to take care of the skin safely and easily. You should only apply a small amount after your facial cleansing and gently massage the entire face and part of the neck, always avoiding the eye area.
Similarly, the oil can be used as a base for massages if mixed with other essential oils, and combined with other natural products such as geranium oil to create a facial serum and reduce fine lines.
Naissance is recognized for the natural products it offers for cosmetic use, which is why many users believe that it is the best brand of rosehip oil, so in this product, we distinguish certain pros and cons that we summarize below.
Composition: It has high levels of omega 3 linolenic acid and omega 6 linoleic acid which are necessary to maintain healthy skin and hair. In addition, it contains vitamins E, D, and beta-carotene to moisturize mature skin.
Uses: This product can be used directly on the skin as a facial cleanser or mixed with other essential oils to prepare a moisturizing serum or used on hair and nails to strengthen them.
Quality-price: This oil is available in presentations of 100ml and 250ml with a cost according to its benefits.
Smell: The aroma of this product is not an entirely pleasant perfume, but it retains its natural essence and does not contain chemical additives.
3. Cellularys Skin Shield 100% Organic Pure Rosehip Oil
There is no doubt that rosehip oil is good for the face. Thanks to its anti-aging effect and high content of vitamin E, this product is widely used for facial care and the treatment of dry skin. Also, its ability to restore hydration in the dermis makes it appropriate to help in the disappearance of stretch marks, beyond being just a rosehip oil for the face.
For this reason, many users recommend it, because its composition of essential fatty acids, vitamins, and antioxidants acts as a powerful healing agent, reducer of sun spots, and a hydrant for the hair.
All these applications increase the versatility of this oil, which is obtained through cold pressing, in order to maintain all the qualities of the extract.
Regarding the presentation of this oil, we can say that it comes in a 100 ml dark container with a drop dispenser, which allows you to use the right amount of the product without wasting it.
Now we invite you to know the pros and cons that we distinguish in Cellularys Skin Shield's rosehip oil.
Packaging: The 100 ml presentation with a dispensing dropper favors the application of the oil, without wasting the extract.
Use: Thanks to its high vitamin content, the product is suitable for facial care and rosehip oil for stretch marks, pregnant women, or any other situation that requires it.
Properties: This oil also helps in skin care, preventing premature aging, healing wounds, and moisturizing the dermis, without leaving an oily sensation.
Fragrance: The aroma of this oil is more pronounced than that of others on the market, something to keep in mind if you want to mix it as a base to create other balms.
4. Babaria Rosa Mosqueta Pure Facial Oil 50 Ml
Another pure rosehip oil for the face in our selection is this 50 ml concentrate offered by Barbaria, whose natural formula is distinguished by its ample water retention capacity to increase skin hydration and, in turn, prevent the appearance of wrinkles.
The application form of this product is very simple, the face must be clean and dry to place a couple of drops with the dispenser and make a gentle massage on the face, extending it to the neck, while the oil is completely absorbed. In addition, in order to see changes in the medium term, it can be used day and night, keeping the product refrigerated, according to the manufacturer's instructions.
Among the highlights of this oil, we mention that it is one of the cheapest on our list and, due to the benefits of its formula, it can be considered the best value for money rosehip oil, so we invite you to read the pros and cons we distinguish in it.
Benefits: This product helps treat stretch marks, skin blemishes, and scars with visible results if used consistently.
Dispenser: The dispenser allows you to use a few drops and not waste the product.
Price: It is the cheapest on the list and has the backing of the Spanish brand Barbaria, noted for the quality of its cosmetics.
Packaging: Due to the color of the bottle it is difficult to know the amount of oil left, in addition to the fact that the lid is not airtight.
Frequently Asked Questions
Q1: How To Use Rosehip Oil?
You can use this product as part of your daily beauty routine. In the morning after washing your face you should apply a few drops and massage, especially in the most marked expression lines. At night, you can moisten a cotton ball with this oil and apply it as a make-up remover, and after washing your face well you can gently massage the face and neck with several drops of the oil until it is absorbed.
Q2: How To Make Rosehip Oil?
Although cold pressing is the most recommended procedure to obtain pure and natural rosehip oil, there are also easy-to-prepare homemade options. You only have to get the rosehip seeds, that is, the wild roses that are found in forests and hedges. The best time for harvesting is autumn.
When you have all the seeds, you should wash them a little to remove impurities and dry them well. Next, cut each seed in half and remove the edges. In this way, the content of the seeds will be exposed. Now place these inside a glass jar with a tight lid and pour almond oil until all the seeds are covered.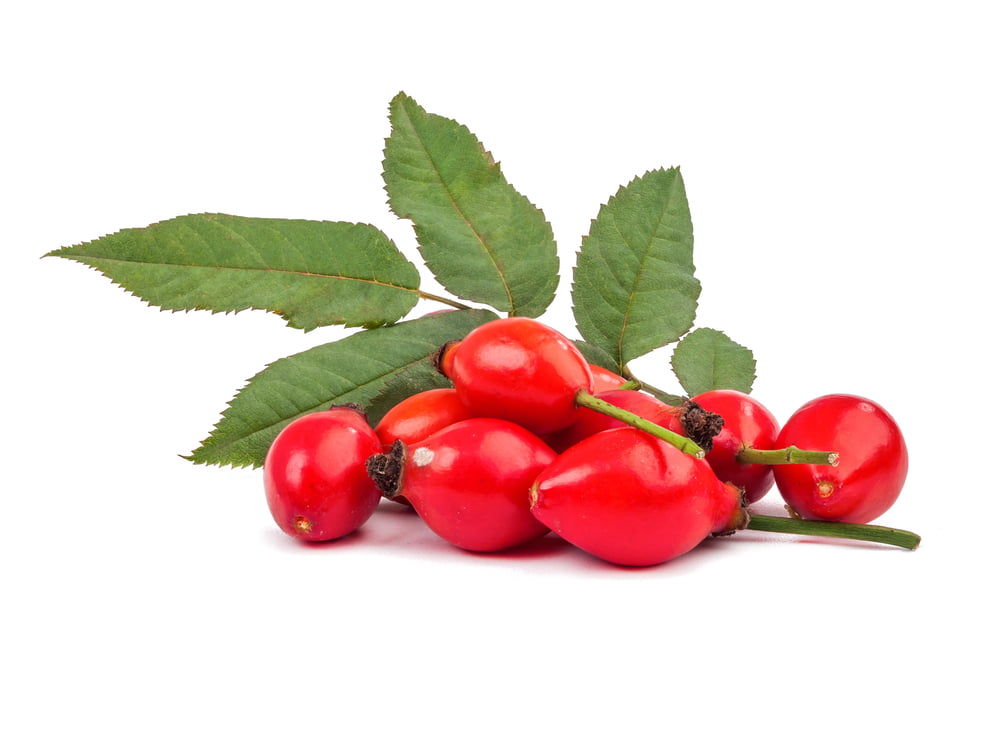 Then close the jar tightly and store it in a dry place away from light for at least 20 days. After this time, you can filter the mixture and pour it into a container with a dropper, so the oil will be ready to use on your skin. As a final recommendation, you can keep the container in the fridge to keep it cold and preserve its properties well.
Q3: Which Oil Is Better: Argan Oil Or Rosehip Oil?
It is difficult to say which of these is the best since there are more similarities than differences between these essential oils, and both have great nutritional properties and a high content of fatty oils that are capable of deeply moisturizing the skin, concealing scars and stretching marks on different parts of the body.
Argan oil has tocopherol and phytosterols that are efficient against acne; squalene, a lipid that fights free radicals, as well as polyphenols and lupeol, elements that stimulate the production of keratin. Rosehip, meanwhile, is distinguished by being rich in vitamins A, C, E, and beta-carotene, antioxidants that prevent skin aging, in addition to omega 3, 6, and 9.
For this reason, the two oils are widely used in natural cosmetics. Now, if you are looking for an oil that is less greasy to the touch, absorbs quickly, and helps you improve your acne problem, argan oil is definitely the right one. But, if you want to reduce expression lines, reduce the signs of aging and have velvety skin, rosehip oil will be a good ally to achieve this.
Q4: How To Apply Rosehip Oil On Dark Circles?
To apply the oil, we will start by mixing it with half a tablespoon of olive, jojoba, or almond oil, since in its pure state rosehip can be irritating. Once the face is clean and dry, we will apply the oil with the fingertips and gently massage the area until it is absorbed. If there is excess, we will remove it with a little paper. It is key to repeat this routine daily, to obtain its best benefits.
Q5: When To Use Rosehip Oil: Before Or After The Cream?
In this case, the order is important, for a mere matter of absorption. The cream, due to its characteristics, will allow the passage of nutrients from the oil to the skin, but not vice versa. This is because the oily layer that the oil leaves on the face acts as an insulator, so to speak, so the subsequent application of the cream is of no use. Therefore, the correct order would always be the cream first and then the rosehip oil.