Get ready for a hilarious ride as the notorious Photoshop troll strikes again! In a world where photo requests are taken too literally, this master of mischief unleashes their creativity to deliver unexpected and sidesplitting results. From outrageous edits to absurd visual interpretations, this Photoshop wizard leaves no stone unturned in their quest for laughter.
Brace yourself for a rollercoaster of laughter and prepare to witness the power of imagination taken to the extreme. Get ready to be amused, bewildered, and thoroughly entertained by the Photoshop troll's latest escapades!
This excited couple managed to take a snap of themselves posing beside legendary boxer Muhammed Ali's star on the Hollywood Walk of Fame. Instead of being content with this vacation snap, the posers requested that Fridman turn one of them into a boxer. They might have envisioned boxing gloves and a mouth guard, but instead, the very literal James Fridman delivered a boxer dog. In fairness, surely this couple knew that their request would be taken this way. It's just too easy!
We have to raise our eyebrows a little at this particular Photoshop request. This man has taken a seat beside a mannequin, posed with her, and then asked that she be turned into his girlfriend. Is this seriously a request to conjure a romantic partner from a plastic woman? Hilariously, Fridman did no such thing. Instead of waving his Photoshop wand and creating a girlfriend, he turned the man into a mannequin, making a fetching mannequin couple. Now walk away slowly…
We've already seen what can go wrong when someone asks for something to be removed from their picture. When gardeners disappear, plants die, and when lamps are removed, pictures cease to exist. What could happen then if this random man was taken out of this couple's Ferris wheel selfie? Well, we'll never know, because random guy got to stay in the pic. Instead, our favorite fan of misunderstanding deleted this lady's other half, leaving her holding a gruesome pair of free-floating arms.
This poster got in touch with James in order to get a bag added to her cute vacation snap. When posing for this picture, this young woman must have adjusted her strap and ended up with her hand in a bit of a random position. Personally, though, we think she looks great! Obviously, when she asked for a Photoshop purse, she wasn't specific enough. Instead of a designer bag, she got a garbage bag instead – complete with a dumpster.
Reading Suggestion: Retro Bowl Unblocked Games 911 
Bad Boy for Life
For our first entry, this friendly-looking chap has asked photoshop troll, James Fridman, to make him look like a bad boy. If this request was taken literally, this young man might be standing by a sports car in a desert, wearing a leather jacket and intimidating us with his brooding bad boy vibes. However, Fridman has hilariously photoshopped in a sign that turns this man into a very specific type of rule breaker. The sign says no mustache, sir!
Again we have a hopeful poster that fails to be completely clear and specific with their Photoshop request. This young woman wants to look like her hands are holding onto the travel pole, but James Fridman had different ideas. Of course, he did what she asked, just not exactly what she asked. Instead, it looks like our lovely lady has pulled the pole from the floor, and is casually resting it on her knee. For the record, we don't think her hands look weird at all.
This Photoshop requester already knew that her original picture was a little off. Rather than a cute picture of her lying on her front, with her partner by her side, this couple photo looks like one partner is poking out of a hole in the floor. The original photographer should have caught this optical glitch, but sadly they didn't. Since the poster didn't want to look like she was emerging from the floor, James moved her to a hole in the ground. Sorted!
One of the most frustrating things about visiting a landmark or a heritage site is the hordes of people standing in the way. You can't see Machu Picchu without getting past hundreds of tourists, and you can't get a clear view of the Mona Lisa without craning your neck around a bunch of smartphones. The point is, dealing with crowds is just part of visiting famous spots. You can't expect to get a perfect picture with the Statue of Liberty, right?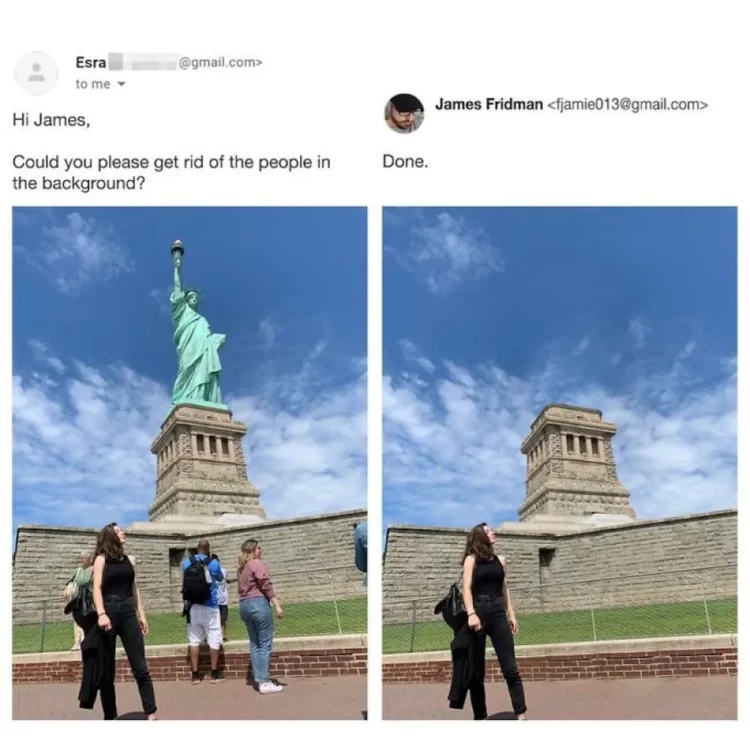 Graduation is an exciting time, and lots of people want sharp photographs that make them look like a baller. After all, these pictures will be all over social media, and hanging in frames on walls for decades to come. Understandably then, this chap requested something "a little more expensive" for his grad snaps. He might have been thinking of a Lamborghini, a Maserati or a Ferrari, but instead he got the most expensive thing of all – a stack of student debt.
We're confused as to why anyone would make a serious Photoshop request to James Fridman. Surely they would know that he isn't going to follow their polite instructions – right? Surely they know that anything they say can and will be used against them via the medium of photo alterations – right? This naïve requester asked to have the pizzas removed from the background of her picture. As we know, this only guarantees they'll end up in the foreground. He strikes again!
With each hilarious and unexpected Photoshop creation, the troll masterfully demonstrates their knack for taking photo requests too literally. From transforming a man into a mannequin to replacing a desired luxury bag with a garbage bag, the results are guaranteed to leave you in stitches. No one is safe from their mischievous touch, as even iconic landmarks and graduation dreams fall victim to their humorous alterations. Prepare to be entertained, surprised, and thoroughly amused as the Photoshop troll continues to strike with their unmatched wit and creativity. Stay tuned for more laugh-out-loud moments and witness the power of imagination pushed to its limits.