Each year, around 5,000 motorcyclists lose their lives in accidents on U.S. roads. That's not a number to ignore. It underscores the inherent risks of riding a motorcycle, and underlines the fact that motorcycle protective gear isn't optional—it's essential.
So, what can you, as a rider, do to ensure your safety? The first step is gearing up right, making sure every ride is a safe one.
This article will delve into what to look for when choosing your motorcycle protective gear, providing expert advice to help keep you safe on the road. Ready to take the first step toward a safer ride? Keep reading.
Understanding the Risks of Motorcycling
Riding a motorcycle brings a sense of freedom that's hard to match. But it's important to know the risks that come with it.
Riders face hazards on the road every day, from unpredictable drivers to harsh weather conditions. Unlike car drivers, motorcyclists have no metal frame to shield them from the hard impact during a collision.
In 2019 alone, motorcycle riders were 29 times more likely than car passengers to die in a crash per vehicle mile traveled. These numbers don't mean you should stop riding.
Instead, they show why it's crucial to take steps to protect yourself, like wearing the right gear and driving defensively.
If an accident does occur, it's important to have the right support. If you are unfortunate enough to be involved in an accident on the roads that has caused you to sustain injuries, then the first thing you will need to do is to start an injury claim.
Without the help of an experienced lawyer, it can be very difficult for you to receive the compensation that you deserve. A car accident attorney here can help riders navigate through the legal process, providing crucial help in a difficult time.
The Essential Elements of Motorcycle Protective Gear
Being safe while riding a motorcycle is not just about owning a motorcycle and driving carefully. It's about having the right protective gear. Each piece of gear serves a crucial role in protecting you on the road.
The helmet is the most important part. It protects your head from serious injuries in case of an accident. A quality helmet can make the difference between life and death.
A sturdy jacket and pants shield your body from road rash and provide some impact protection. They also guard against weather elements and road debris. Motorcycle jackets are specifically designed to protect vital areas like your back, shoulders, and elbows.
Motorcycle gloves protect your hands, which are usually the first to touch down in an accident. They also offer better grip and control over your bike.
Finally, good boots cover your ankles and keep your feet safe. They provide the right balance and traction when stopping. And let's not forget eye protection, which keeps wind, dust, and insects from obstructing your view.
What to Look for in a Motorcycle Helmet
Choosing the right motorcycle helmet is key to your safety when you're on the road. It's not just about style or price, it's about protecting your head. And not all helmets are made the same.
First, look for safety standards. In the U.S., helmets must meet Department of Transportation (DOT) standards. But some helmets go beyond this and meet Snell or ECE standards, which are even stricter.
Next, consider the helmet's material and construction. Most helmets are made of polycarbonate, fiberglass, or carbon fiber.
Each material has different strengths and weaknesses. For instance, carbon fiber is light but expensive. Fiberglass balances weight and cost and polycarbonate is affordable but a bit heavier.
Fit and comfort are also crucial. A helmet should fit snugly but not too tightly. It shouldn't move or slip when you shake your head.
Remember, you'll be wearing this for long periods when you're buying a motorcycle for travel or commuting.
Lastly, check the helmet's visibility and ventilation. Good helmets have clear, wide-view visors and enough vents to keep you cool on warm rides.
Read Also: The Smart Choice: Opting for a Used Car in San Bernardino
Selecting the Right Motorcycle Jacket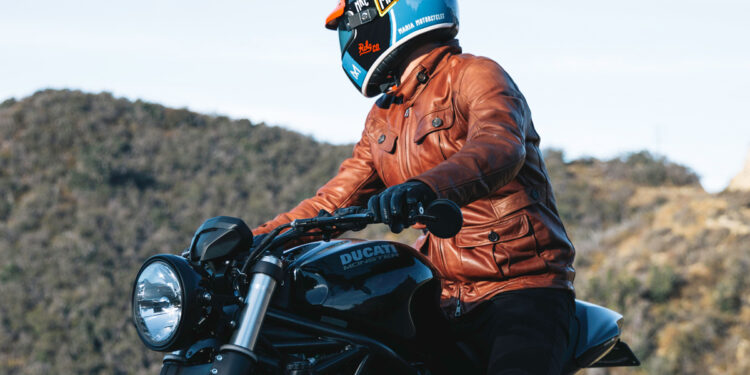 Just like helmets, motorcycle jackets play a big role in rider safety. They protect your upper body from road rash, reduce impact in a crash, and shield you from the weather.
When selecting a jacket, consider the material. Leather is tough and abrasion-resistant, making it perfect for protection. Textile jackets, on the other hand, can offer better weatherproofing and are usually lighter.
Look for jackets with armor or padding on key areas like the back, shoulders, and elbows. This armor absorbs shock and helps prevent injuries during a fall.
The right fit is crucial for any motorcycle jacket. It should be snug, but not restrictive.
Remember, you'll need to control your bike comfortably. Also, ensure the sleeves are long enough to cover your arms fully when riding.
Finally, consider the jacket's adaptability to different weather conditions. If you plan on riding year-round, look for jackets with removable layers or vents that can adjust to changing temperatures.
Choosing Motorcycle Pants and Gloves
The right gear doesn't stop at a helmet and jacket when you're riding a motorcycle. You also need to think about motorcycle pants and gloves. These pieces of gear offer vital protection for your lower body and hands.
When you're picking out motorcycle pants, the material is the first thing to consider. Leather pants provide excellent abrasion resistance, but they might not be the best choice for hot weather. Textile pants can be more comfortable in the heat, and some come with features like water resistance and thermal liners.
But the material isn't the only factor to consider. You also need to look at the armor and padding in the pants.
Some pants include armor or padding in high-risk areas like the knees and hips. These can make a significant difference in an accident, absorbing impact and reducing injury.
Fit and comfort are crucial for pants, just as they are for jackets and helmets. Motorcycle pants should fit snugly but not restrict your movement. They should be comfortable to wear for long periods, whether you're on a short trip or an extended journey.
Motorcycle gloves are also a must. In an accident, your hands are often the first thing to touch the ground. Motorcycle gloves are designed to protect your hands from injury and provide a better grip on the controls.
Look for gloves that have reinforcements in high-impact areas, like the palms and knuckles. And make sure they fit well. Gloves should be snug without restricting finger movement.
Importance of Protective Boots and Eye Gear
Motorcycle boots and eye gear might not be the first things you think of when you consider safety gear, but they're just as important as helmets, jackets, and pants.
Let's start with the boots. Motorcycle boots provide much-needed protection for your feet and ankles, both in crashes and from the heat of the engine.
When you're choosing boots, look for strong, durable materials like leather or high-tech synthetics. They should have strong soles for grip and control when you're stopping or standing.
Don't forget to look for boots that offer ankle protection. Ankle injuries are common in motorcycle accidents, so boots that guard this area can save you a lot of pain.
The boots should also fit well. They need to be comfortable and supportive without restricting your movement.
Now let's talk about eye gear. Whether you have a helmet with a face shield or not, protective eyewear is crucial. It guards against wind, dust, bugs, and debris that can impair your vision while riding.
When you're picking out eye gear, look for materials that resist scratching and provide UV protection.
Consider the fit, too. It should be snug to keep out wind and debris, but not so tight that it's uncomfortable.
And remember, clarity of vision is key, so choose a lens color that suits your riding conditions. For example, clear lenses are ideal for night rides, while tinted lenses can reduce glare during the day.
Other Protective Equipment and Advanced Gear
While helmets, jackets, pants, gloves, boots, and eye gear are the basic components of motorcycle protective gear, there are additional safety items worth considering.
For instance, consider adding armored inserts to your gear. These pads can be inserted into pockets in jackets and pants, offering extra protection to your back, shoulders, elbows, hips, and knees.
There are also options for high-visibility gear. Clothing and helmets with reflective material can increase your visibility on the road, making it easier for other drivers to see, especially in low-light conditions.
Rider airbags are another advanced gear option. These can be built into your jacket or vest, or come as a wearable airbag. They deploy in the event of an accident, providing additional protection against impacts.
For long trips or cold weather riding, heated gear can be a lifesaver. These electrically heated vests, jackets, gloves, and socks help keep you warm in freezing conditions, making the ride more comfortable.
Caring for Your Motorcycle Protective Gear
Once you've invested in quality motorcycle protective gear, it's crucial to care for it properly. Proper maintenance not only ensures your gear lasts longer but also that it provides maximum protection.
For helmets, clean the exterior with mild soap and water, and wipe the interior with a damp cloth. Remove and wash the liner if it's detachable. Avoid harsh chemicals or heat, which can damage the helmet's materials.
Leather jackets, pants, and gloves should be cleaned with products made specifically for leather. Dry them slowly away from direct heat to prevent cracking. For textile gear, check the manufacturer's instructions, as some may be machine washable.
Boots should be wiped clean of dirt and dried properly to prevent the growth of mold or bacteria. Consider using a boot dryer if they're particularly wet.
Eye gear should be cleaned with warm soapy water and a soft cloth. Avoid abrasive materials that can scratch the lenses.
Finally, inspect your gear regularly for wear and tear. If you see any damage, replace the gear immediately. Owning a motorcycle means taking responsibility for your safety, and maintaining your protective gear is part of that responsibility.
Gear Up for Safety
The open road awaits, but remember, safety first. Understanding and choosing the right motorcycle protective gear is the initial step in your journey toward safer motorcycle rides.
If you want to learn more about safe riding practices and health-related aspects of motorcycling, head over to our Health section. Remember, safety isn't expensive—it's priceless.