Best Anti-Colic Bottles – Opinions
Feeding our little ones in their first months of life is paramount. If you have to bottle feed, it's best to choose a design that is an anti-colic bottle.
1. Suavinex Zero-Zero Anti-Colic Bottle +0 Months
This suavinex anti-colic bottle has the necessary technology to reduce digestive discomfort in newborns.
An example of this is the Zero-Zero model that mimics the physiology of the mother's breast with an anti-colic bag, simulating the natural mechanism of the mammary glands and avoiding the appearance of air bubbles.
Regarding the design of the nipple, you should know that it is made of ultra-soft silicone, imitating the mother's nipple, which avoids the baby's confusion when mixed breastfeeding is practiced.
This element has been endorsed by the Spanish Society of Pediatric Dentistry, so it will not generate any long-term complications in the baby's teeth.
On the other hand, the container has a capacity of 270 ml.
Definitely, the anatomical design of this bottle stands out among its features, which is why someplace it is among the best anti-colic bottles of 2022. Get to know a summary of its highlights.
Teat: The design of the soft silicone teat and its natural format is similar to that of the mother's nipple, to avoid confusion in the baby with combined breastfeeding.
Anti-colic system: Air bubbles disappear inside the bottle, as it contracts to the rhythm of the baby's suction, reducing the appearance of colic.
Cleaning: Due to its semi-flexible silicone construction, this bottle is easily cleaned without using special accessories.
Spare parts: Being able to buy spare vacuum bags is missed since these can be damaged by the continuous use of the bottle.
Reading Suggestion: Heart Touching Birthday Wishes For Daughter From Mother
2. Tommee Tippee Closer To Nature Baby Bottle
If you are wondering which is the best anti-colic bottle, we introduce you to the English brand Tommee Tippee.
Your model contains a unique system made up of a tube and a valve, through which optimal aeration is offered during the suction process.
Thus, you can avoid or help reduce annoying colic in the baby.
Model 422525 includes 2 anti-colic bottles with a capacity of 260 ml and 2 slow-flow silicone teats.
These treats are soft and easy to grip for the baby's mouth since they have a breast shape to help him in the transition from the breast to the bottle.
Each teat features flexible, stretchy waves that allow it to mimic natural flexing and movement during feeding, providing continuous suction.
On the other hand, this Tommee Tippee anti-colic bottle has an ergonomic and compact design so that you can hold it properly and comfortably, keeping your baby closer.
It is normal to have doubts about which anti-colic bottle to buy and on many occasions, knowing the pros and cons in depth can help you decide:
Set: Tomme Tippee has a set of two anti-colic bottles for you so you can feed your baby more comfortably.
Both are 260 ml and have an anti-colic system that will guarantee a safe rest and free from stomach pain.
Teats: two soft teats are included with the purchase that simulates the sensation of the mother's breast, which can help the little one feel much more comfortable and thus facilitate feeding.
Ages: thanks to the design combined with the capacity of these anti-colic bottles, you will be able to use them from the very birth of the child until they are at least four years old, guaranteeing you a fairly long useful life.
Safe: in addition, both bottles are made with materials free of bisphenol A or BPA, which allows you to be much calmer knowing that your little one is not in contact with toxic substances in plastic.
Compatibility: if you decide on this model, you should keep in mind that it is only compatible with special Closer to Nature Anti–Colic Plus teats, which can make it difficult to exchange them
3. Dr. Browns Drb-Pp-455De Anti-Colic Bottle
Another bottle that has an internal ventilation system that minimizes air intake to your little one, reducing the likelihood of colic, gas, and burping, is the famous Dr. Browns brand natural flow and anti-colic bottle.
The DRB-PP-455DE model is an anti-colic bottle for newborns with a capacity of 240 ml, which includes a level 1 teat, which you can use in babies under 3 months.
The ventilation mechanism eliminates air bubbles and the vacuum that forms in the bottle, preventing the air from mixing with the content, which also minimizes the oxidation of vitamins A, C, and E, providing better feeding for babies. you are little.
The bottle is made of polypropylene, without BPA, and the teat is made of silicone. They can be hand washed with detergent and hot water or placed in the dishwasher.
The advantages of this Dr. Brown's model make it possibly the best anti-colic bottle for 10 euros that you could buy, so we invite you to compare them.
Vitamins: this option among Dr. Brown's anti-colic bottles has an anti-colic system that allows the natural vitamins and minerals of the food to be maintained so that they can reach the child without being modified.
Cleaning: it is an easy-to-clean bottle since it can be easily disassembled and placed in the dishwasher if desired so that you do not waste time.
Standards: it has a certification of compliance with the quality standards of the European community which guarantee its safety and quality.
Teat: The teat included with this bottle is level 1, that is, for newborns up to three months of age.
Indicators – Some buyers found it very uncomfortable that the bottle quantity indicators are transparent, making them very difficult to read.
4. Chicco Naturalfeeling Anti-Colic Slanted Teat Bottle
Ergonomics is one of the key points that has been emphasized to create this model of the anti-colic bottle for newborns, a feature that seeks to make your baby feel comfortable and for you to be able to hold it easily.
This is achieved because the teat is always kept full of milk thanks to its inclination, preventing the flow of air while feeding.
On the other hand, to provide greater effectiveness in reducing uncomfortable colic, it has a double valve.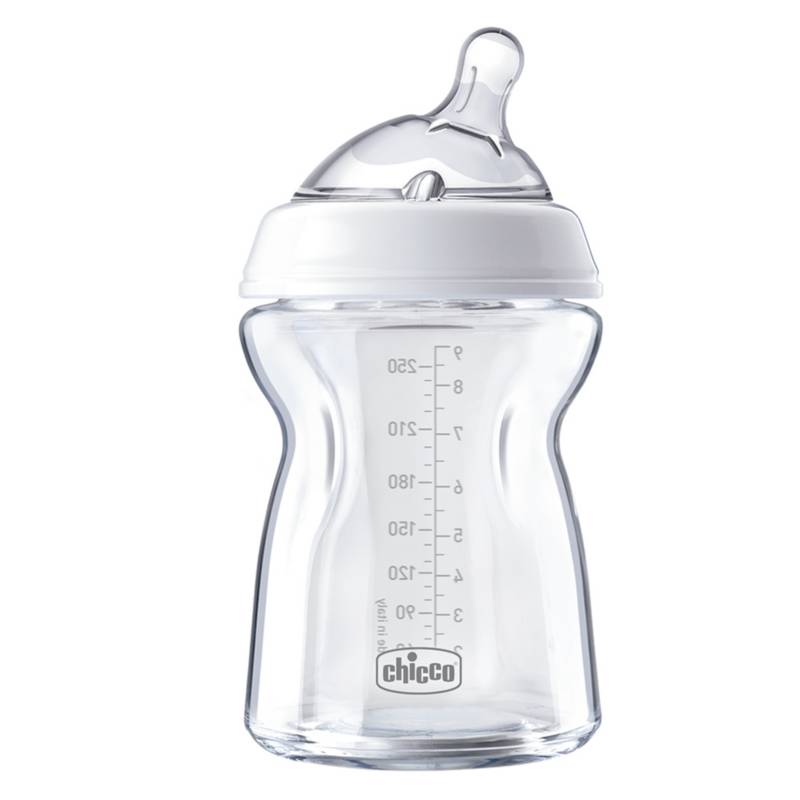 All this, without increasing its cost too much, is why it could be described as the best value for the money-anti-colic bottle.
In addition, it should be added that its nipple retains good flexibility and resemblance to the mother's breast, so you could provide your baby with mixed breastfeeding without major problems.
Reading Suggestions: The Best Bed Rails Of 2022
Let's see below a list of pros and cons regarding this model, which is one of the cheapest and belongs to what could be the best brand of anti-colic bottles.
Design: Due to its ergonomics, it is a bottle that you could hold comfortably and helps prevent the nipple from filling with air during the process.
Double valve: Thanks to its double valve system, it keeps the airflow away from your baby's mouth.
Softness: Because the design of its teat is very soft and resembles the mother's breast, it could be an effective option for mixed breastfeeding, that is, breast milk offered either by breast or bottle.
Flow: Some parents find the flow to be higher than expected, so some babies may have trouble adjusting at first.
Polypropylene: Some users may prefer a glass container, however, this presentation is only available in polypropylene.
Frequently Asked Questions
Q1: How Does The Tommee Tippee Anti-Colic Bottle Work?
Anti-colic bottles have a design that allows an adequate flow of milk, which prevents the presence of air bubbles while the child feeds.
Therefore, the possibility that the baby may suffer from gas, reflux, vomiting, and colic is avoided.
The Tommee Tippee anti-colic bottle incorporates an innovative ventilation system.
It is made up of a cannula or tube, which is attached to its neck and easily directs the air to the bottom of the bottle, thus producing a flow of adequate pressure as the baby extracts the food.
In this way, the child absorbs the least amount of air without much effort.
Thanks to this operation, all the vitamins and nutrients are maintained, since the air does not come into direct contact with the milk, which is an additional advantage when using this bottle.
Q2: How To Give An Anti-Colic Bottle
Bottle time should be a pleasant moment for the baby, the parents, or the person in charge of feeding them.
When breastfeeding, it is important to transmit pleasant and emotional sensations, so it is advisable to do it in a comfortable and quiet place.
However, to prevent unwanted colic from occurring in young children, it is important to follow some guidelines recommended by experts, who recommend not only the use of an anti-colic bottle but also adopting a correct posture.
The ideal position in which you should put the baby should be slightly inclined on any of your arms, the one that is most comfortable for you.
This will help the nipple fill with milk as the bottle empties.
Likewise, you should take some breaks, avoiding rushing the shot and during those moments, it is important to rest the child on your shoulder or chest so that he expels the air that he could consume.
Finally, remember that you must remove the bottle before it is completely empty since it is essential that the baby does not suck up to the last drop.