Healthy food is an important part of a healthy lifestyle for everyone, from young to old, and for men and women. But it is especially important if you are pregnant or want to become pregnant. Eating healthy during pregnancy helps your baby develop properly and keeps you healthy and fit.
When you are pregnant, you really do not have to follow a special diet, but it is important to eat a healthy and varied diet so that you get all the necessary nutrients. You'll probably find yourself more hungry than usual, but you don't have to "eat for two" – even if you're expecting twins or triplets. At least start the day with a healthy breakfast,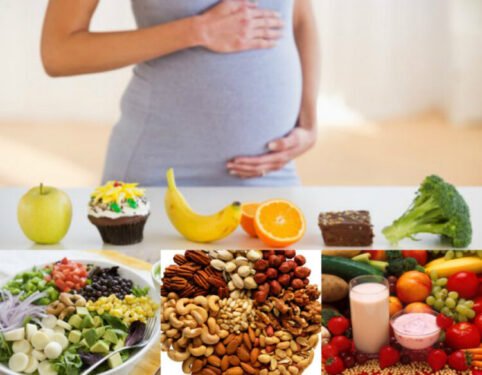 What is the best food to eat during pregnancy?
Write from Five
Eat according to the Wheel of Five, so that you and your child get enough good nutrients. The revised Wheel of Five of the Nutrition Center consists of five boxes full of good products to choose from. Choose enough from each subject every day and vary widely, then your body and that of your child will get what it needs
Calcium
Make sure you get enough calcium by taking about 2 to 3 glasses of milk and 1 to 2 slices of cheese every day. The unborn child uses calcium for the development of strong bones and healthy teeth. You can also opt for buttermilk, drinking yogurt, chocolate milk, yogurt, or custard instead of milk. Preferably choose low-fat or semi-skimmed products.
Reading Suggestion: Heart Touching Birthday Wishes For Daughter From Mother
Iron
If you are pregnant, you should also ensure that you get enough iron by eating, for example, (red) meat, fish, legumes, grains, vegetables, beans, potatoes, and poultry. Your unborn baby needs iron to produce extra blood. By taking vitamin C -rich products (such as vegetables or fruit) with every meal, your body absorbs iron more easily. This will prevent you from getting anemia due to iron deficiency during pregnancy.
Drink enough
You must also ensure that you drink enough (water) to maintain your fluid balance.
Fish
Fish is very healthy, especially if you are pregnant. The Nutrition Center emphasizes that the fatty acids in fish are good for the development of the brain and vision in unborn babies. Because of the dioxins, you should only eat no more than 2 portions (300 grams) of oily fish per week. Avoid the following fish (species) if you are pregnant:
Raw fish.
Raw seafood and shellfish.
Pre-packaged smoked fish, such as smoked salmon, eel, and mackerel. These may contain the listeria bacteria.
Predatory fish, such as swordfish, pike-perch, king mackerel, and tuna, as these fish contain a lot of mercury and dioxins which are bad for the baby's development.
The wild eel can contain heavy metals and dioxins.
Quality is more important than quantity
The same applies to nutrition during pregnancy: quality is more important than quantity. Theoretically, the energy requirement (in calories) increases slightly from the second trimester of pregnancy – but only if the pregnant woman continues to exercise as much as before the pregnancy.
For most women, physical activity decreases significantly as their abdomen grows in size. So the bottom line is that they don't need more calories than they did before pregnancy. If you eat normally, you usually don't have to worry that your child may not be adequately cared for.
So as a pregnant woman, you don't have to eat 'for two' but think for two as the need for individual vitamins and minerals increases during pregnancy. Therefore, a varied and healthy diet during pregnancy is particularly important:
Drink especially calorie-free or low-calorie drinks, such as water and tea.
Eat mostly plant foods (vegetables, fruits, legumes, whole grains, nuts, and seeds ).
Animal foods should be eaten in moderation (skimmed milk and dairy products, lean meats, lean sausages, lean sea fish, and eggs).
Confectionery, sugary drinks and snacks, and fats with a high content of saturated fatty acids (mainly animal fats such as butter) should be consumed in moderation. Preferably use vegetable oils (e.g. rapeseed oil or olive oil) as a fat source.
Prefer more frequent and smaller meals
The larger the child and therefore the uterus, the greater the chance that the stomach and intestines will have less space. This is why many pregnant women tolerate smaller meals better than larger ones. Even if you suffer from loss of appetite or morning sickness, especially at the beginning of pregnancy, small meals throughout the day can help.
What should you not eat during pregnancy?
What foods to watch out for when you are pregnant?
Alcohol
Do not drink alcohol during pregnancy. Even small amounts of alcohol can be harmful to your unborn child. Fetal alcohol syndrome (FAS) is a birth defect caused by alcohol consumption.
Coffee
Preferably do not drink coffee. Too much caffeine during pregnancy can cause your baby to have a low birth weight.
Raw milk
Do not use raw milk from the farm unless you boil it before use. Also, do not use soft cheese made from raw milk, as these cheeses can contain the Listeria bacteria, which can be harmful to your child. You can recognize these cheeses by the expression 'au lait cru' on the packaging. Hard cheese made from raw milk is allowed.
(Semi) raw meat
Do not eat (semi) raw meat. Examples include roast beef, fricandeau, tartare, filet américain, carpaccio, half-done steak and beef sausage. Raw meat may contain harmful bacteria. Don't use liver either. The liver contains a lot of vitamin A. Too much vitamin A is harmful to your baby.
Certain fish
Fish is healthy, but you should not eat raw fish or shellfish, such as oysters when you are pregnant. It is also wise to avoid predatory fish. These can contain a lot of mercury. Examples of predatory fish that contain a lot of mercury are fresh tuna, king mackerel, shark, swordfish, and pike-perch. Canned tuna contains much less and you can eat it, but do not eat more than two cans of tuna per week.
Do not eat eels from Dutch rivers either, as they can contain a lot of dioxins. You can safely eat farmed eel during your pregnancy. Also, do not eat oily fish more than twice a week, because of the dioxins. You should not eat vacuum-packed smoked fish when you are pregnant.
This is because Listeria bacteria can accumulate on the edges of the packaging. In the worst case, a Listeria infection can lead to a miscarriage. When you heat the vacuum-packed smoked fish to 85 degrees, the Listeria bacteria are killed and in that case, you can eat these products.
Raw eggs
Do not eat raw eggs, as they are a source of salmonella bacteria. Homemade mousse and homemade ice cream often contain raw eggs. Only eat eggs that are hard-boiled or well-done.
Long-stored fresh products
Do not eat fresh products that have been stored for a long time. Be careful with cold cuts and raw vegetable salads, because of the risk of listeria contamination.
If you are a real licorice lover, you will, unfortunately, have to limit yourself to a few licorice a day at the most. Licorice contains the substance glycyrrhizin, which is responsible for the typical taste of licorice. Glycyrrhizin is a component of a licorice root extract that has an effect on the functioning of your kidneys. If you take too much licorice or licorice (tea), you can get higher blood pressure, fluid retention, and a reduced potassium level in the blood, i.e. a deficiency of the mineral potassium.
Certain medicinal herbs and herbal preparations
Watch out for medicinal herbs and herbal preparations. Some herbs are harmful to your unborn child. The Nutrition Center recommends that you should not take ephedra, aloe, sassafras, Dong Quai, kava kava, absinthe wormwood, fennel, anise, cucumber herb, butterbur, comfrey, and tansy, and not too much fenugreek, nigella, feverfew, senna, and hawthorn.
Are supplements necessary for a healthy diet during pregnancy?
Overview
For your baby to develop healthily, he needs a lot of nutrients and minerals. Even with a healthy diet during pregnancy, it is not always possible to take in these substances in sufficient quantities exclusively through food. Appropriate nutritional supplements can help with this. Important nutrients include:
Folic acid (reduces the risk of a neural tube defect in the baby).
Iodine (important for the healthy mental development of your baby).
Iron (supports blood formation).
The omega-3 fatty acid DHA (for normal brain and eye development).
Vitamin D (for bone growth).
folic acid
Especially at the beginning of pregnancy (and if you want to become pregnant), you need extra folic acid. The Nutrition Center recommends taking 400 micrograms of folic acid daily from the moment you want to become pregnant. By using extra folic acid, you reduce the risk of spina bifida in your baby. Continue to take folic acid until 8 weeks after conception, which is about 10 weeks after the first day of your last period. You do not have to take folic acid afterward, but it is not harmful if you do.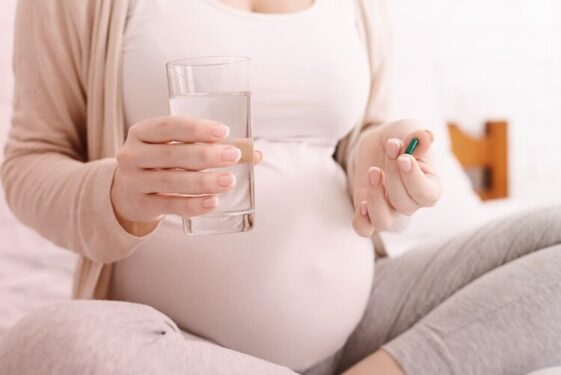 Vitamin D
According to the Nutrition Center, you need extra vitamin D during pregnancy. It is recommended to take 10 micrograms of vitamin D daily to keep your bones and those of your child healthy.
Not too much vitamin A
Note: a lot of vitamin A can cause harmful changes to the unborn child. Therefore, if you are pregnant, you should not consume more than 3000 micrograms of vitamin A from animal products and supplements per day. Do not take vitamin A preparations and do not take a multivitamin preparation. It usually also contains vitamin A. Do not eat liver either, because it contains a lot of vitamin A