The Best Mario Games – Opinions 2022
There are Mario games for various consoles, for example, Nintendo Switch, Wii, or Nintendo 3DS. For this reason and to help you make your choice, in this section we will talk about the best Mario games of 2022, so keep reading if you want to buy a good title.
1. Super Mario Odyssey Standard Edition
This could be the best Mario game for the Nintendo Switch as it offers many adventures in different parts of the world. Also, you can change Mario's clothes, even dress him as Luigi if you wish, or with Mexican clothes.
In the story, you will have to rescue Princess Peach from the hands of Bowser, who wants to marry her and is preparing a big wedding. To do this, you will have to use the Mario character and defeat or escape from all the enemies. At the same time, there are several moons in each level of the game, which you will have to collect to achieve your goals.
The use of controls for this game will be quite simple, being able to use special movements of the joystick so that Mario performs certain maneuvers. Also, it should be noted that this game is in 3D and works at 60 images per second.
It's perhaps the best Mario game out there right now because it delivers crisp, lag-free visuals on your Nintendo Switch. These are its most outstanding qualities.
Adventures: This game offers adventures in various parts of the planet, going through the desert or the city.
Version: Although it is a 3D version game, it also provides some 2D moments in some parts of the game, to bring some nostalgia to adult players.
Collectibles: To get hold of the collectibles in this game you can play the levels over and over again, until you succeed, depending a lot on your experience and skills.
Similarity: Regarding the game mode, it is a bit similar to other titles such as Mario World and Mario Land, however, it offers new things such as the Mexican hat and unpublished scenarios.
2. Super Mario Maker 2
To discover which is the best Mario game for Nintendo Switch, just review these types of titles. The present game offers the possibility to create your own worlds, so if you are a Mario fan, you may like this feature very much.
In this mode, it is possible to use elements such as coins, blocks, mushrooms, aerial platforms, etc. In the end, the level you create may be totally different from the ones you've already seen.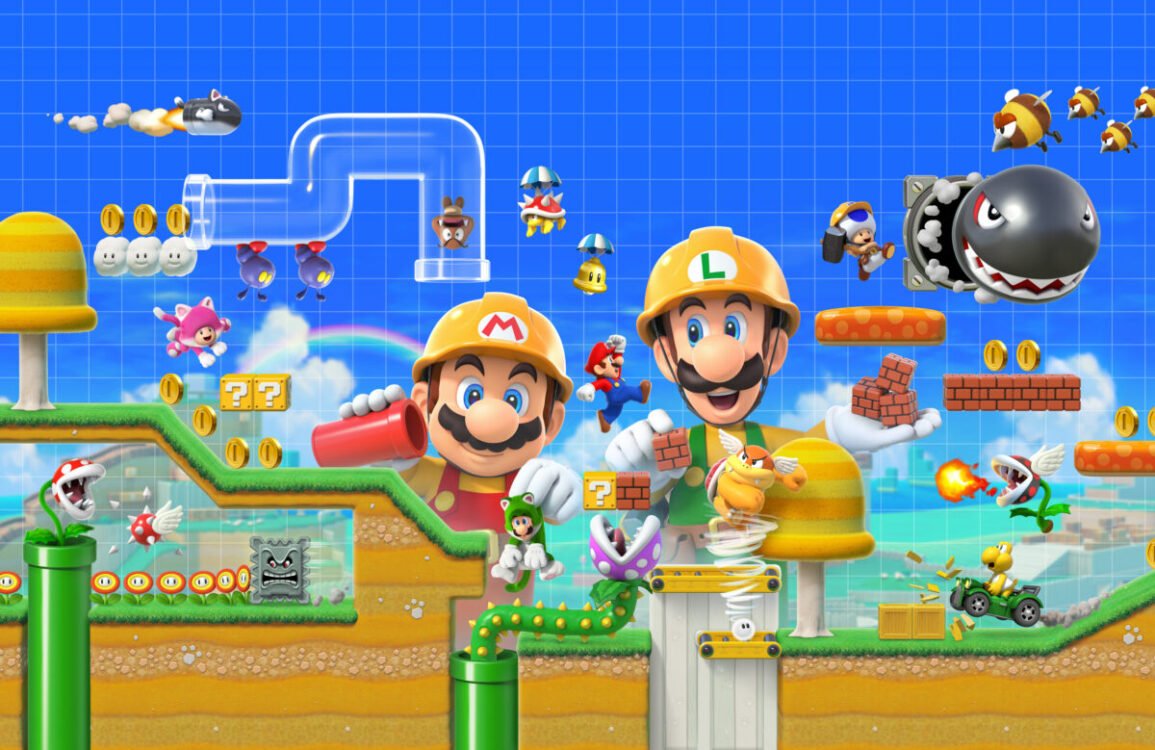 In addition to that quality, the game has the option to play over the Internet. This is how you will connect with users from anywhere in the world and have fun with them, even if you are not careful, your character can bump into other players, which is something very funny and striking in this video game.
In addition to this, we mention its story mode, in which you will have to rebuild Princess Peach's castle, since, according to the game's history, it has been deleted by mistake.
Nintendo Switch could be the best brand of Mario games, as it has managed to maintain the legacy of this game and has added new titles such as Super Mario Maker 2. Here we leave you the highlights of this video game.
Infinite levels: If you think you have known all the worlds of Mario, with this game you will enjoy infinite levels, which you can download whenever you want.
Retro: This is a nostalgic Mario video game, since it comes in a 2D version, thus recalling the first titles of the game.
Editor: The present Mario brings a very intuitive editor to create the worlds according to your tastes. That way, it will always be a new and entertaining game.
Subscription: If you want to enjoy the world levels created by other players, you must be subscribed to Nintendo Switch Online, which becomes an extra expense.
3. Super Mario Party Nintendo Switch
With Super Mario Party you will enjoy a fun board game in which up to 20 different characters will appear. In this video game, you must roll the dice of the character you are playing with and advance through the levels.
Reading Suggestions: Unblocked Games World to Play Online Games
In addition to this, it is a title for Nintendo Switch with the possibility of sharing with the family, since it has a multiplayer function. Grab a Joy-Con and give one to your child, because the little ones in the house, ages 3 and up, can play.
Also, it can be enjoyed among adults, remembering the old days, since it offers 80 mini games for complete entertainment. Even 4 players can roll the dice in turns, each going around the board looking for stars.
This game even has a cooperative combat mode, to test the skill of each user.
If you do not know which Mario game to buy for the fun of the whole family, we recommend this title, since it offers entertainment for almost all ages.
Characters: With its 20 eligible characters you will be able to remember the classic Mario games and throw various types of dice.
Mini-games: The 80 mini-games provided by this title will be useful for people of various ages, including children aged 3 and up.
Online: The video game comes with the possibility of playing Mariothlon online. There you can show off your skills as a Mario Party fan.
Joy-Con: To play 4 people you will need 2 more Joy-Con, unlike other games that are also turn-based, but do not require buying more controls.
4. New Super Mario Bros U Deluxe
If you like traditional 2D platform games, this Mario title for Nintendo Switch might be for you. It has more than 160 levels, to enjoy varied themes, including aquatic, in which your character will have to swim carefully so that enemies or obstacles don't kill him.
In addition to this, the game is based on the popular New Super Mario Bros U for Nintendo Wii, but with some improvements in the images, thanks to the new technology of Nintendo Switch.
In this video game, 4 people can play at the same time, helping to get the pennant more easily. Also, in the story mode, you can choose various characters, among which Luigi version U stands out.
For its part, the story is based on the rescue of Princess Peach, as Bowser takes over the castle, banishing Mario and sending him to the confines of the Mushroom Kingdom.
This is a classic game and at the same time it offers new possibilities for your character, so it will be quite entertaining. Here are its main qualities.
What's New: Characters can hold on to and push off walls, and they'll also slow down their fall after jumping.
Gameplay: You can play with 4 people, to overcome the levels in a fun way with family or friends.
Characters: Luigi, Toad, or Mario can be the protagonists of this installment, so you can choose which character to play.
Gameplay: It would be nice if the story mode could be played in competitive mode since it is only possible to play it cooperatively.
5. Mario + Rabbids Kingdom Battle
This might be the best value for money Mario game as it is one of the cheapest but it has 4 worlds and lots of quests, secrets, puzzles, quests, etc. Also, it has an epic story where you have to free Mario's friends and restore peace to the Mushroom Kingdom.
In this Nintendo Switch title Luigi, Mario, Peach, and Yoshi will join four Rabbids heroes, which are the fearful Rabbid Luigi, the powerful Rabbid Mario, the quirky Rabbid Yoshi, and the flirtatious Rabbid Peach.
Throughout the story mode, you will have to face various enemies to overcome the levels, so you must show your skills to the fullest if you want to save the Mushroom Kingdom. And in addition to the main story, you will have the option to play with another person, so you can have fun with a family member or friend.
This is one of the cheapest Mario games for the Nintendo Switch console, so it would not hurt to review its pros and cons, which we explain below.
Type: This is quite a fun game with a certain degree of difficulty since you will have to solve puzzles and find secrets.
Battles: During the course of the game you will find various battles, which you can win using your character's abilities to the maximum.
Colors: The colors of this game are quite striking and its images have very good resolution, so you can enjoy each level much more.
Short: The game might seem short to you if you are a person experienced in Nintendo Switch games.
Frequently Asked Questions
Q1: How To Use A Mario Game?
It is simple to use; You must first turn on your video game console. Later, click on the games section and select the Mario Bros game, wait a few seconds for it to load, and start playing. The classic Mario game consists of passing the levels of the different worlds and taking the pennant.
You can use two buttons in most Mario games, for a specific ability or just jump, even if you hold down this last button you can run.
Q2: How Many Levels Does The Mario Bros Game Have?
The Mario Bros game is characterized by having 8 worlds of 4 levels each and these are shown like this, 1-1, 1-2, until reaching 8-4. When playing this title you will notice that each level is different, even the soundtrack changes. In addition, some levels are aquatic, so they are overcome by swimming.
Also, the classic Mario Bros game has undergrounds and you enter them through pipes. In addition to this, we mention the Mushroom Kingdom, which has gigantic mushrooms and many brick blocks.
On the other hand, at the end of levels 1, 2, and 3 of each world there is a pennant, which must be reached by Luigi or Mario to advance to the next level. The more you have advanced in terms of levels, the game will become much more difficult. For example, with more cliffs and aerial platforms, as well as more resistant enemies. Even the bosses at the end of each world increase in level, so you have to be more and more skillful in jumping, hitting, and defending Mario.
Q3: What Is The First Mario Game Where Yoshi Appears?
This legendary Mario Bros character appeared for the first time in the Super Mario World game in 1990. Yoshi belongs to the race that bears his name and is characterized by changing skin color between individuals.
In this case, Yoshi is green and is a bipedal dinosaur. One of the most outstanding abilities of this character is to extend his tongue to catch his prey. Also, Yoshi eats apples, this fruit being his main food.
Also, this bipedal dinosaur has appeared in other games such as Super Mario Maker, Super Mario Galaxy 2, and Super Mario 64 DS. It has even appeared in series like Super Smash Bros, Mario Kart, and Mario Party.
Q4: What Is The Best Mario Game For Nintendo Switch?
Without a doubt, the Mario Bros games have been the favorites of players of different ages, including adults, since their early beginnings. In the case of the Nintendo Switch, one of the most popular and accepted games is Super Mario Odyssey.
It is a game full of adventures in which Mario leaves the Mushroom Kingdom to embark on a journey through mysterious places on planet earth aboard an airship. This particular vehicle needs the famous energy moons to refuel and continue its journey through the different kingdoms.
One feature of those kingdoms is that each one has a local currency, and by obtaining it, Mario can buy a special outfit. There are many clothes to choose from, for example, the Mexican hat and suit, which gives the character a unique touch.
Q5: What Is The First Mario Bros Game?
Mario emerged after the appearance of Donkey Kong, whose creator was Shigeru Miyamoto in 1981. His inspiration was Popeye and the superhero in this game was called Jump Man, who later became Mario Bros. That was the name of the first game in the franchise.
Also, Miyamoto introduces Luigi, Mario's brother, in the new game to give users the opportunity to enjoy the multiplayer mode.
The world of this first game was full of pipes, that is, an underground world from which creatures and turtles came out, who were the enemies of the two characters. These had to defeat them and keep the pipes clean. Years later the Super Mario Bros version came out, which was also widely accepted internationally.