Soy has become an increasingly common cuisine. At least the familiarity with the existence of this product is great. But there is no mass consumption of soy yet. There may still be a haze of "alternative" and "not tasty" over the soybean after all.
But what exactly is soy? Where does it come from and what substances does the soybean contain? Anyone who reads more about it will soon discover that soybeans and products based on soy are very healthy. It is also a widely used basic product for meat substitutes.
What Is A Soybean (Glycine Max)?
Glycine max is the Latin name for the soybean. The most widely cultivated and produced for consumption soybean is the legume which has yellow beans. But there are also varieties of brown, green, and black beans. The bean contains 18% fat and 43 to 49% protein. 
Vegetable oil (one of the most commonly used vegetable oil in the world) is produced from the bean and soybean meal (also known as soybean meal) is made from what remains. This soybean meal is the main source of vegetable protein used in animal feed. The soybean tree has been cultivated and used in cooking for over a thousand years. 
As early as 2828 BC, the soybean was described by Shen Nung (Chinese emperor). At that time, soybean was considered one of the sacred crops. In addition to soy, barley, millet, rice, and wheat were also counted among the sacred varieties.
How Healthy Is The Soybean?
The first thought about soy is that it is a healthy product. There are also health benefits associated with soy consumption. The US FDA (Food & Drug Administration) even allows health claims to be printed on food packaging. This is quite unusual, as health claims are rarely allowed. 
Reading Suggestions: Kitchen Trends For 2023
Health benefits from the consumption of soy include reduced risk of heart attack, and reduced baldness in men and it would have a preventive effect on chronic diseases. Soy is a very versatile product. It can be used as whole soybeans, but in most cases, it is eaten in a processed form. Think of soy milk, soy sauce, soy oil, tofu, or miso. Tempeh, another well-known soy product, is obtained from edible fungi.
Main Nutrients Of Soy
Soy Contains Lecithin
The substance lecithin, which occurs in the soybean, has the property of keeping cholesterol in a solution (emulsifier). This can reduce heart and vascular complaints.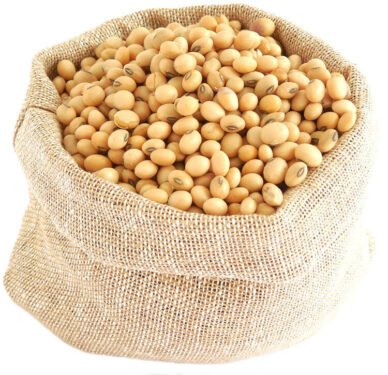 Soy Contains Proteins
The soybean contains a large amount of protein. That is why soy is a good meat substitute for vegetarians. But excessive use of soy can therefore also cause the same complaints as excessive meat consumption.
Soy Contains Isoflavones
The soybean is rich in isoflavones. Much scientific research is being done into the beneficial effects of this substance. The effect on the symptoms of menopause is of particular interest. This would reduce insomnia, night sweats, and hot flashes.
But perhaps much more important is that the use of soy has a positive effect on cholesterol levels, osteoporosis, and heart disease. Soybeans, soy flour, soy nuts, and tempeh contain the highest content of isoflavones.
The Use Of Soy Or Soybean In The Kitchen
Soy has a reputation for being healthy. Yet most people do not directly associate with tasty. Perhaps this is also due to the unfamiliarity with the product. The range of products is still being expanded. Soy is also no longer only available in natural and healthy food stores.
Regular supermarket nowadays also has a wide range of soy-based products. Of course, this concerns the well-known soy milk, but products such as crisps, cheese, nuts, protein bars, sauce, ice cream, yogurt, and snacks based on soy are also widely available.
In the Disk of Five, in which the Nutrition Center divides products into five disks for a healthy diet and healthy diet, the soybean naturally also occurs. The soybean falls under the legumes, but also the products produced from the soybean are mentioned in this Wheel of Five. Consumption of soy or soy-based products lowers your LDL cholesterol. This is important for maintaining healthy blood vessels.
Soy Milk
Soy milk is a very nutritious drink that contains high-quality proteins, isoflavones, and vitamin B. It is for sale in health food stores, but also in most supermarkets. Well-known brands are Adez and Alpro. The proteins contained in soy milk can cause an allergic reaction. However, this only occurs in 1% of the population.
Genetically Modified Soy
In recent years, the soybean has often been the subject of fierce discussion. The bean is discredited because of its genetic modification. Genetically modified soy is therefore only used for animal feed. This raw material is imported from Argentina. Soybeans for human consumption are largely sourced from Brazil and are unmodified but sustainably grown.