Vero Moda is a Danish fashion brand, founded in 1987, that specializes in contemporary and affordable clothing for women. It is one of the most popular fashion brands in Europe and is currently available in 36 countries.
The brand offers a wide range of products including dresses, tops, skirts, jeans, jackets, shoes, lingerie, and accessories. Vero Moda's goal is to make fashion accessible for everyone, which is why their clothing is affordable and on-trend.
They have a strong focus on sustainability, and their collections are made with recycled materials and fabrics. Vero Moda also produces limited edition pieces and collaborates with different artists to create unique and stylish garments.
The brand has become extremely popular due to its high quality, affordable pricing, and fashionable designs, as well as its commitment to sustainability.
Various Types Of Clothing Are Available
Outerwear: Coats, jackets, sweaters, vests, ponchos, and scarves.
Tops: T-shirts, blouses, tank tops, tunics, shirts, sweaters, and hoodies.
Bottoms: Pants, shorts, skirts, and jumpsuits.
Dresses: Maxi dresses, midi dresses, mini dresses, and cocktail dresses.
Suits: Blazers, trousers, suits, and suit sets.
Footwear: Heels, sandals, boots, sneakers, and flats.
Accessories: Hats, scarves, gloves, belts, and bags.
Sleepwear: Nightgowns, robes, pajamas, and loungewear.
Intimates: Bras, underwear, and lingerie.
Swimwear: Bikinis, one-piece swimsuits, board shorts, and cover-ups.
Reading Suggestion: 7 Beauty Marks
Vero Moda Kjole (Dresses)
Vero Moda dresses are fashion-forward and stylish, with designs that range from classic to contemporary. They feature a wide variety of silhouettes, colors, and prints, making them perfect for any occasion. From mini to maxi, long-sleeve to sleeveless, and more, Vero Moda dresses will help you create a look that's uniquely you.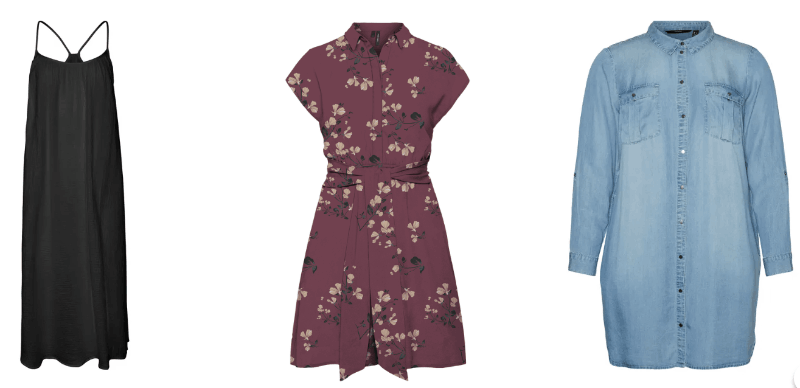 Different Styles Available In The App
Classic: This style offers a timeless and traditional look with muted tones and clean lines.
Modern: This style features bold colors and geometric shapes for a contemporary look.
Vintage: This style gives a throwback feel with muted colors and floral or paisley patterns.
Bohemian: This style is inspired by a free-spirited, carefree way of living with bright colors and intricate details.
Rustic: This style is inspired by the outdoors with natural textures and warm tones.
Minimalist: This style focuses on the essentials with simple designs and subtle details.
Adding accessories to a Vero Moda dress can help to add a unique touch to any outfit. Try pairing a dress with statement earrings or a bold necklace to add a bit of flair.
Vero Moda Curve (Plus-Size Clothing)
The Vero Moda Curve line is a collection of fashion pieces designed specifically for plus-size women. The collection features flattering cuts, comfortable fits, and stylish designs that are tailored to fit the curves of a fuller figure.
The pieces are designed to flatter and enhance a woman's natural shape, while providing a look that is both modern and timeless. The pieces are also designed to be versatile, so they can easily be dressed up or down, depending on the occasion.
Available Plus-Size Clothing Under Vero Moda Curve
Jeans – Skinny, straight-leg, bootcut, and flared options in a range of sizes up to 32W.
Dresses – Wrap, maxi, sheath, and A-line cuts in sizes up to 6X.
Blouses – Button-down, tunic, peplum, and off-the-shoulder styles in sizes up to 4X.
Tops – Tank, blouson, crop, and tunic styles in sizes up to 5X.
Skirts – Pencil, A-line, and circle cuts in sizes up to 4X.
Jackets – Blazer, denim, and bomber styles in sizes up to 5X.
Swimwear – One-piece and two-piece suits in sizes up to 6X.
Intimates – Bras, panties, and shapewear in sizes up to 6X.
When styling Vero Moda Curve clothing, it's important to keep fit in mind. Make sure you're choosing pieces that fit your body type and don't overwhelm your frame. It's also a good idea to pick pieces with stretch, as this will provide more flexibility and comfort.
Additionally, consider pairing your clothes with accessories, like a statement belt or a bold necklace, to create a unique look. Finally, don't be afraid to play around with different colors and prints to create a look that reflects your personality.
Reading Suggestion: Melan Txa Body Lotion
Vero Moda Jakke (Jackets)
Vero Moda jackets are stylish outerwear pieces designed to provide warmth, comfort, and fashion in one. They are made from high-quality fabrics with a variety of designs and colors to choose from. The jackets feature a relaxed silhouette, giving them a comfortable and versatile fit to wear over any outfit.
They have a variety of features, including zip-up closures, drawstrings, and pockets. The jackets are also waterproof, making them perfect for any weather condition. Vero Moda jackets are a great way to look stylish and stay warm all season long.
Vero Moda Bukser (Pants)
Vero Moda pants are a stylish and comfortable choice for any occasion. They come in a variety of colors, styles, and materials to suit any wardrobe. The pants are designed to be flattering and comfortable, with a high-waisted fit and mid-length legs.
They are made with soft and stretchy fabric that is breathable and easy to care for. The waistband features an adjustable drawstring for a secure fit, while the pockets provide convenient storage for small items. These pants are perfect for pairing with a blouse, blazer, or sweater for a polished look.
Vero Moda Vest (Vests)
Vero Moda vests are versatile pieces of clothing that are perfect for layering. They come in a variety of styles and colors, from plain black to statement prints. They are made from a lightweight fabric that is both breathable and comfortable, making them ideal for a range of temperatures and activities.
They are great for adding an extra layer of warmth in the winter, or for keeping cool during the summer months. They can be worn for both casual and more formal occasions, depending on the style chosen.
Reading Suggestion: Oh So Jack Fashion Male Grooming Lifestyle
Vero Moda Strik (Knitwear)
Vero Moda knitwear is designed to provide stylish, comfortable and versatile clothing for women. The collection includes a wide range of sweaters, cardigans, pullovers, tunics and jackets in a variety of styles, fits and colors.
The fabrics used are soft and lightweight, making the garments easy to layer or wear alone. The pieces are designed with a modern aesthetic and feature unique details such as ribbing, ruffles, lace, frills and more. Vero Moda knitwear is perfect for any occasion and can be dressed up or down to suit any look.
Vero Moda Jeans
Vero Moda jeans are designed to provide a timeless, modern look. They come in a variety of colors, styles, and fits, from skinny to straight-leg to boyfriend. They are designed to be comfortable and flattering, with a stretch material that moves with your body and won't bag out.
They feature a range of features such as contrast stitching, distressed details, and zipper accents for an extra-stylish look. The jeans are designed with a slim fit that hugs the body, with a mid-rise waistline that provides a flattering look. They are also made with quality materials, ensuring that they last.
Conclusion
Whether you're looking for the latest trends or classic wardrobe staples, Vero Moda has something for everyone. With its stylish designs and great prices, Vero Moda is the perfect place to find fashionable and affordable clothing.