Jewelry has been a sign of wealth and prosperity for thousands of years. From gold rings to diamond rings, the right piece of jewelry can show off your wealth and keep it protected at the same time.
When picking out a piece of jewelry, a lot of people gravitate toward necklaces and earrings. However, there are a lot of other jewelry pieces that are perfect for men. Today, there are hot jewelry trends aplenty for every man. Want to learn more? Keep reading to learn about some hot jewelry trends for men.
1. Himalayan Gemstone Crystal Pendant
Himalayan gemstone and crystal pendants are one of this season's hottest jewelry trends for men. Crafted from raw, unshaped rocks of various quartz varieties, these crystal pendants evoke a unique, rugged style of jewelry that is perfect for any man who wants to make a statement. The inherent beauty of the crystals draws the eye, and their modern, industrial shape gives them a touch of sophisticated streetwear attitude.
Whether it's worn alone or mixed and matched with other pieces, a Himalayan gemstone crystal pendant is sure to turn heads. Best of all, this timeless accessory is easy to care for, as a simple wipe-down with a damp cloth is all it needs to keep its beauty for years to come.
2. Sterling Silver Bangle Bracelets
The best jewelry trend to hit the scene this year is sterling silver bangle bracelets for men. These timeless, sophisticated, and stylish accessories can easily be mixed and matched with different looks, from contemporary to classic. They can help complete the look for a night out in your favorite shirt or work just as stylishly with a dress shirt for the office.
Bangle bracelets provide sleek elegance and make an impression without being too flashy. They also look great by themselves or stacked with other pieces for a groovy, layered look. So this season, reach for a classic sterling silver bangle bracelet for instant style, no matter the occasion.
Reading Suggestion: Cyberpunk 2077 Nudity
3. Masculine-style Rings
Men's jewelry has come a long way in the past few years, with more stylish and edgy pieces making the perfect fashion statement. One of the hot jewelry trends for men is the masculine-style ring. Masculine-style rings come in a variety of styles and designs, making them perfect for any occasion.
They come in a range of metals, such as stainless steel, titanium, and tungsten. From classic signet rings to bold and contemporary designs, men have plenty of choices when it comes to purchasing their favorite rings. Whether you are looking to buy jewelry as a gift or to accessorize an outfit, masculine-style rings are a great way to make a statement.
With an increasing variety of styles, colors, and designs, men can easily find the perfect accessory to complete any look. Men's jewelry styles have emerged as an increasingly popular fashion trend in recent years. One of the newest and hottest trends for men is the purchase and wearing of rings.
A striking example of this trend is the snake ring for men. Worn alone or in combination with a bracelet or other type of jewelry, the snake ring is a striking statement piece that adds an element of stylish flair to any look. Men can choose from plain or intricate designs, and many of them have additional details such as semi-precious stones and textures that add extra pizzazz.
4. Statement Watches
Statement watches have become a very popular hot jewelry trend for men. Men's watches come with metal or leather bands as well as a wide range of features, including chronographs and step counters.
Whether you're looking for a dress watch or abstract designs, statement watches are a way to make a statement in any outfit. The diamond-studded gold Rolex Daytona made famous by the late Paul Newman is a great example of the type of luxurious watch available today.
Smartwatches offer many of the same features but don't make the same statement. For men who want to stand out from the crowd, statement watches are the way to go.
5. Love and Cross Pendant Necklaces
Among the hottest jewelry trends for men nowadays is the love and cross pendant necklace. These necklaces can be found in many styles and sizes, making them the perfect accessory for casual, formal, or business occasions. What makes these necklaces so appealing is their symbolic meaning of faith, hope, and love.
The cross symbolizes faith that can be shared between two people in a relationship. The heart represents love, and the shape of the pendant brings the two together. Men are drawn to necklaces because they are both meaningful and stylish.
They provide the wearer with an opportunity to express their faith, share their relationship with the world, and look fashionable all at the same time.
6. Diamond Studs
The diamond studs are perfect for any man looking to make a bold, modern statement. These studs are the perfect jewelry accessory for the man who wants to stay ahead of the trends. They feature an intricate design and a flat pendant featuring a single 6-pointed diamond.
They come in various colors and styles, making them great for casual occasions or something more formal like a wedding. They look great when paired with something simple like a plain T-shirt and jeans or even a suit and tie. With a classic look that will never go out of style, they are an essential piece of jewelry that any man can rely on.
Reading Suggestion: Champion Gutter Guard
7. Baguette Diamond Ring
The baguette diamond ring is one of the hottest jewelry trends for men right now. This stunning piece features a small, rectangular-shaped diamond set with a minimalistic design. The baguette diamond set against a gleaming white gold band is both understated and luxurious and looks great when paired with a simple outfit.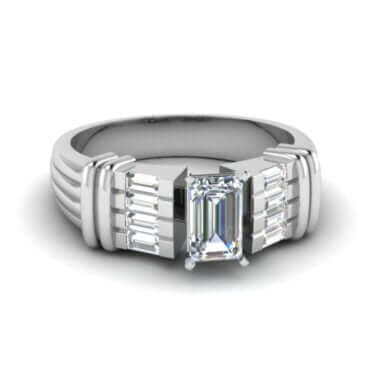 Whether you want a statement piece or something more subtle and refined, the baguette diamond ring is the perfect addition to any man's style jewelry collection and is sure to make you stand out from the crowd. It's a timeless classic and the perfect way to accessorize any outfit.
Watch Out for the Hottest Jewelry Trends
Men's jewelry offers a variety of trendy options to match any lifestyle. From cross-pendant necklaces and chain bracelets to statement watches, men can add a subtle statement of style to any look. For a fashionable touch, consider one of the newest jewelry trends for men. Shop now and show off your unique fashion sense. If you think this article has helped you, check out our other blogs!