Opinions On The Best Makeup Bags
If you have already accumulated a good amount of products and makeup brushes, surely you need the right place to store them. That is why we have summarized the most important data on the makeup bags that currently stand out on the market, to help you in your purchase.
Makeup Trading 52 Pieces
For makeup apprentices, a good investment is represented by this complete makeup case from Makeup Trading, with a traditional metallic design and 52 pieces in total between cosmetics, applicators, and a blush brush.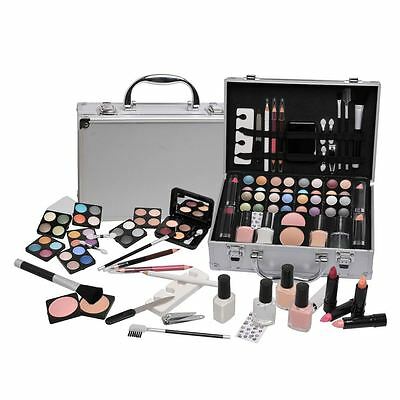 The elegance of the metal case gives this briefcase a very professional style, as well as provides strength and durability without affecting its price, as it is one of the cheapest products in this comparative study.
Regarding its dimensions, we can say that it is very compact because it measures 25.5 x 16.5 x 9.2 cm, which also makes it easy to transport thanks to the built-in handle.
In this case, you have access to 32 eye shadows, 4 lipsticks and a lip pencil, 3 eye pencils, and 4 nail polishes; a good kit to start and to which you can add more products as you learn new makeup techniques.
To learn more about this briefcase, we invite you to know its pros and cons below.
Tones: Different shades of shadows, lipsticks, pencils, and enamels are included so that you can learn to make all kinds of makeup and combinations to practice.
Appearance: The briefcase has a very elegant and professional design, is compact, and is easy to carry.
Fasteners: On the lid of the case there are elastics that help hold the pencils and applicators.
Tools: The inclusion of basic makeup brushes for any set is missing.
Urban GoCo Urban Beauty
To find the best makeup bag, it is necessary to take into account different aspects such as structure, and size, among others. But, if it is a complete makeup bag, it is important to know that it includes quality products and basic tools.
This is the case with Urban Beauty, a compact but very versatile model, designed for personal use. For this reason, in addition to cosmetics and makeup, it includes nail clippers, a metal file, a pencil sharpener, a pedicure toe separator, a brush, and applicators.
Due to its characteristics, this model can be a good gift for a teenager, since the shadows, lipsticks, and enamels allow you to play and combine styles, makeup techniques, and much more since it is a basic kit that any woman should have when she wants to learn. to put on makeup
Reading Suggestions: The 7 Best Makeup Sets
In addition, the case is resistant and durable thanks to its aluminum construction, which favors its useful life.
According to the opinion of the users of this product, we have highlighted some features that we present as pros and cons.
Quality: The aluminum case has a good finish, appreciating the quality of the metal and the manufacturing.
Use: It is a model designed for personal use, ideal for beginners and teenagers.
Nails: Stickers are included to decorate the nails and improve the finish of the manicure.
Size: Some users comment that it is smaller than they expected, but the seller specifies the measurements of the case.
Cosmetics: Other clients affirm that the quality of the cosmetics is very fair, but according to the price paid.
Markwins BonVoyage Fucsia
Most girls have an affinity and curiosity to start putting on makeup, and to make them feel like professionals, Markwins has this makeup bag for girls: the BonVoyage Fuchsia edition.
This product is a good quality, pretty pink metal case that includes different makeup products such as eyeshadow, lipstick, blush, and brushes for application.
It also includes nail polishes, so it is a very complete product for girls to start learning about the most basic makeup cosmetics, they can play with their friends at being professional stylists and makeup artists during pajama parties or game nights.
Due to the quality of the product and cost, some users consider it to be the best value for a money makeup bag, a model that fulfills its purpose and that can be a great birthday, Christmas, or Three Kings gift.
This one stands out among the cheapest briefcases, so we have prepared a summary of its characteristics in case you decide to buy it.
Color: The pink color of the briefcase gives it a feminine and very delicate touch, ideal for girls.
Pieces: This case contains 4 palettes of 6 shadows, 4 nail polishes, 4 lipsticks, 1 compact powder with a mirror, 1 pencil for eyes and one for lips, 1 brush, 2 brushes, and a brush and comb for the eyebrows.
Case: A travel case is included to carry what you need when you leave home.
Pigment: A user affirms that the lipsticks do not paint with intensity.
Mirror: Another customer comments that the mirror is too small and does not provide a good view for the girls.
Frequently Asked Questions
Q1: How To Organize A Makeup Bag?
A general recommendation from professional makeup artists is to organize by departments and products; that is, place all the products for the preparation of the face on a tray: cotton pads, moisturizing creams, cleansers, etc. Allocate another area just for bases and concealers, a space for lipsticks organized by colors and shades, an area for the eyes with pencils, shadows, and mascara, and a place for brushes, sponges, and other tools. In this way, you will avoid having everything mixed up and difficult to find when you need it.
Q2: How To Restore A Makeup Case?
Many cases end up with loose or loose locks, so to restore them, you can start by tightening all these parts, screws, and handle. If the case has any signs of oxidation, you can use a special product to clean it and if it is broken inside, you can use white glue to glue its parts.
To give it a new look, buy a spray can to paint it the color you want, but first, use paper tape to cover the areas you want to keep and thus create a contrast effect.
Q3: What Is A Rolling Makeup Bag Used For?
Trolley cases are very beneficial for professional makeup artists who run catwalks, model photo shoots and clothing lines who need several makeup changes and have to travel to different cities and countries, so they must carry all their material in a large space. , organized and easy to load. In this sense, the cases with omnidirectional wheels and extendable handles are the most popular.
Q4: What To Do With An Old Makeup Bag?
If the bag is past its useful life for a professional makeup artist, there are still a few extra uses to reuse it. We can turn it into a first aid kit, decorated in the shape of an ambulance.
To do this, it must be painted inside and out, place details and decorations alluding to its functionality, and find a fixed place where any member of the family has access to use their implements in case of a minor accident at home.
Another way can be to turn it into a jewelry box or accessories organizer, if you have many, in this sense, you can line its interior with Eva rubber with a plush texture, suede, or other soft material to better preserve the jewelry.
Q5: How To Clean A Makeup Bag?
If it is a metal briefcase, it does not have many implications, since you will only need a damp cloth to clean its exterior. And if it is a deep cleaning, the appropriate thing is to remove all the products inside and pass a cloth dampened with water and vinegar to clean all the spaces, trays, and compartments. To dry, it is good to leave it open in a ventilated place, while each product and tool is cleaned individually, thus avoiding stains once the case is dry.
Q6: How To Open A Makeup Bag?
In general, briefcases of this type use metal clasps for opening, whose mechanism is very simple, since you only need to lift the safety ring of each clasp and finish unlocking the lock. The most common is that it includes two locks: one on each side. Other models only have a main clasp in the middle.
Q7: How To Make A Makeup Bag?
You can use a toolbox from the ones you can find in department stores or hardware stores, and decorate it to give it your personal style and make it a unique makeup bag.
However, there are many DIY project tutorials that show how to make a briefcase out of cardboard boxes. For this you will need the following materials: 3 large shoe boxes, 3 small shoe boxes, pieces of thick cardboard to reinforce the boxes of the structure, adhesive tape, decorated adhesive paper, glue stick, extra strong glue, 1 meter of fabric color of your choice and a leatherette or fabric strap for the handle.
The idea is to cut the boxes in such a way that the three large ones form the main trunk, and the small ones are the internal compartments distributed in extendable trays.
When you have the designed structure and each part for assembly, the boxes must be lined on the outside with the adhesive decorated paper and on the inside with the fabric, then it must be joined with adhesive tape and super-strong glue to create the opening system, fix the strap and place velcro on the upper part, which will be the closures of the briefcase.
Q8: What Should A Makeup Bag Have?
Whether for personal or professional use, there are some basics that cannot be missing in your makeup bag, such as sponges, brushes, and brushes, at the rate of a pair for each function, as well as powders, creams, contours, etc.
We know that preparing the face is important, so you should also have facial wipes, cotton pads, makeup swabs, micellar water, and cleansing milk, among others.
In the case of cosmetics, it is good to have eyeshadow palettes of different colors, lipsticks in various shades, and mascaras with different effects. As well as bases, correctors, and compact powders to seal the makeup, liquid eyeliner, gloss, eyelash curler, eyebrow tweezers, illuminators, bronzing powders, blushes, and pigments, among others.
How To Use A Makeup Bag
The purpose of the makeup bag is to organize, store and transport your cosmetics, for this reason, if you are wondering how to use it correctly, here are some tips that will help you maximize the benefits that this product offers you.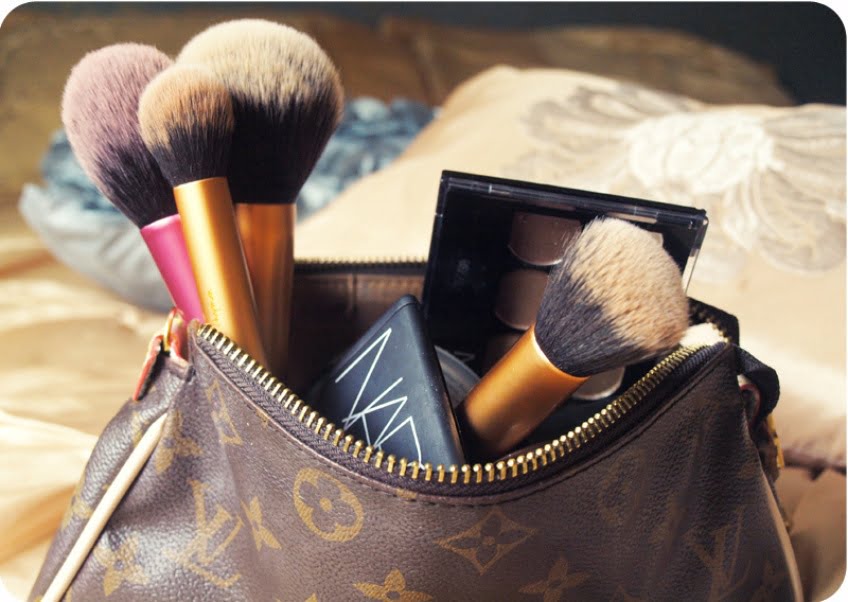 Each Thing In Its Place
Although the briefcase should already have its divisions and sections, we advise you to separate these spaces by categories and allocate them for specific products, in this way you avoid having a mess inside the briefcase. So you can keep foundations in one place, lipsticks in another, blushes in a tray, concealers in a drawer, giving each product and tool a place by category: brushes, sponges, eyeshadows, etc.
Avoid Overloading
When we buy a makeup bag, we already feel professional and believe that the more products we have in it, the more useful it will be, and that is far from reality. It is advisable to keep the tones that are used the most and the pigments that can be combined to form other colors, in this way you save space. The same applies to the accumulation of many mascaras and lipsticks, the former has a recommended shelf life of 6 months, so you should check frequently if they are dry or damaged and discard what is no longer useful.
In the case of brushes, if they are for personal use you can keep one of each type in the briefcase, but if it is for professional use, it will be convenient for you to have a couple of each type. Also, you can use the brush blankets and store them inside the briefcase, as they take up less space.