How to organize your home
The order and organize the house are still routine. But, if you adopt the tips that we present below, you will get that daily routine simplified and shortened, allowing you to enjoy a tidy, clean, and balanced home for less than 15 minutes a day of dedication.
Tricks of order and cleaning at home
Order At Home Is Based On Planning, Planning, And… Planning
Tidying up the entire house can be a lengthy process, and planning to do it all on the same day is often unrealistic.
For this reason, it is essential to spend a few minutes thinking about where to start cleaning and ordering and where it will end, as well as assessing the time that each room can take depending on its state of disorder and size. It is better to set small and manageable goals and spread them over different days than to try to do more than possible and end up frustrated. Planning is essential for the organization of your home, as well as for cleaning.
Step By Step… Sort Room By Room
As we have already said, planning is the secret to success and it is one of the essentials to ordering the house. And in this planning, the order in which the different rooms of the house will start to be arranged must be established. Because yes, for an order to be truly effective, one space should not be ordered without having finished organizing another. Another trick is not to start cleaning until everything is collected.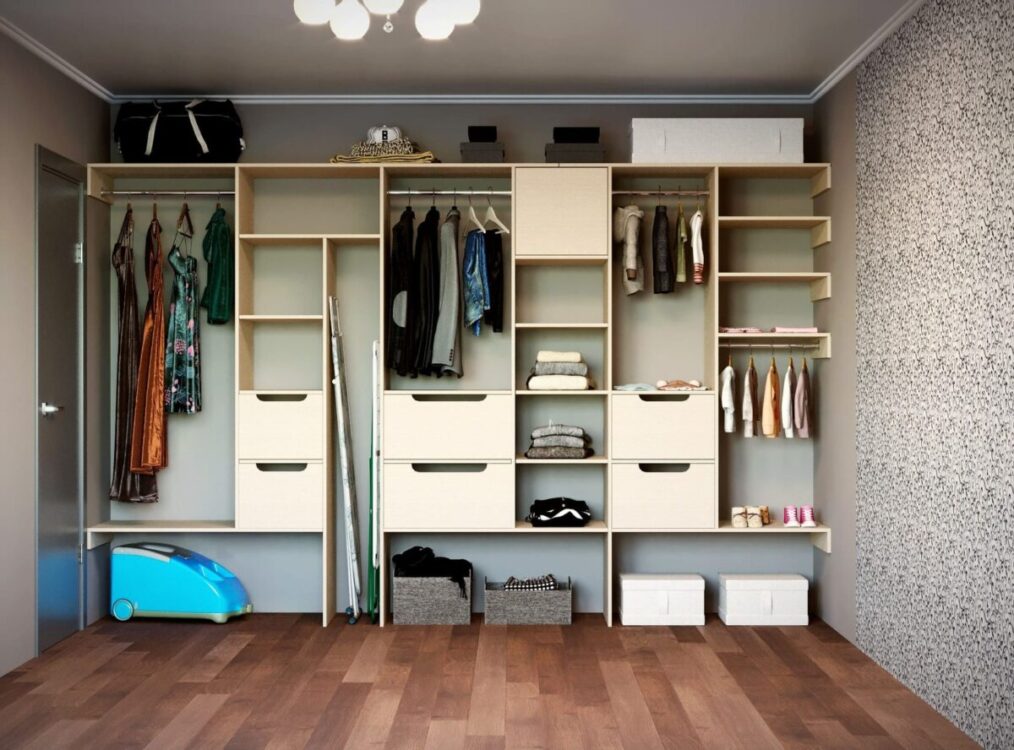 That is, first everything that is out of place is collected, and, once placed, cleaning is carried out. This will prevent a lot of chaos and favor a much deeper cleaning.
Empty, Discard, Place
You can use this trick to tidy up the house either with the clothes closet, the kitchen pantry, the bathroom cabinet, or the toy shelf, the process is always the same. You should start by emptying all the contents on the bed or on the floor. And when we say everything, it is everything.
Once you have all the contents of the wardrobe in front of you and you have that overview, it is time to start deciding, item by item, if you really need it, if you have used it in the last year or if you have similar and better ones. If the decision is that you no longer need it, take it out of the house: throw it away, donate it or give it away.
Reading Suggestions: Kitchen Trends And Design Ideas You Should Use in 2023
This tidying trick is only useful if you do it the same day, as this will prevent it from accumulating in a corner for another year and you will avoid regrets. It is a hard process, but extremely comforting and useful to maintain order in your house.
Once we have the selection of the items that stay at home, it is time to put them back. The trick is that everything has its place and that this place is comfortable, practical, and logical. You should not put the items you use the most at the bottom of the closet or a drawer.
Organize The Clothes Closet
Many times we see it as the great enemy during the process of ordering our house. We tend to accumulate many clothes that we no longer use, either because of emotional attachment or because we are lazy to face them. There are several guidelines that you can adopt to avoid the situation of visual stress that excess clothing can cause us:
3 Infallible Ideas To Organize Clothes In Your Closets
The garment that goes in, the garment that goes out. It seems radical, but it is absolutely necessary if you want to avoid returning to the same situation of chaos and your closet being filled with clothes that you do not use.
Try the vertical fold. You will take much more advantage of the spaces and all the garments will be accessible and visible. Don't worry, they don't wrinkle and it's much easier to keep them tidy.
If you change your wardrobe with the seasons, take advantage of the moment to review what you have again and get rid of what you don't need or that you know you won't use next year. The same with moving.
Order In The Kitchen
In the kitchen cabinets, we often accumulate a large amount of food that we don't even know we have, products that have expired, or that we don't even like. In addition, the kitchen is usually the focus of all those objects that we do not know where to put: batteries, letters, keys, pens, etc.
If this is the case for you, you should get rid of the ones you don't need and find a new place for the rest. The more uncluttered the counter is, the nicer it will look, the better you can cook, and the easier it will be to clean. Other aspects to take into account in the kitchen are:
The mixed bag is also known as the cutlery drawer. To have everything under control, use specific compartmentalized boxes and make an effort not to mix them or introduce kitchen elements from other categories.
Acquire accessories to order and organize the cabinets, either to have all the food organized and visible or to properly store pots, pans, and lids.
Before you go shopping at the supermarket, check the pantry and see if you really don't have that product. This way you will avoid duplicating unnecessary purchases and save time and money.


The Boxes, The Best Allies Of Order In Your Home

We tend to completely fill the spaces and gaps that we have and that, in addition to promoting disorder, means that objects are not visible or accessible and, therefore, we forget that we have them, we accumulate them and, ultimately… mess again. To avoid this situation, in addition to spending time getting rid of everything you don't need, we can count on the help of boxes.

Whether inside a closet, in a drawer, or on some shelves, having your objects well stored and organized in boxes will help you have everything in its place. For this purpose, transparent plastic boxes are ideal, since they allow you to see the inside of the box at all times without having to open it. If they are not transparent, you can choose to label them to help you identify their content.
More boxes…
The methacrylate boxes are the perfect option to organize your cosmetics and always have them in sight in the bathroom.
Keep all your medications together in the same box and arranged vertically so you can see them all at a glance. Also, remember to periodically check the expiration date and get rid of those that have already expired.
The empty boxes of electrical appliances, on the other hand, do not contribute anything to maintaining order. You don't need to keep them, they take up a lot of space and, furthermore, if anything were to happen, the ticket or the guarantee would be enough to be able to repair or change the appliance.